Yamaha Motor Australia believes in looking out for its customers and in its latest press release; the company lives up to its reputation by offering three months extended warranty. By doing this, Yamaha Motor Australia is alleviating some of the pressure put on folks who are living in these uncertain times.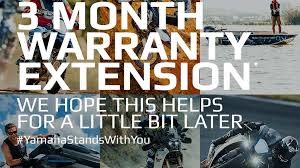 The initiative has been put forth to ensure that customers who are unable to use their Yamaha products during the lockdown. This way they aren't left disadvantaged by not being able to use their Yamaha brand vehicles and their warranties aren't going to waste.
The Three-Month Warranty Extension applies to all motorcycle, outboards, and WaveRunner products. The warranty also applies to groups between April 1 and June 30, 2020, which includes existing warranty holders, warranties that expire during that period, and new models purchased between those dates. The extension does not apply to ATV's or ROV's.
"We are all in this together," says YMA Chief Operating Officer and Director Brad Ryan. "And we are constantly looking to introduce initiatives that offer both our dealers and customers more confidence in these uncertain times."