To say we were excited to get our hands on one of the very first 2018 Sea-Doo RXT-X 300's would be an understatement. Sea-Doo had only just released the entirely-redesigned runabout a few months earlier, and the buzz swirling around the new RXT-X was palpable.
We received our 300-horsepower long term loaner a little over a year ago and did our very best to put the machine through the paces – from traveling to scenic locations across the Southeastern United States, to pinning it in a head-to-head with not one, but two of Yamaha's most powerful WaveRunners.
Our loaned unit came to us in Ice Metal & Lava Red (although the optional Neon Yellow & Lava Grey was equally enticing). It also included the much-desired BRP Premium Audio sound system package, which we had first become acquainted with during the media introductory event back in October the year previously.
Easily one of the best additions to the new ST3-platform, the BRP Premium Audio sound system  – a $600 option from the factory, $900 through dealers' parts departments – syncs with your Bluetooth-capable smartphone, allowing you to listen to your own private song selection in crisp 100-watt clarity. More often than not, we found ourselves toggling through our music files thinking, "Oh, that'll be great to listen to next time we go out!"
Although a standard feature on the GTX Limited packages, we also equipped our RXT-X 300 with the optional USB port socket. This allowed us to keep our smartphone plugged in and fully-charged. Smartly integrated into the waterproof-and-padded cell phone case inside of the glove box, the USB port can also be used to charge a GPS, GoPro video camera or other devices while out on the water.
Sea-Doo's designers paid close attention to creating the most comfortable cockpit possible; the footwells are deep and surprisingly wide, allowing the rider plenty of room to move around the watercraft. The Ergolock seat is smartly sculpted to fit most adult riders, and features angled footwedges to help position the driver's knees into the padded coves for better handling.
The handlebars are redesigned with Sea-Doo "palm rest" hand grips and large easy-to-reach toggle pads, allowing you to adjust the VTS trim settings, set Cruise Control (a standard feature on the RXT-X now), scroll through dashboard functions, and shuffle through the three Intelligent Throttle Control presets: Touring, Sport and ECO mode.
New (and exclusive) to the 2018 RXT-X 300 is "Launch Control" – a feature that automatically positions the trim nozzle downward to keep the Sea-Doo's nose planted upon initial acceleration. As the ski speeds up, the trim nozzle will then automatically adjust until it reaches the pre-set "final" position, whether you set it for neutral or otherwise.
After a series of testing together with Greenhulk.net's own Jerry Gaddis, we found that Launch Control truly did deliver superior acceleration numbers. Even when we manually toggled the trim control, we couldn't beat the acceleration times made by the Sea-Doo's onboard system. This keeps the ski from leaping out of the water upon initial launch, and methodically trims to the final preset as the Sea-Doo accelerates to top speed.
Of course, the RXT-X's centrifugally supercharged 1,630cc 4-stroke producing a solid 300-horsepower is the big draw here. Not only could the new 2018 RXT-X out accelerate the competition, but its previous model as well. For 2018, Sea-Doo engineers shaved off an incredible 86-pounds, putting the new performance 3-seater at 828-pounds compared to the previous 914-pounds.
Although an inch-and-a-half wider (from 48.2-inches to 49.4-inches), the new Sea-Doo platform was also a hair over 3-inches shorter (from 139.2-inches to 135.9-inches). A deeper-set seating position for the driver and passengers also gives the RXT-X a lower center of gravity. This helps the runabout remain incredibly stable at low speeds or at rest.
In addition to an official Sea-Doo ST3 watercraft cover, a final feature new to the 2018 platform that we came to love was Sea-Doo's LinQ accessory system. A pair of pop-up cleats allowed the attachment of either a 4-gallon fuel caddy; a semi-rigid, 5.5-gallon storage bag; or a 4.2-gallon ice chest. Add to that the massive and easy-to-access 27-gallon center storage bin, and Sea-Doo's top-of-the-line performance runabout just became a great long distance adventure ride machine – a feature we took pleasure in using quite often.
We racked up over 50 hours of ride time over the year, which was a record for us considering the many different watercraft we have to test throughout the calendar year. From the swamps of Louisiana to the canyons of Chattanooga, Tennessee; we came to love cruising our RXT-X 300.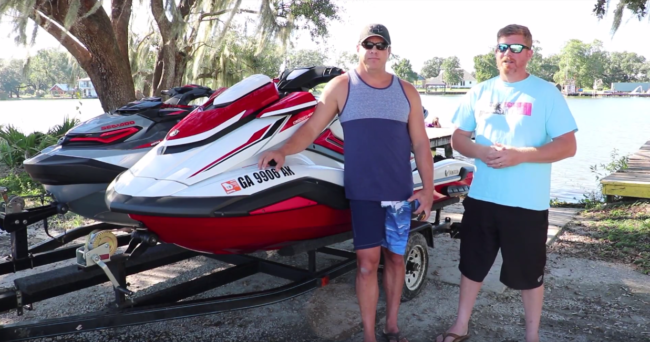 With the throttle pinned, the RXT-X could drain a 15.8-gallon tank nearly as fast as a fuel pump could fill it; but when fuel mileage was a concern, we could toggle between operating in ECO Mode or simply ease off of the throttle as we glanced at the in-dash boost gauge. We clocked an average fuel consumption of 4.5 miles per gallon, but then again, we weren't too concerned with eking out the best mpg anyways.
Although perfectly comfortable when trimmed at neutral in smooth water conditions, we did find that the RXT-X fared better trimmed far up when tracking through larger chop. The Sea-Doo's knife-like keel is super aggressive – just like its RXP-X 300 sibling – and wants to do the steering if the rider isn't paying close attention. So we learned quickly to grab this high-powered horse by the reigns and show it who's boss.
Impressively, we found that the RIVA Racing Pro-Series sponsons were the perfect addition to our RXT-X 300. The deep, angled (and 5-way adjustable) blades provided significant added traction that kept the Sea-Doo's tail planted even in the sharpest turn. Since we liked the RXT-X's nose trimmed lower, positioning the sponsons' blades to the 4th lowest position gave us the grip we needed. The change was so significant that it made us fall in love with the RXT-X all over again.
Finally, wanting to eke out a few more miles per hour without irreversible harm, we installed a RIVA Racing Speed Override Control Unit. Commonly known as a "SCOM," the control box doesn't reprogram the engine's ECU tune whatsoever, but rather, simply deactivates the GPS-controlled speed limiter. With it, we were able to reach an impressive 75 miles per hour at 8,040rpm – and with a 240-pound rider and the fuel tank nearly three-quarters full!
Over the course of the year, the RXT-X began to show certain signs of wear and tear. We struggled to find the right cleaner/polish to keep the gloss black plastics looking new. Hard-to-remove waterspots became a major challenge in particular. The silver-hued Ergolock knee pads also started to yellow – a reaction to sunscreen and sweat, we believe. Spilled gas draining from around the filler cap had also stained the silver acrylic surface's finish. (Sea-Doo issued a maintenance guide which will help keep these issues from happening if properly followed.)
As equipped, our 2018 model would MSRP just over at $16,700. Without the BRP Premium sound system and USB port, you can expect around $1,000 off from that total – but as we've said before, the BRP Premium Sound is waaay worth it. Additionally, if you're a hot dogger, or even a moderately aggressive rider dead set on a RXT-X, the RIVA Pro-Series Sponsons are almost mandatory equipment. In all, the 2018 Sea-Doo RXT-X 300 was an absolute riot; with arm-stretching acceleration; a super comfortable cockpit; packed to the roof with one-of-a-kind special features; and jammed packed with accessories; this new Sea-Doo was just a joy to ride.