Frankly, it's hard to believe that it was 11 years ago when Christopher Nolan's "The Dark Knight" film hit theaters. The sequel to the director's gritty Batman reboot "Batman Begins," "TDK" featured a far more nuanced take on DC comic's second-most popular comic book superhero. It so happened to be the same time I received my first Slippery Switch Molded Life Vest. It was unlike any personal flotation device on the market, and looked, in my opinion, just like the molded body armor worn by Batman.
I still have that same vest and even picked up a light gray version shortly afterwards. That 11-year-old Switch life vest has served me well, and has been one of my favorites since 2008. Well, that is until I received a new Switch Molded Life Vest for 2015. The black molded front-entry vest was very similar in appearance as the 2008 model I had, save for much more subdued styling. The graphics on the left breast and back were dialed down, and the white panels at the sides and shoulders were now gray.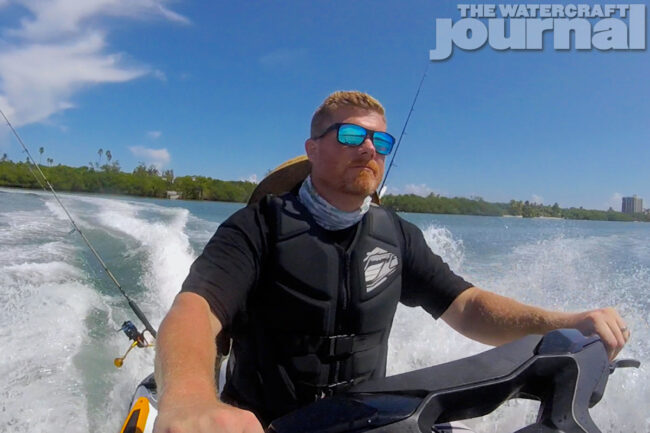 But that's not all; changes had been made to Slippery's foam patterns. The shape and contour of the molded panels were improved, comfortably holding my torso slightly more snug than before. No I hadn't gained weight over the years (well, not that much); the fit of the two had improved. Life vests are typically made from either vinyl or neoprene. Frankly, I've always hated the feel of vinyl PFDs and Slippery – more than any other brand of PDF manufacturer – was committed to making woven, breathable soft, stretch knit fabric for the inner panels that didn't rub, irritate or stick to skin.
Not to put too fine a point on it, but the Switch's PVC inner foam and interior fabric panels make for the single-most comfortable life vest I've ever used. And I mean every syllable of that last sentence. The. Most. Comfortable. PFD. Ever. Anybody who has been paying close attention to our ongoing YouTube bimonthly show knows that I typically don this very same front-entry black Slippery Switch Molded vest. It is my favorite personal flotation device (ie. life vest). It is my go-to. If I'm wearing a different life vest, it's probably because I have to for contractual reasons.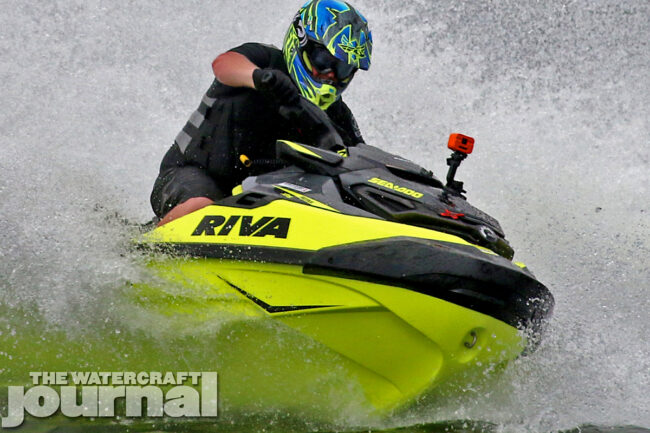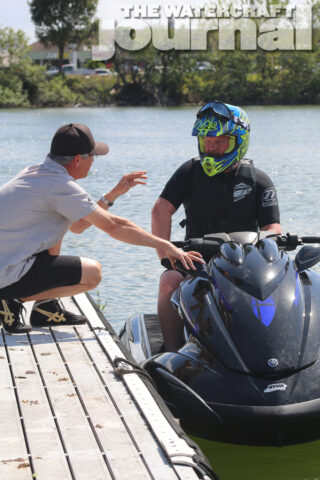 The front-entry vest utilizes two adjustable 1.5-inch straps integrated in the articulated chest panels; the quick-lock front buckles snap together over a heavy-duty zipper. The molded outer shell provides breaks in the PVC foam in a smartly-designed pattern for maximum flexibility while maintaining US Coast Guard approved Type 3 performance.
Range of motion is at its most as Slippery employs elastic neoprene sides and shoulders for comfort and maximum mobility. It's one of the few vests you can wear and still double over to tie your shoe or reach low into your front storage bin.
The latest edition of the Switch Molded Vest is one I don't have yet, making this review slightly different than all of our previous reviews. The materials and molds are carryovers but some slight changes have been made; the lanyard D-ring returns (my 2015 model didn't have one), and the white/gray neoprene panels on the flanks and shoulders are white. Graphics are now colored in orange and blue with the current Slippery logo and design. Equally, the inside soft-touch fabric panels are also in black as well.
Currently, it appears that the Switch Molded Vest is sold out according to most retailers. So if you want one, you're gonna have to do some searching online. That of course, means that pricing is going to vary. If that means that the Switch is being phased out, I am truly sorry as it is my absolute favorite. Yes, Slippery's latest batch of side-entries are great, but man, nothing beats the Switch Molded Vest in ways of comfort, use, longevity and making every normal Joe look a little more like Batman.