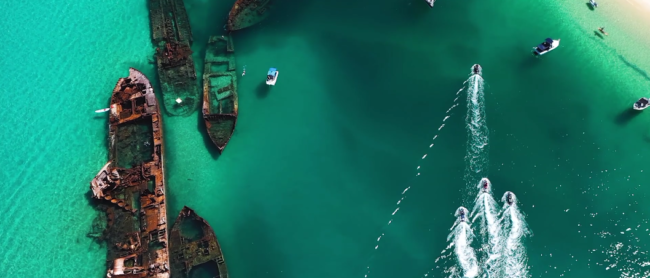 June 21st , the first day of summer in the northern hemisphere, has come and gone and summer is now in full swing. Summer is here! The weather is consistently getting warmer and the water is starting to warm up too. A great way to spend a day out on the water is on top of the all new 2019 Yamaha WaveRunner FX Series watercraft. The FX series provide comfort and the industry's first-ever Connext touchscreen providing you with the control that you can change to your specific needs.
Everything Watercraft posted a video on Facebook of them taking out the 2019 Yamaha WaveRunner FX Series. In their ride they rode from Moreton Island, Queensland Australia to the Tangalooma Shipwrecks. The beaches were covered in white sand and the water was crystal clear. It looks like the watercrafts were floating in thin air. After riding around and taking a quick swim, they dropped anchor on the beach for some relaxation and a bite to eat.
So whether you are needing the itch to go out and ride or considering visiting Australia. Check out Everything Watercraft's video. It shows the true beauty of Australia and how practical the new 2019 Yamaha WaveRunners are. With competitive pricing and multiple options, there is room for an FX Series in your family. And remember, to get out and journey further this summer.