For some people too much power is barely enough. Despite the Kawasaki Ultra 310 being the most powerful JetSki to come out of the factory, some customers still want more. There are numerous upgrade packages available from various tuners around the world, but now we've finally had a chance to get acquainted with one of the more affordable options for the Kawasaki Ultra 310.
For those who don't know, Kspeed is the tuning division of one of Australia's biggest Kawasaki jet ski dealers, namely Brisbane Kawasaki. The owner, Jamie Eade, set up the Brisbane Kawasaki showroom back in 2012, pivoting to watercraft after two decades as a fuel-injection specialist in motorsports, tuning V8s and turbo cars…and everything in between.
Based in Brisbane, the capital city of Queensland – one of Australia's warmest states with summer weather almost year-round – he quickly became one of the biggest-selling Kawasaki dealers nationally. He soon noticed a steady stream of customers who wanted more from their JetSkis. And so in 2013, Jamie developed a Stage One upgrade package for the then-new Kawasaki Ultra 300.
At first, he experimented with various modifications while helping out a JetSki racer at the time, and tested the changes in racing conditions. After some fine-tuning of the engine control unit (ECU) – and testing different types of pump wedges and intake grates – Jamie settled on an optimum package and consequently, came up with the name "Kspeed."
Although the original work on today's Stage One upgrade kit started on the Ultra 300 in 2013, he further fine-tuned the calibration on the Ultra 310 released in 2014. Since then, Kspeed has completed literally hundreds of Stage One upgrade kits for Ultra 310 owners around the world. While the US and Australia are his biggest customers (which is to be expected considering they're two of the largest PWC markets in the world), Kspeed also airfreights kits anywhere Kawasaki JetSkis are sold.
In the box is a new intake grate, a machined 2-degree pump wedge, and the customer's ECU after it has been reflashed. Most customers send their ECU to Kspeed, where the Stage One calibration is uploaded, and then sent back in the box with the other goodies. This process – using the original ECU – takes one to two weeks, depending on shipping times. The Stage One is priced at $1,200 AUD – the price is fixed in Australian dollars – which works out to be about $900 US or $1,200 Canadian (at the exchange rates available as this article was written).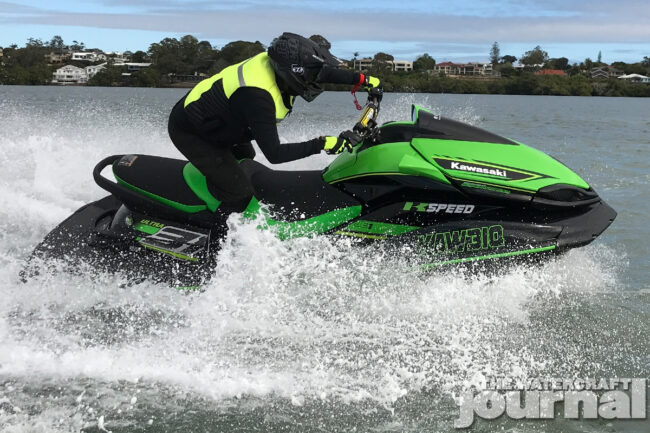 Customers can pay an additional $AU850 to receive a replacement ECU if they don't want their ski out of the water for too long; this amount is refunded if the customer returns their original ECU after they've installed the new one. In this scenario, Kspeed can usually deliver within seven days.
Waiting a week or a fortnight might seem like an eternity for keen jet ski riders, but the development of the Kspeed Stage One kit has taken years to hone. After countless hours of testing, Kspeed initially settled on a new top-loader intake grate design. The standard intake grate takes in some water up top, but this new design ensures the top half of the jet pump is taking a larger share of the load.
The net result is more grip and power through chop, although such a design can trim top speed because it's taking in a greater volume of water. So Kspeed came up with a couple of solutions for that: first, by fitting a 2-degree pump wedge which lifts the nose out of the water a fraction – freeing up the hull and reducing drag; and by deleting the 67mph (108kmh) speed-limiter as part of the recalibration of the ECU.
Kspeed says most customers will see a top speed improvement to 74 or 75mph (119 to 120kmh) but some owners have reported 77 or 78mph (123 to 124kmh) in more optimal conditions. Kspeed won't say exactly how much power the Stage One kit pumps out, but conservatively estimates a 10-percent increase in output – or roughly an additional 30-plus horsepower.
"I don't quote an exact figure because there is no way of proving it, but I'm confident we deliver about a 10 percent improvement in power and torque," says Jamie. "That might not sound like much, but it's realistic and reliable."
Kspeed is keen to point out it doesn't tamper with anything in the ECU that could jeopardize the engine. "We keep as many factory settings as possible because we want to maintain Kawasaki's excellent reliability," he says. As for fuel consumption…well, that depends. Kspeed says its testing has found fuel consumption is on par with a standard Kawasaki Ultra 310, depending on riding conditions of course.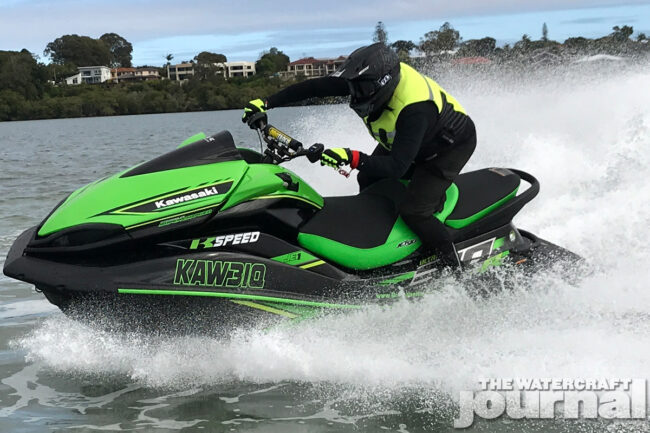 "We're making more power and we have a top-loader intake grate, and both those things have the potential to use more fuel because you're pumping more fuel and more water, but we also have the pump wedge to bring the nose up, which can also save a bit of fuel," says Jamie.
"So on balance, our testing has found it has about the same consumption as a standard Ultra 310, depending on where you set the adjustable trim," he says. Kspeed says the Stage One ECU calibration has been designed to tolerate varying fuel quality around the world. "I've kept the tune so that wherever you are in the world, if a Kawasaki was sold in that country you can still run our tune," says Jamie.
We got to test ride a 2020 Kawasaki Ultra 310 with the Kspeed Stage One upgrade kit in the same waterways it was developed, on the fringes of Brisbane. Although the Kawasaki Ultra hull has been around since 2007, it's a solid design that is holding its age well.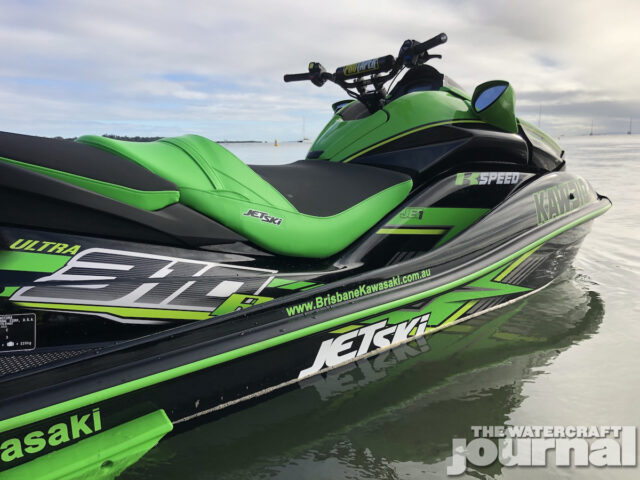 Because it's a big, heavy beast, it doesn't like to turn at slow speeds until, of course you give it some throttle, but once you're on the move it cuts through chop with ease. Having ridden a standard Ultra 310 a month or so prior to this test ride – though not back-to-back – it's safe to say there is a noticeable difference in grip from the top-loader intake grate in rough water.
The pump wedge points the nose 2-degrees higher, but we preferred to run it with the trim down to the neutral position, or two notches below neutral. We found the craft cut through wake and turned even better at speed with this adjustment. For flat water riding, however, we reckon it would be better to keep the trim to between neutral and just below the highest setting.
We were out to test the performance in the chop and the responsiveness of the engine, rather than trying to set a new speed record, but we did hit 72mph (116kmh) with a little left in reserve, before choppy conditions determined enough was enough on this day.
Overall, the Kspeed Stage One kit does what it says on the box. Of course, it may not suit everyone's needs – for example, if you're only chasing ultra-high top speeds. However, as an improvement for rough water riding that delivers extra grunt through the middle of the torque curve – while aiming to remain reliable – it's definitely worth a look.