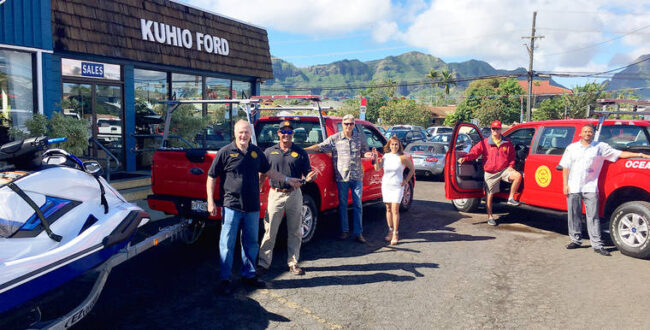 The Hawaii Tourism Authority (HTA) is changing gears. It's moving away from marketing and instead moving toward sustainable tourism, which in turn means more lives saved.
According to HTA board member, Fred Atkins, "Part of sustainable tourism is how do we work with the community to meet their needs and one of them was ocean safety."
Recently, HTA offered to match up to $125,000 toward ocean safety on Kaui. The Kauai Lifeguard Association (KLA) met that challenge and Friday KLA and HTA presented the Kauai Fire Department's Ocean Safety Bureau with two 2019 Ford F150 trucks and two new Yamaha FX HO runabouts.
The bright red trucks with yellow OSB decals came outfitted with lights and sirens. The vehicles are also rustproofed and the beds are lined, which will extend the life of the vehicles. The vehicles are also lighter due to the use of aluminum for the body panels. They make the perfect trucks for use on the beaches.
KLA president, Monty Downs, said that with over two million beachgoers annually, HTA's support has been a lifesaver in many ways. The group has taken some of the burden off the county by having amazing donors who give enough money to afford the KLA the opportunity to purchase equipment used for lifesaving purposes, like the recent purchase of jet skis. The PWC will help water safety in a big way.
"The Jet Ski operation, our mobile teams, spearhead reaching people that are in trouble around our island," he said. "Lifeguard towers can only be in so many places and Kauai is blessed with so many beautiful beaches people are going to those beaches and they're getting in trouble. This is our quickest, fastest, most effective response to meet those safety needs," said OSB North District Captain Jim Ingham.
Atkins introduced the safety program to the board last fall. He said that more than 85% of rescues and drownings involve people visiting Kauai, so it is imperative to implement safety programs on every island. The matching fund opportunity is a great way to get things going. Atkins went on to say that they could help save lives from Hilo to Kekaha.
Kauai Lifeguard Association is holding its Beach Bash fundraiser June1st. and included in the fun, is showcasing the lifeguards. Marketing director, Chantal Zarbaugh, commented on the fact that lifeguards must always be ready to respond to the challenges and demands of their jobs and it's important for people to know it's not all glitz and glamour on the beach.
Captain Ingham followed Zarbaugh's statement with the claim that lifeguards on the North Shore "have risen to every occasion. They've made some incredible rescues and saves and I know they'll continue to do that going forward with these new tools that we have."