It's always best to match the task at hand with the right tool. Sure, you could use the handle of a screwdriver as a hammer, but you'd be using the wrong tool for the job. The same goes for keeping your personal watercraft safe and secure when anchored in deep water. No, we're not talking about pulling up on a sandbar and anchoring your ski down into the soft sand (although the anchor we're reviewing here could be used in that instance). Rather, we're talking about the right kind of anchor needed to keep your ski in one place as tides, currents and inclement weather tries to pull you away.
Frankly, I hadn't had much need for a deep water anchor before. Apart from the rare instance of PWC fishing or open ocean riding, most of my time spent aboard a PWC has been recreational (and in my earlier years, competitive). So when the team at Tightline Anchors reached out concerning the health and continued growth of the PWC fishing market, I had little personal experience to share, but enough market research to provide them what they needed. Knowing The Watercraft Journal and what we did, they asked, "Wanna try out one of our anchors?"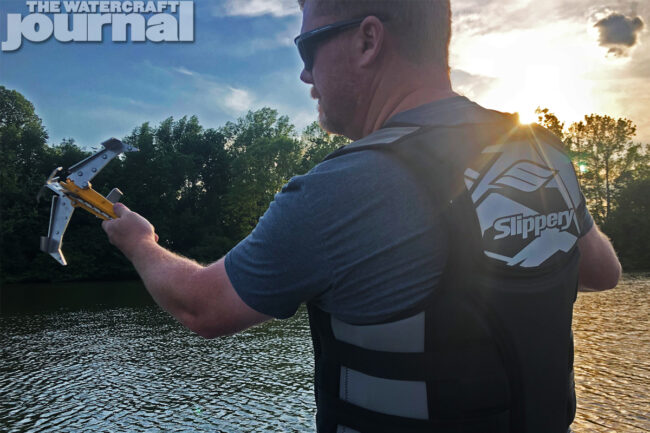 Happy to always take a new product to task, I greedily accepted the invitation. What arrived was far beyond my expectations. The Tightline Anchors K5 Kayak/Canoe/Small Vessel Anchor is easily the stoutest, most overbuilt piece of equipment I've managed to get my hands on during the magazine's six years of publication. The first of its kind in the small vessel/light watercraft market, the K5 is a precision-made anchor constructed of 12-gauge stainless steel (so it won't rust) and fastened together using MILSPEC Monel rivets.
It also features a ROSCO 12/0 shark swivel attached to a loop on 7×19 strand stainless steel cable. A unique addition is the break-away eyelets on the anchor base, allowing the user to rig the K5 for retrieval should it become hung up under the water. Being a novice to this feature, it took some greater understanding: When deployed, the K5 will bite into the surface quickly and easily. Many times, retrieving the anchor results in it getting hooked deeper; using the break-away line helps to pull and dislodge the anchor from its base instead of its head.
At 3-and-a-half pounds and 9-inches high, the K5 is stout, yet since all four grapnel arms are collapsible, meaning it won't take up your entire stowage bin. While the edges aren't particularly sharp, there are several "pinch points" where fingers or skin can get caught, so be wary. Equally, the aggressive shape does lend itself towards being dangerous if left to roll around freely inside your bin; so either order Tightline's bag for the K5, or wrap it in a thick towel before going underway.
With the anchor on hand, I looked for opportunities to use it. A particular cove on our lake is a favorite hangout to several large yachts; at over 40-feet deep its ideal for larger vessels to moor. I idled our 2019 Yamaha FX HO WaveRunner, attached the anchor line to the rear tow eye and tossed the K5 overboard. Giving it a couple tugs, it bit and I cinched up the slack. After some swimming with the kids, it was time to leave; I gave it a couple hard yanks and up it came. I repeated this process several more times over the past month and never struggled with getting the K5 to perform admirably.
Our particular K5 anchor came in the "Dewalt Yellow Cerakote finish. Besides raw stainless, the K5 can be ordered in "Zombie Green" and "Hunter Orange." Now for those unfamiliar, Cerakote is a ceramic-based finish applied to metals, plastics, polymers and wood that protects against wear and abrasion, corrosion and impact. Yet, after just a short month's worth of use, we saw the Cerakote coating scrape off around the hinges, even leaving fine yellow flakes on the raw stainless arms. Since the coating costs extra over the $105 asking price, I suggest going without.
Otherwise, the K5 was incredible; a super-well built piece and definitely a must-have for the deep water PWC fisherman, snorkeler or someone who finds themselves anchored in deeper water (50-100 feet). The traditional (and stupidly heavy) "mushroom" anchors don't have the bite to keep your ski from drifting, and sand-filled anchors don't have the weight. So while you can certainly tie your watercraft down on the shore with it, you're using a bazooka to kill a fly. You gotta use the right tool for the job, and the Tightline Anchor is definitely it.