The current Kawasaki Ultra JetSki has been around in some form or another since 2007, back when it first launched with – what at the time was – an industry-leading 250-horsepower supercharged 1.5-litre four-cylinder engine.
Over the years, the Ultra has had numerous power upgrades: 260hp in 2009, 300hp in 2011, and finally pushing out 310hp in 2014, retaining it's place as the most powerful watercraft on the market today (narrowly ahead of Sea-Doo's 300hp supercharged 1.6-litre three-cylinder Rotax engine; Yamaha does not publish power claims but its supercharged 1.8-litre four-cylinder has the largest capacity in the business).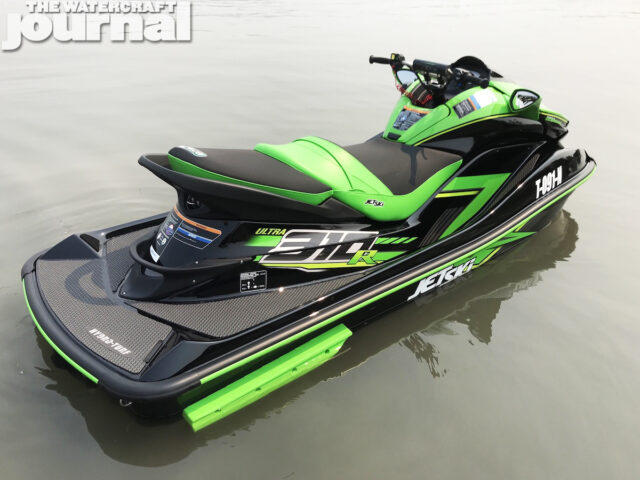 While visually most of the model-year changes have amounted to new color schemes and graphics, over the years Kawasaki has continuously improved the engine's internals with upgraded valve train including stronger timing chains, dramatically improved engine oiling and cooling, and switched to an Eaton twin vortices roots-type supercharger for better strength and durability. In case you were wondering, Kawasaki is running 16.8 pounds worth of boost through that sucker.
The engine's 1,498cc displacement and bore and stroke (83.0 x 69.2mm) are the same as the engine in the naturally-aspirated Kawasaki STX 160X, but the internals are way more heavy duty and the compression ratio is 8.2:1 versus the non-supercharged's 10.6:1. While Sea-Doo and Yamaha both have newer rivals in this category, Kawasaki has adopted the "if it ain't broke, don't fix it" philosophy for its proven Ultra 310 package: the overall shape of the hull and top deck have gone predominantly unchanged since 2007.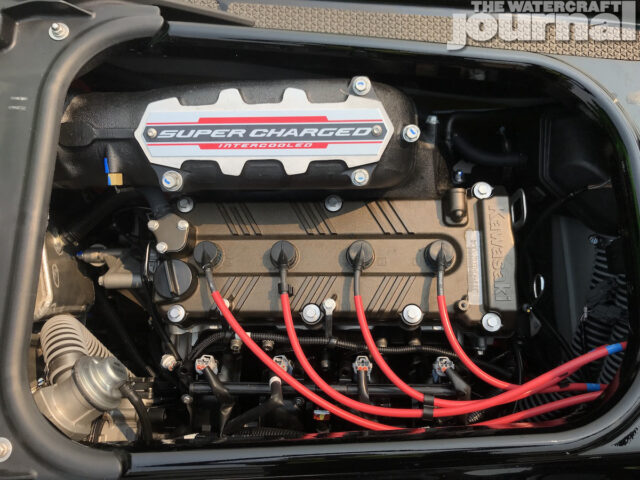 However, given that it's been a while since we've been on one of these Kawasakis, we thought it was time to get reacquainted, especially against the backdrop of the new Yamaha FX series released last year and the new Sea-Doo ST3 hull released three years ago – so we met up with Newcastle Jet Ski Centre to put this 2020 Kawasaki Ultra 310R JetSki through its paces.
In the US, there are four versions of the supercharged Ultra, starting with the 310X ($15,299), 310X SE ($15,799), 310R ($16,299) and the flagship 310LX ($17,999), not including trailer, registration, sales tax and destination charges. In Australia, where this test was done, there are three models in the range, starting with the 310X ($20,999), 310R ($22,299) and the 310LX ($24,399) excluding trailer and registration but including taxes.
At first glance, it's easy to see why Kawasaki hasn't changed the top deck. It has the most storage space in its class (equaling 56-gallons total), including a handy bucket that sits atop the massive 54-gallon (206-litre) cargo hold under the hood. There's a generous glovebox which is shared with the immobilizer key slot, however unlike Kawasaki's newer and smaller STX 160X sibling, there's no separate waterproof compartment for a phone, wallet or car keys. Additionally, there's also a small storage pocket beneath the rear passenger's seat, ideal for a dock line or tow rope.
The Kawasaki's 20.6-gallon (78-litre) fuel tank is still the biggest in the business – and just so happens to be shared with the STX 160 line for 2020 – providing the Ultra more capacity than the 18.6-gallon (70-litre) tanks in the 2020 Sea-Doo RXT-X 300, and the Yamaha FX series; although the topic of range is a different story. With so much boost on tap, the JetSki is notoriously thirsty, and while we calculated a total range of 80 miles, some claim slightly higher when carefully feathering the throttle.
A fold-down boarding step is standard, although it's not as wide as the one on the new Yamaha FX series. The rear deck is low and easy to climb back on. However, the rear deck itself is noticeably shorter than rivals such as the Sea-Doo RXT-X300 and Yamaha FX series. A textured Hydro-Turf traction mat covers the deck and footwells, and the 310R features its "race inspired" seat that's wrapped in a proprietary textured material to provide added grip when snapping off a tight turn.
As for seat comfort, the Kawasaki Ultra 310 has slightly less knee room than other offerings in its class making the rider feel like they're sitting low and very wide in the saddle. Keeping your legs in this position can become tiresome over long distances or after pounding through rough water, so it's best to switch up your posture over time. Although the seat provides decent levels of comfort while sitting over short distances, we found standing preferable.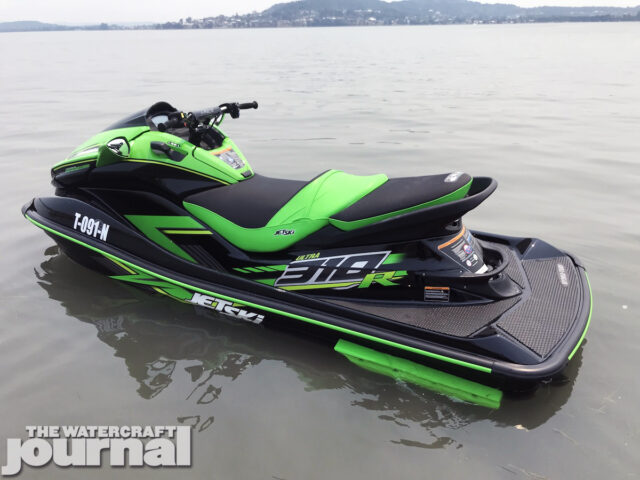 For what it's worth, our backseat passenger said the Ultra 310R was more comfortable to ride two-up versus the Yamaha FX and Sea-Doo RXT-X 300 we had ridden the day before, so that's a definite win for Kawasaki.
A carry-over from the previous decade is Kawasaki's continued use of a handbrake-style reverse lever, which is mounted left of the center console. Rivals Sea-Doo and Yamaha have more convenient reverse levers on the left of the handlebars (opposite the accelerator levers on the right) which is handy for low speed maneuvers, and provides those machines with a verifiable braking system – an almost mandatory safety feature in today's marketplace.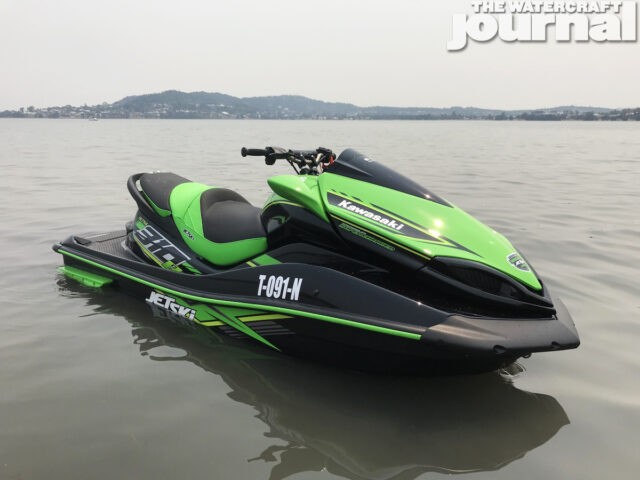 As a side note to those familiar with competing brands and transferring to a Kawasaki: aside from the awkward operation of the bulky reverse lever, you need to turn the handlebars in the opposite direction as you would when reversing a Sea-Doo or Yamaha. Certainly as an owner, you would get used to it over time; but for the uninitiated, it'll take some doing to master it. We noted it was like trying to pat your head and rub your tummy while trying to spell the alphabet backwards.
But that's not to say that the Ultra 310R is not without features and innovations. All but one of the Ultra 310 models have five-stage adjustable handlebars; and that would be the Ultra 310R tested today. The 310R features motocross style handlebars fixed to a cast aluminum steering neck instead of the soft plastic tilting joint, providing the rider with a stronger, more precise steering feel.
Mounted to the electroplated handle bars are the controls for the quick-response electric trim, cruise control, and no-wake mode that secures the speed at 5 miles per hour. Although not a programmable setting, the 310R will display an "ECO" alert on the digital dashboard when you're operating the throttle in the engine's most efficient position. Finally, a yellow Smart Learning Operation (or "SLO") key is available if you want a novice to take a turn. It dramatically decreases the 310R's initial launch and all but completely scrubs the big blower's boost, dropping the top speed down into the low 40's.
Speaking of which, the Kawasaki Ultra 310R has without a doubt, one of the most violent launches of a modern supercharged personal watercraft available today. From a near-stand still, the Ultra 310R roars out of the gate, it's supercharger whining at an ear-splitting pitch. Although it's all but impossible to get a true 0-to-60 time since watercraft don't start from a standstill, we managed a best of 3-and-a-half seconds to 60 miles per hour. Top speed lingered in the high end of 67 miles per hour, but conditions weren't ideal – even for the big Kawasaki's "deep V" hull.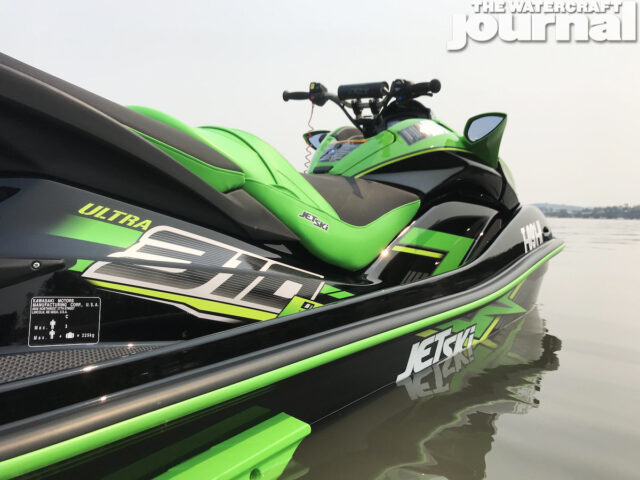 To that point, the hull, intake grate, ride plate and sponsons have remained unchanged since 2007 – but, as we said earlier, this is a proven package and age has not wearied it. The hull is made from hand-laid fiberglass, which is particularly rare in an era of lightweight materials used by rivals, and is known for its 22.5-degree deadrise. This, combined with its 1,047-pound curb weight and integrated splash deflectors, makes it the weapon of choice for many who regularly traverse choppy conditions.
The Ultra's hull certainly has the deepest draft of any of the full-sized supercharged runabouts. While this costs the 310R a little in the top speed category, it definitely benefits the machine by giving it tremendous stability, particularly at speed, and very predictive cornering under throttle. Even though it feels like a big machine, it's surprisingly responsive, showcasing similar reflexes to the new generation Yamaha FX series. The Kawasaki turns naturally across its speed range, and that is a huge win.
At times the Kawasaki Ultra 310R feels a bit like a monster; everything about this JetSki has been turned up to 11. Everything about it is huge; big power, big storage, big fuel capacity, even the Lime Green beams brighter than regular ol' Kawasaki Green – just everything is over-the-top. But with so much power on tap and lacking a functional brake, this is definitely not a machine to hand over to a first-time rider but rather belongs in the hands of someone with more experience. And that's really it. A brake is the only thing that truly stands between the 2020 Kawasaki Ultra 310R and greatness.
Special thanks to Newcastle Jet Ski Centre who provided us with our test watercraft. Please make sure to click the link in the description to visit their site and their virtual showroom.