Ouch! Talk about last minute holiday shopping! Normally, we like to get The Watercraft Journal's Top 10 Christmas Gift Guide out at least a week earlier but dang have we been busy with pumping out video content recently. Of course, what that does mean is that we're only a week away from our Watercraft of The Year Award. Either way, our Christmas Gift Guide is an annual tradition we wouldn't miss as it helps to equip the potential customer of the superior accessories, equipment and add-ons that we've tested throughout the year.
While our Watercraft of The Year award is issued to the Top 3 personal watercraft that we've managed to ride and review for that model year, the Christmas Buyers Guide serves a similar purpose just for all of the various items we've reviewed in 2022. So with that we're sharing them again with The Watercraft Journal's big ol' stamp of approval. So if you're shopping for a loved one or yourself this Christmas season, definitely take these suggestions to heart.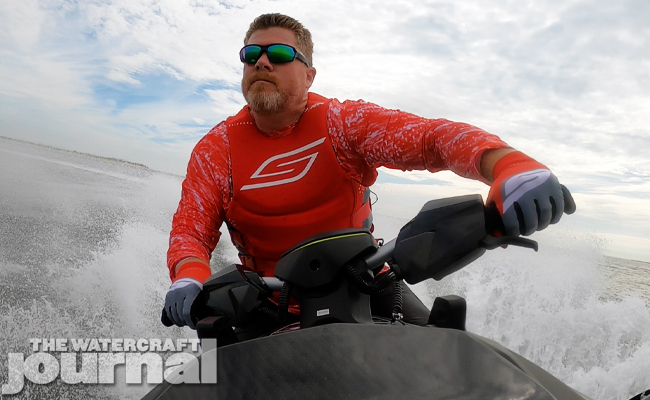 Slippery Wetsuits' Array Side-Entry Neo Vest – $99.95
Side-entry life vests have a nasty habit of being clunky, uncomfortable or non-compliant with USCG regulations. Even here at The Watercraft Journal, we've reviewed sporty side-entries that were either stitched together using coarse canvas (like what you'd expect a duffle bag to be made from), filled with thick, flat-sided slabs of heavy foam, or are just plain ugly in their design. Thankfully, the Slippery Array Side-Entry Neo Vest is none of those things. It's comfortable, flexible, smartly molded and will keep you afloat without riding up.
Made with a variety of materials, including super-comfortable neoprene stretched over multiple EV foam panels, the Array Neo is smartly segmented, meaning you can freely double over while searching through your storage bin; has wide arm and neck holes allowing for a wide range of motion without feeling constricted; and its large 2-banded buckle-and-side zipper secures firmly without vicing you taught. It's easily one of the most comfortable and well-made side-entries today, and why we chose it for the first of our list today.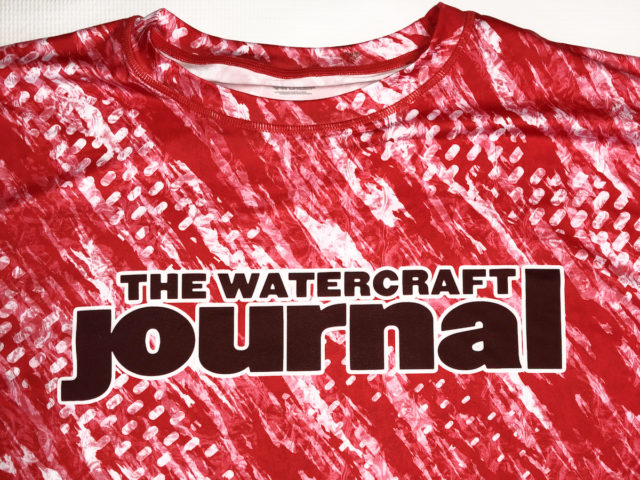 The Watercraft Journal's Long Sleeve Riding Jersey – $50-55
The Watercraft Journal teamed up with Windrider to custom-design what we believe is the single-best riding jersey possible. Every WCJ Long Sleeve Riding Jersey is made using Helios material proven to provide UPF 50+ protection, stellar stain resistance and most importantly, superior water wicking and breathability. Each shirt features durable mesh lining the inside length of the torso all the way down the sleeve to the elbow for maximum ventilation even while wearing a life vest!
The WCJ Long Sleeve Riding Jersey is cut slightly larger than typical shirts including a longer cut torso. This means your jersey won't ride up your lower back while you're riding at speed for no unsightly sunburns! Priced at $50 TO $55 USD each (depending upon size), the WCJ jersey is more affordable than other riding shirts and with a shorter turnaround. So equip yourself with the best riding jersey on the market by visiting The Watercraft Journal store HERE.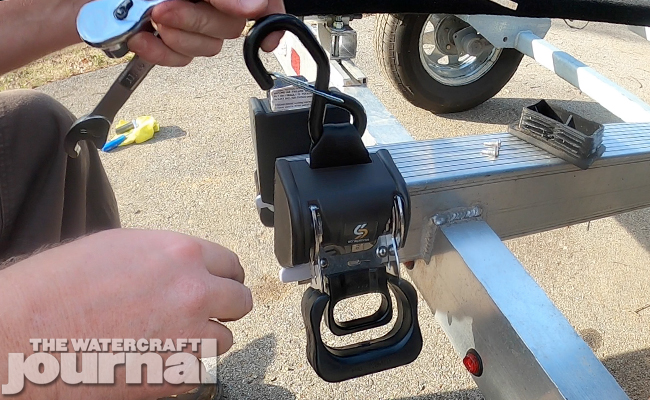 Strapinno Dual Lock Stainless Steel Retractable Ratchet Straps (pair) – $85.98
Earlier in the year The Watercraft Journal teamed up with Strapinno to see how we might like their bolt-on retractable ratchet straps that mount directly to your PWC trailer. Per our review video, they went on within a few minutes and have been one of the best additions we've made in years. Strapinno's most glowing characteristic is how effortlessly they automatically unspool without tangling and retract with a depress of the rubberized paddle.
Strapinno's retractable ratchet straps have a spring-loaded safety latch in each S-hook so they won't bounce loose if you fail to tighten down your strap. Made from stainless steel, all it takes is a quick soapy rinse and a little WD-40 to keep these looking brand new after each dip in saltwater. That's it! Again, these have been one of the best tools we've added to our boating routine and you'd be crazy to wrestle with traditional straps ever again.
The Watercraft Journal's Premium Hoodie – $41.99
It's chilly out there, kiddos. When we wanted a new lineup of apparel for The Watercraft Journal we specifically mentioned wanting a top quality, super-comfy hoodie in the lineup – and here it is! Made from a thick poly-cotton blend, the WCJ Premium Hoodie is a unisex design and comes in four wintertime colors (black, charcoal, navy and blue).
We kept things simple and printed the thin-white logo from The Watercraft Journal. We know you'll enjoy this hoodie, and so will your girlfriend or wife who'll likely steal it when you're not looking. The big kangaroo pocket is large enough to stuff your hands into even while wearing gloves, and keeps you toasty even while wearing it out on the lake beneath your life vest.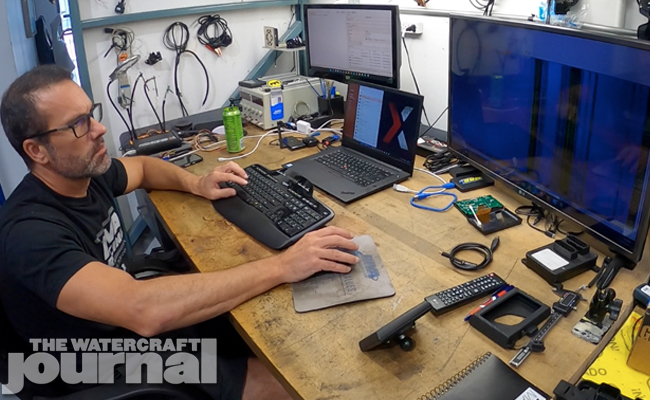 RIVA Racing 2022 Kawasaki Ultra 310 ECU Reprogramming Service – $644.95
For the most part, the offshore championship-winning Ultra 310 suffered when it came to run-of-the-mill performance enthusiasts looking to eke out some extra speed on flat-to-mild conditions (particularly when compared against similar full-sized 3-seaters from Sea-Doo and Yamaha). Thankfully, RIVA Racing has made massive gains in a short amount of time with their Stage 1 ECU reprogramming for the '22 and up Kawasaki Ultra JetSkis.
RIVA Racing published a short clip of their '22 Ultra 310LX-S running a sustained 74mph at 8,000rpm. And that was just the Stage 1 reflash – no impeller swap or pump wedge was used. Currently, RIVA is working on a Stage 2 package, but for now, the Stage 1 reflash removes the factory speed control (capped at 67mph) and massages the timing curve a little. Currently unavailable for the MaptunerX, all ECU reflashes must be done either by a RIVA partner or the ECU being shipped into RIVA Racing itself.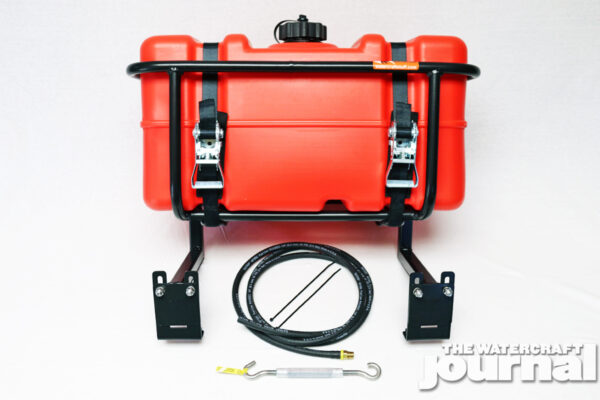 The Watercraft Journal's Long Hauler Auxiliary Fuel System Kit – $695
As personal watercraft have evolved into super-comfortable, feature-laden machines, more and more enthusiasts are using their PWC to explore new places and ride further distances. To help them go further, The Watercraft Journal's Long Hauler Auxiliary Fuel System Kit increases your PWC's fuel range by upwards of 85-percent (depending on model). Engineered so that the least mechanically-savvy could install it using common hand tools, installation requires zero permanent modifications, and is 100% reversible.
This system works on all 2004-and-up 4-stroke Kawasaki and Yamaha runabouts, as well as all 2003-through-2011 Sea-Doos. (Changes made to the fuel pickup by Sea-Doo in 2012 makes use of our system impossible without major changes to the factory fuel system, which we didn't want to require.)
The kit consists of 9 pieces: a special-designed stainless steel, powder coated rack from Kool PWC Stuff, featuring a patent-pending Z-bar adjustable base lined with Hydro-Turf padding; a stainless steel double-hooked turnbuckle; a USCG-certified 12-gallon auxiliary fuel tank featuring a ventilated locking gas cap, internal pickup and fuel level gauge; two ratchet straps; 11-feet of non-EFI 50psi-rated fuel line fitted with a brass 5/16-inch hose barb; and two zip-ties to secure the fuel line. The Long Hauler Kit is sold exclusively through The Watercraft Journal's online store for $695.
Brisbane Kawasaki JetSki Wash & Flush Complete Kit – $160 AUD
Brisbane Kawasaki created a signature brand of jet ski was and flush. The products are 100% biodegradable, PH neutral and phosphate free. The Ultimate Flush and Wash Kit includes a foaming shampoo and salt remover and foaming flush and salt remover, a foaming gun and mixer adapter, and two bottles each of the wash and flush are included as well.
The flush is commercial grade, and it works well. It is safe for use on all gaskets, removes salt, and calcium deposits. It also descales the engine cooling system and breaks down deposits that have built up. Simply add the flush to the mixer, plug into your ski, and flush according to your owner's manual. These products do what they're supposed to do and that's to clean your jet skis. Get the whole kit here.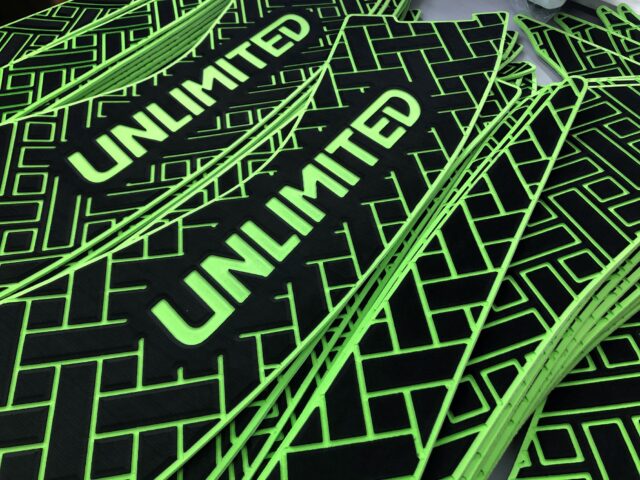 Unlimited PWC Custom Traction Mats & Seat Covers – various
In recent years, we've seen quite a few big acquisitions – big conglomerates eating up lots of little shops and vendors. Thankfully, Unlimited PWC has remained strong and able to generate unique, creative and exciting traction mat designs for a huge array of different watercraft makes and models, whether its a 2022 Kawasaki Jet Ski SX-R standup, Kawasaki Ultras, STX models and the full-sized Sea-Doo GTX/RXT.
Available in half a dozen patterns and a full spectrum of colors, Unlimited has traction mats for several models and years of PWC regardless of brand. And to that, Unlimited PWC also paired up with Jettrim to design your own Sea-Doo RXT-X 300 and Wake Pro seat covers! Comprised of ballistic nylon, ultra-grade marine vinyl, and non-slip traction materials, these non-slip traction seats can be customized to match the graphics and colors of your PWC.
Sea-Doo's Heated Grips – $229.99
Let's just be honest – there's not a lot of you in Florida or Arizona who are going to need these. Now, we're certain these would move in California, but that's only because Californians don heavy jackets and thermal underwear when the mercury dips below 58º. For the rest of us who never-say-die in the face of riding in foul weather, Sea-Doo's Heated Grips are one of the most welcome accessories we've had the pleasure of testing. And no, that is not hyperbole.
Sea-Doo has done a masterful job with its wiring components, making the adding of electronically-charged accessories pretty effortless. Adding the heated hand grips did require a bit more tooling than other items we've installed, but once completed, the grips work masterfully (only when the engine is running). In fact, of the five heat levels, the highest (red) was often too hot to enjoy even as we sped along in sub-freezing air temperatures.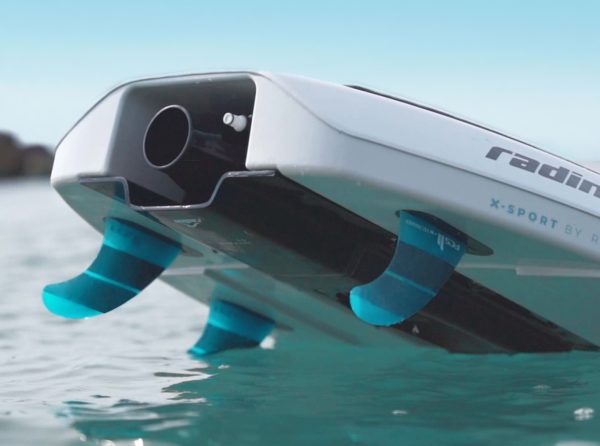 Radinn X-Sport Electric Surfboard – (starting at) $9,345
While we're still a long ways away from lineups of electric personal watercraft, we at The Watercraft Journal have been big fans of the Radinn series of electric surfboards. Sold through major retailers like RIVA Motorsports and JetBrada Inc., the Radinn lineup offers virtually something for everyone: we like the X-Sport due to its super-durable XDL (Extremely Durable and Lightweight) hull. Made from high-impact thermoforming wrapped around a polystyrene core reinforced with fiberglass layers, it's tougher than most PWC.
Equipped with four fins (skegs) for maximum balance, the X-Sport can be equipped with either the standard 25min. charge battery or the extended 45-minute version, as well as the standard G3 propulsion drive worthy of 27mph or the monster G3 Pro pushing you upwards of 35mph. The X-Sport is a wide, thick board offering maximum stability and floatation, which is ideal for beginners too. Whether you're a grom or a salty veteran, the X-Sport is our pick when it comes to the future of electric-assisted jet-powered surfing.