It's incredible to think that we've gone nearly half a year without an episode of "Vicious Rumors & Vile Gossip" here at The Watercraft Journal. Frankly, we're thinking we might be slipping in our old age. But never fear, our trusty crystal ball of future-reading mysticism is still firing on all eight cylinders and we just filled up the tank with some high octane go-juice. And since that analogy got away from us there, we'll just cut to the chase: Kawasaki and Yamaha ain't doing much of anything in 2018 besides new colors and graphics. It's going to be Sea-Doo to hog the spotlight when they roll back the curtain.
And why is that? Because Sea-Doo has quite a bit to celebrate. Back in 1968, Bombardier launched the very first Sea-Doo. Equipped with a single-cylinder, air-cooled 318cc engine producing a whopping 18-horsepower, the first Sea-Doo is pretty archaic stuff by today's standards, but at the time, they were pretty "far out" as far as a two-seater runabout went. In marking their 50th anniversary, Sea-Doo will be rolling out not one, not two, but quite possibly half a dozen new runabouts for the 2018 lineup. There will also be a few cuts to trim up the lineup as well, but we'll get to those in a minute.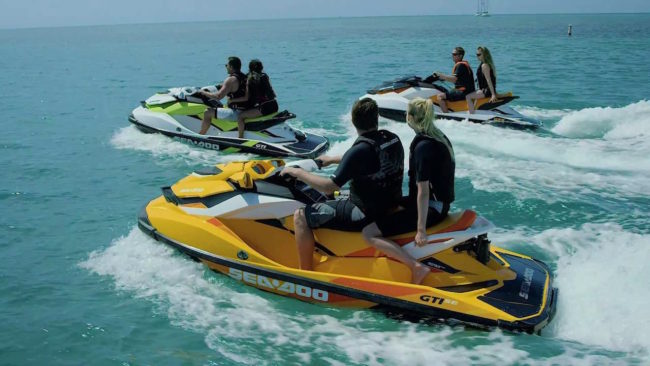 First, let's address some rumors: No, Sea-Doo is not launching a standup. The idea is pretty far-fetched considering Sea-Doo chose not to offer a standup when over 150,000 units were being sold (as per 1995 sales records) annually. That, compiled with the failure of the 3-D and in light of the unmitigated success of the Spark, and it is a logical certainty. Understandably, a standup could very well be produced with very little cost involved, particularly as so much could be directly taken from a base-model Spark. Even a hull, deck, tray and hood could be made from BRP's Polytec material, but again, the market isn't compelling enough for the company to focus its efforts there.
Yet, new applications of Polytec does. For 2017, Sea-Doo offered the base model GTS, GTI and GTI SE with the 90-horsepower ACE 900 Spark powerplant and Polytec hull. Surprising to some and not at all to others, the Polytec-equipped 3-seaters have been a homerun. Families and riders looking for the stability of the larger Recreation-level craft but looking for a lower price point (ranging from $7,699 to $9,599 MSRP) were drawn to the new machines almost as much as the Spark. With BRP's first foray into Polytec-based runabouts a success, we're guaranteed that other naturally-aspirated GTI's will follow suit, including the existing 130 and 155-horsepower models, GTI SE and GTI 155 Limited.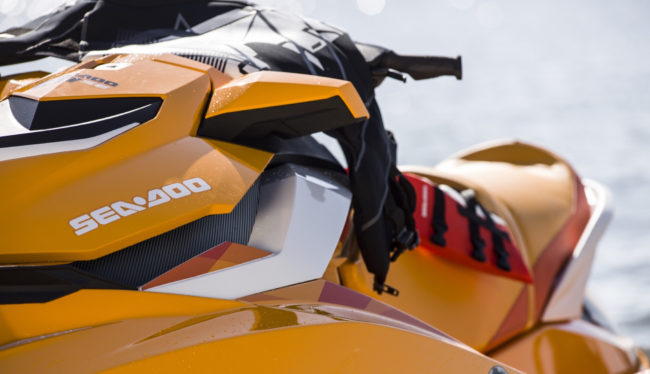 Equally, as the current GTR-X 230 is the only model employing BRP's new CM-Tech (Closed Mold Technology) deck material, we're betting on all of the aforementioned Recreation segment models using the same deck, including the sporty GTR 230. CM-Tech is mainly a proprietary process in the way gel coat is applied after multi-layer thermoformed sheets of Acrylic and ABS are placed into the mold. This accelerates the process and also improves the final quality, resulting in fewer rejects. It also results in a high gloss acrylic finish that is also more resistant to chipping and cracking due to its flexible nature, making it a better partner with a Polytec hull.
Our final bits of prophetic projection are two fold: In late 2008, we were introduced to the first S3 hull-equipped Sea-Doos, the GTX iS 255 and RXT iS 255. Completely unique (apart from the powertrain, which was introduced a year earlier in the X-series units), the stepped offshore race boat-inspired S3 hull, angular, articulated and suspended deck and digitally-controlled coil-over shock was the stuff of James Cameron movies. Unfortunately, the iS units were simply too far ahead of their time for us luddites to appreciate and the Intelligent Suspension option has gone the way of the dodo. For 2018, so too will all suspension-equipped machines, which was solely the GTX S 155 and GTX Limited S 260.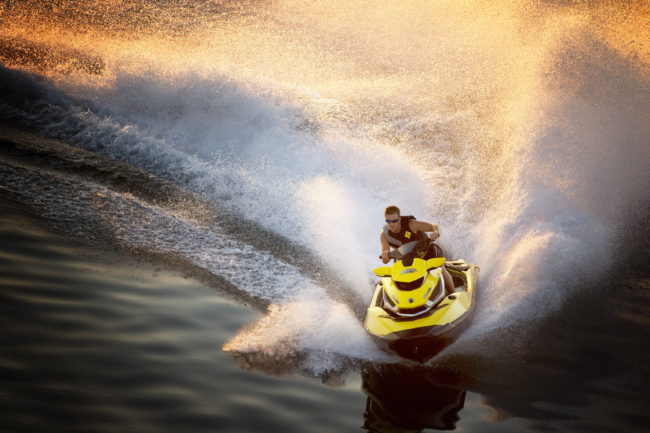 Equally noteworthy is the age of the S3 platform itself. A decade is a lifetime in personal watercraft years, and 2018 will mark 9 years for the current full-sized runabout hull. Although having zero misgivings towards the current runabout (in fact, quite the contrary. The Watercraft Journal named the 2017 Sea-Doo RXT-X 300 "Watercraft of The Year" and its sibling, the GTX Limited 300, a runner-up), the manufacturer is rather predictable when it comes to updating its designs and the S3's time is up. We'll be sorry to see it go, as we find it immensely pleasurable – and consider the outgoing RXT-X 300 a worthy swan song for the platform.
And for those taking note, the current RXP-X 300 platform was first introduced for 2011, so there is still plenty of life left in that machine's design. If you love it, you'll get to enjoy a few more years of it as-is. And one more thing: considering that all GTI's, including the 155-horsepower models, will ride on Polytec, that opens the door for the few naturally-aspirated GTXs to do likewise. While it is dubious that a 90-horsepower ACE 900 plant will reside beneath the 3-tiered bench of a GTX, we do believe these models will be the first full-sized units to employ a Polytec base. With all that being said, you'd think we'd be done. Right? Well, maybe not.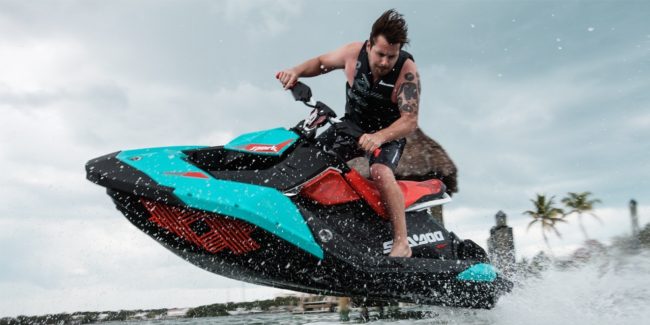 Tales of a one-year-run limited Spark have surfaced (again) and frankly, we think it'll be a bright yellow-and-black 50th anniversary Spark X touting 110-horsepower (or a little more) and a few other "racy" options like X-Series steering, foot wedges and seat. The limited-edition Spark Trixx was a runaway hit, selling a higher percentage of Trixx than the previously most popular 3-up with iBR. Considering that the Trixx was meant to be a one-year edition, we believe Sea-Doo will ring in its golden 50th with a truly outrageous Spark X performance model. In fact, you can pretty much expect yellow on everything as well as special commemorative badging. Admittedly, tales of a "souped-up Spark" have been bandied about for a couple years now, but the chatter is coming in pretty loud now – and what better way to celebrate 50 years of fun on the water than a hot rod Spark?