Let's just begin with this: None of us guessed this one right. And frankly, there's gonna be some seriously obnoxious gloating online. Nevertheless, it was an inevitability that once Yamaha released a redesigned and slightly upgraded GP1800R SVHO WaveRunner for 2021 only weeks before a near-completely overhauled RXP-X 300 was revealed by Sea-Doo that the two would collide in a showdown. As such, heads up drag races have sprung up across the globe and few of them bothered to conduct them with any sort of scientific prowess. Just a vocal countdown or a nod of the head, and off they went.
For us at The Watercraft Journal and Jerry Gaddis of Greenhulk.net, such a showdown is wholly valueless. For years, our two media outlets have attempted to perform the most accurate measurements of speed with entirely repeatable results. No black magic. No voodoo (save for whatever evil spirits haunt the bayous of Morgan City at night). Recently, Jerry's son, Greg has taken the reins over for the official YouTube channel, Greenhulk Garage, and has definitely picked up the pace when it comes to video production. (If you haven't yet, make sure to subscribe.)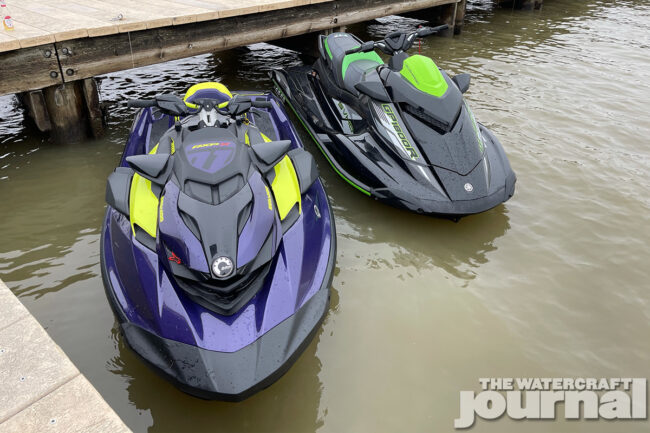 Greg Gaddis was instrumental in our previous acceleration shootout between the 2021 GP1800R SVHO and the 2020 GP1800R SVHO. A little over a week ago, the Gaddis' long overdue 2021 RXP-X 300 finally reached their local dealer and Greg wasted little time breaking in the purple Sea-Doo. For those unaware, Sea-Doo restricts the full output of the 300 ACE engine until the craft has surpassed 5 operation hours. Then Sport mode, Launch Control and other X-series features can be used to their fullest, as well as the craft reaching its top speed – albeit limited via speed limit controller.
By the numbers, the two models would seem rather well-matched. Weighing in at 772-pounds, the SVHO-propelled GP1800R fetches an MSRP of $14,749, touts a 18.5-gallon fuel cell, 28.4-gallons of storage, and comes equipped with a folding rear swim step, adjustable tilt steering, and a full-color digital dashboard, not to mention RiDE, No Wake Mode, Cruise Control, digital Launch Control and even a new Auto Trim cornering assist.
Opposedly, the RXP-X 300 tips the scales at 780-pounds, a scant 8-pounds heavier than the Yamaha. Wielding a $16,899 MSRP when equipped with BRP's Premium Audio Package ($800) and the Midnight Purple livery ($300), the 'Doo is significantly pricier. Fuel capacity is equal at 18.5-gallons, and the Sea-Doo's 40.6-gallons worth of storage dwarfs that of the WaveRunner. Added features include a new Ergolock R single-place adjustable saddle, iBR, Launch Control, iTC modes, and angled foot wedges.
Of course, the biggest gap between the two is horsepower, right? Interestingly, RIVA Racing's own Jesus Garcia shed some insight. "Horsepower [outputs] between [the] Sea-Doo 300 ACE and Yamaha SVHO engines are very similar. [The] SVHO engines deliver 250 horsepower at 7,300rpm, boosting around 7 psi; but before the speed limiter starts to work, RPM goes up to 7,700 and boost is around 10psi, which makes the engine deliver around 285 horsepower."
"[The] same thing happens with Sea-Doo. While the break in period is active, boost and speed is limited. Once you put the hours on it, the engine will produce between 7,500 and 7,800 rpm (depending on which model) and around 10 psi, which makes around 290 horsepower. Removing the [Yamaha's] speed limiter will make [SVHO] produce approximately 10 psi [at] around 7,800 rpm, [which] is going to be around 290 horsepower (it still has a boost limiter).
"On the other hand, once you remove the speed limiter [the] Sea-Doo will produce 8,000rpm and around 13 psi (there is no boost limit) [making] around 300 horsepower in ideal conditions." Jesus concludes, "[The] difference in speed is not coming from [the] horsepower difference between the two boats; it's coming from the difference in hull design, tunnel, pump, etc. That's why also the handling, the feeling when you go through rough water, the cornering, etc. are so different between them."
Above left: The 2021 Sea-Doo RXP-X 300 blisters the water with a 5-to-60mph of 3.60-seconds, and that's also with a full tank of gas and the added weight of the BRP Premium Audio System. Above right: Believe it or not, the slower 5-to-60 time was recorded with the use of Launch Control. Greg was able to repeatedly outpace the Launch Control using the VTS manually.
As demonstrated previously, all acceleration tests are conducted at sea level (this day it was 67º degrees with 80% humidity, and 5mph winds). Both skis had their fuel tanks topped off to prove that one wasn't favored over another (at 6-pounds per gallon, 18.5-gallons calculates to 111-pounds). More importantly, as tracking a true zero-to-60 is impossible with a watercraft, Greg set the Vbox accelerometer to begin recording at 5mph. He also recorded a peak top speed before each machine's speed limiter kicked in.
To say the results were surprising is quite the understatement. In every test, the RXP-X 300 was substantially quicker – and faster overall. For both watercraft, Greg's deft toggling of the electric trim was able to out perform the factory preset Launch Control settings, netting superior results each time. Greg noted, "Interestingly enough, the Sea-Doo was very inconsistent with the Launch Control and was almost half a second slower numerous times."
Above left: Coming in .25-seconds behind the Sea-Doo was the 2021 Yamaha GP1800R SVHO. Weighing nearly 50-pounds less than the as-equipped RXP-X, the GP1800R lost precious seconds as it cavitated out of the hole, fighting to bite the water. Above right: Even with Launch Control engaged, the GP1800R couldn't close the gap, in fact, Greg actually recorded slower numbers with the feature engaged.
Nevertheless, Greg recorded a staggering 72.0mph on the RXP-X before the GPS-monitored dashboard manually eased back the throttle and slowed the craft down to 69mph. For those taking note, Sea-Doo advertises a mid-3-second 0-to-60 time, and per Greg's findings, 3.60-seconds proves there's no baloney in the advertised claim. As Jerry observed, "[There's] zero cavitation; it just rockets out of the hole."
Conversely, the GP1800R struggled to bite down out of the gate. Even with the larger 160mm pump and transom plate, the SVHO couldn't reel in the RXP-X's lead of two tenths of a second. Greg recorded a peak top speed of 70.6mph before being throttled down; and like the Sea-Doo, he managed better results without the Launch Control than with it engaged – although we have both with and without recorded here.
In drag racing parlance, a tenth of a second is equal to a car length, which is considerable. Ultimately, the Sea-Doo RXP-X 300 out-accelerates the GP1800R SVHO, and that's pretty impressive given the improvements Yamaha has made over the years with this model (as The Watercraft Journal's test proved weeks ago). This of course, doesn't calculate in any other attribute such as cornering, rough water tracking or handling – just flat water acceleration. Now, we'll leave it to the message boards to hash it out.
All images and video courtesy of Greg Gaddis of Greenhulk Garage.