If you've been in the jet ski community for any amount of time, you've probably heard good things about Jet Pilot wetsuits and gear! An upstanding name in the watersport community – Jet Pilot not only offers extremely comfortable, stylish, and stretchy wetsuits, but also apparel, gloves, shoes, and more.
I had the opportunity to wear the 2019 Jet Pilot Matrix Pro jacket and john over the winter here in Texas. Despite having 4 other wetsuits, the Matrix Pro is always my go-to suit. I've worn wetsuits from Jettribe, Slippery, Body Glove, Roxy, and a few other lesser known brands over the years and all of them kept me warm and did what they needed to do. Not bad brands by any means, but Jet Pilot suits are steps above!
What makes Jet Pilot my brand of choice for the last few years is the comfort, reliability, usability, and affordability that outperforms the rest. The Matrix Pro jacket and john are both 2mm thick, and when combined your core has a nice, toasty 4mm thick layer of soft, breathable neoprene to block out the cold.
Have I mentioned how soft these suits are? Seriously, even after a full day on the water not even a whisper of skin chafe or irritation. They are so stretchy that even my wider female hips fit comfortably into a men's wetsuit with no odd bunching or overly stretched areas. That is a thing of beauty since women are a decidedly smaller market in the motorsports community. Ill fitting women's apparel runs rampant, but no fear, Jet Pilot uses top-notch neoprene and also offers dedicated women's wetsuits.
The Matrix Pro's smooth neoprene lends itself to easy entry and exit. So instead of getting a workout just getting into your wetsuit, you can focus your physical efforts on riding and not gearing up. Since this is a two-piece suit, the 2mm john uses velcro on one shoulder to assist getting the suit on and off. If you are like me and have large heels, the leg zippers are a welcome feature to help get the big feet through small, leg-hugging wetsuit bottoms.
And I can't forget the grippy 3mm shin pads. I've tested these out in races, and they grip the tray on a start better than other brands I've tried. Plus you get a little bit more protection than bare shin bone! The Matrix Pro 2mm jacket is simple to adorn with it's large front zipper that is easy to grasp even with cold fingers.
OK, it is soft, stylish, and easy to get in and out of, but we're not going for a stroll at the mall. Does the wetsuit keep you warm when riding? Yes, despite Texas winters being mild, for a thinner wetsuit the Matrix Pro has a wide effective temperature range.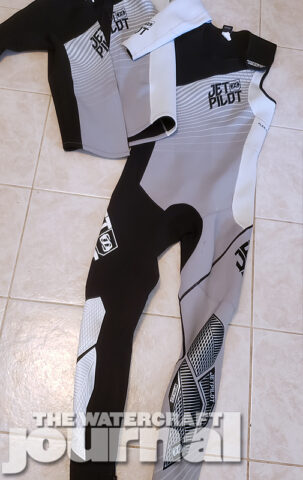 Obviously, temperature comfort is different for each person, but speaking in broad terms this suit will do exactly what you ask of a 2mm suit, and when combined with john and jacket, a 4mm core.
I preferred this Matrix Pro over a dedicated 2/3mm one-piece wetsuit just because of its flexibility. In mild temperatures the john was comfortable by itself, and when the cold fronts rolled in I grabbed the jacket and enjoyed some warmth on those cloudy winter days.
Though wetsuits are known for cold weather, they are also great options for protection when racing or enjoying spirited recreational riding. Having the buoyancy and protection of a wetsuit is welcome when ejected from your ski. Water can be harsh at 70mph!
The john can offer year-round leg protection for those stand up riders looking to reduce small cuts and bruises from the dreaded knee and shin bash on the movable pole and handlebars! Sit downs seats are also known for chafing the inner leg so suit up with the Matrix Pro and avoid that discomfort all together!
The 2019 Matrix Pro jacket and john are available in three color combos to fit your needs. The grey/black is featured here, with other options being red/blue and green/black. At just $119.99 for the jacket and $164.99 for the john, the Matrix Pro is a comfortable, effective investment to add to your riding kit!