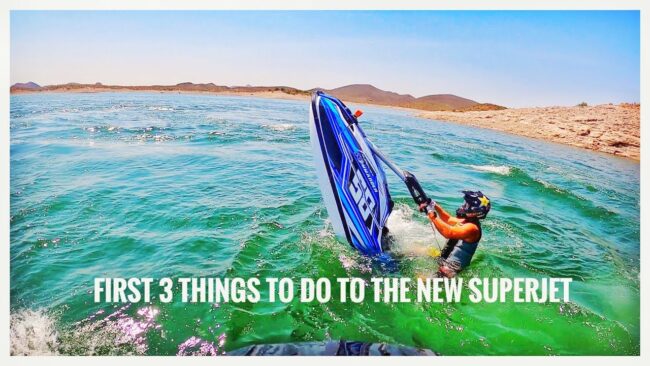 A little over one week after the official revealing of the 2021 Yamaha SuperJet and we are starting to see the PWC community tinker with it. Naturally creatures of habit, when there is room for improvement, we will act on it and Dustin Motzouris is one of the first to get his hands on this brand new SuperJet to explore a few modifications.
In his video below, he discusses with us the first three recommended modifications to this ski. At the 7-minute mark in the video, he will walk you through these changes.
First and foremost a set of aftermarket mats from Jettrim. This improves grip and gives more confidence in finding the rear of the tray. Motzouris even admitted that with the factory mats, he struggles to find the rear and actually stepped off the ski at one point.
We have also noticed other comments about the factory mats lacking material over the side walls. An aftermarket set could help in this area especially for those who utilize their forearms and elbows to pull yourself up. Cushioning this area will give grip and make it more comfortable.
The next item on the checklist is to upgrade the steering system. If you are a dedicated rider or ride aggressively, this modification could definitely benefit you however if you plan to simply ride recreational for a while, then the factory steering system should be sufficient.
Lastly is utilizing the MapTuner X to upload those existing tunes to the TR-1 engine. This will not only give better throttle response, but also improve mid-range and top speed performance. Dustin said he gained about 2-3mph on the top end.