Let's just get right to it: Personal watercraft sales are the highest they've been since 2007. Just last year, the total number of new vehicle sales excelled 87,000 units. (That's literally double the total sales a decade earlier.) To meet this wave of newfound demand, Yamaha Motor Corp. USA is rolling out an unprecedented eleven new WaveRunners for 2021, making this the single largest new product launch in the brand's 35 years of personal watercraft production.
Additionally, this last year marked the first time in decades that the percentage of first-time buyer sales (52%) eclipsed return buyers (48%). Yamaha's WaterCraft Group general manager, Bryan Seti explained, "Coming off [of] a record sales year that saw us sell out of most models, these new products elevate our line even further. […] This is proving to be a very special year for Yamaha WaterCraft and we think our customers will find these new products to exceed their expectations of what they can do on the water."
Above left: The 2021 GP1800R SVHO shows a bit of retro styling with its redesigned hood, looking a bit like the GP1300R from years back. Above right: The entire FX line returns unchanged for 2021, save for new colors and decals – as well as many new accessory options.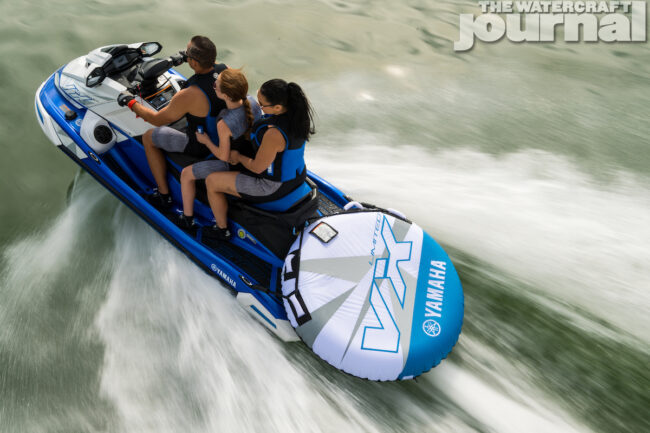 Above: In addition to an entirely new deck design, Yamaha unveils two fully-loaded Limited models, the 100HP TR-1 powered VX Limited and the 180HP VX Limited High Output.
Particular focus was placed on Yamaha's most popular segment – the VX Series – by including a swathe of top tier features and accessory options previously unavailable on models other than higher-end FX Series runabouts – as well as some design features learned on the Rec-Lite EX Series. This manifested as a redesigned deck which shares many of the aforementioned FX's attributes. Deeper, wider, self-draining footwells, a wider rear swim platform and even a reshaped seat that radically improves rider comfort and ergonomics.
The reshaped saddle is 1.5-inches narrower and slightly tapered at the knees, allowing the driver better lower-body grip in cornering and comfort while cruising. To accomplish this new seat arrangement, the redesigned VX uses a black plastic secondary deck panel – similar to those first used on the EX WaveRunners – that also allow for greater engine access when removed. Passengers are also entreated with a resculpted rear seat and handrail as well.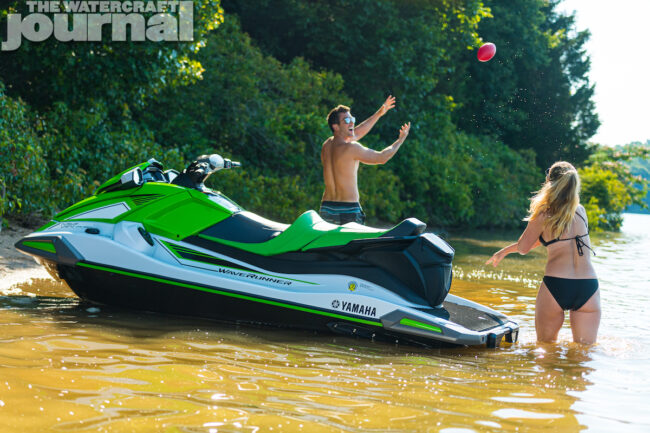 Above: Yamaha is rolling out a huge catalog of redesigned and returning accessories, including several soft-sided cargo bags and coolers. 
Above left: The VX Limited comes with a new "wet storage" rope storage bag that tucks up nicely below the redesigned rear passenger handle rail. Above right: The Limited models also come standard with Yamaha's all-new factory-installed sound system pumping out 100-watts of sound!
Drivers now enjoy the industry's first full-color LCD "Helm Control" as well. The 4.3-inch screen operates Yamaha's Connext software displaying fuel mileage and consumption rates, a PIN security code and even pre-setting a maximum speed – all controlled by a touchpad located beneath the steering on the right hand side.
For those VX models equipped with either the 1,049cc TR-1 3-cylinder four-stroke (VX-C, MSRP $9,149) or the TR-1 High Output (VX, MSRP $10,049; VX Deluxe, MSRP $10,849; VX Cruiser, MSRP $11,149; VX Limited, MSRP $12,449) horsepower production is set at 100 and 110, respectively. For the two VX models equipped with the naturally-aspirated 180-horsepower, 1,812cc High Output Marine Engine – specifically the world's best selling PWC 3-years running, the VX Cruiser HO (MSRP $12,049), or the new-for-2021 VX Limited HO (MSRP $13,549) – Connext can also adjust acceleration speeds from "normal" to "slow".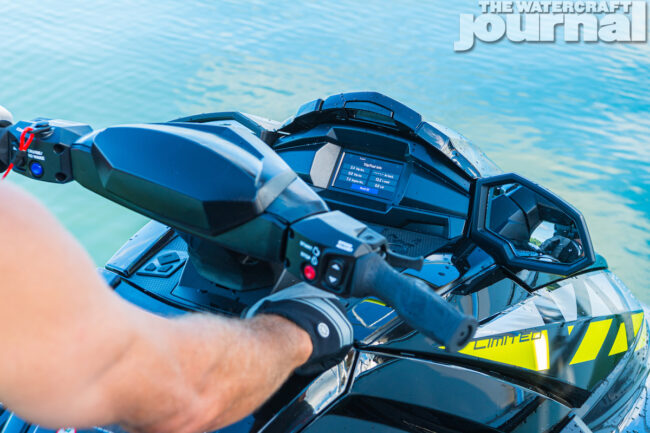 Above: The new 4.3-inch Helm Control dashboard is a full color, glare-resistant LCD screen operated via a key pad fixed to the deck directly below the handlebars. Notice the 3-button sound system controls below the left-hand side of the handle bars.
Above left: The redesigned deck for the VX and GP models feature deeper, wider and self-draining footwells. Above right: 2021 marks the first year of factory-installed, hard-mounted speakers. The cases are either black or white, and color-matched to the deck of each unit.
With the deck's redesign also comes an all-new glovebox. Not only is it the largest glovebox ever offered for the VX Series, it's also watertight and lit with blue LED lighting coming from a USB and a 12v power outlet as standard equipment (except for the base model VX and VX-C). Base storage is also up with a wider bow compartment for easier access; a more durable, high strength hinge and dampener; and a snap-top, water-resistant box found beneath the rear seat.
Further features on the redesigned VX Series include the addition of the multi-mount accessory system; simply screw in a RAM ball-mount and you can attach any number of items, like a GPS, action camera, etc. Yet, one unique option for the VX Series (except for the base model VX and VX-C) is the availability of a factory-installed marine audio system (an $800 option); comprised of twin 4.5-inch waterproof marine speakers, an integrated 2-channel (50 watts per channel) amplifier, and a low-voltage regulator to protect the battery; all of which is operated by an easy access control pad below the handle bars on the left hand side.
Above left: The redesigned deck also includes the largest (and widest) glovebox offered for the VX. Look inside and you'll see both a USB port and a 12v socket that glow blue with LED lighting. Above right: All VX models also include ports for RAM ball-mounts.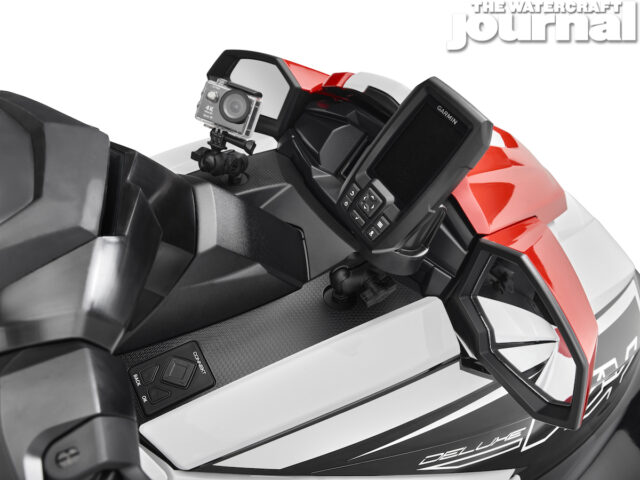 Above: Here's a better look at the Connext control pad (below the handlebars) as well as the accessory RAM mount ports. These allow for a wide variety of accessorizing.
Now, if you're looking to have it all, the new VX Limited HO comes with the factory-installed integrated speaker system, as well as the rest of the now-famous Limited package, including a single-rider tube, tube inflator, tube holder, tow rope, tow rope bag, custom cover with glove box access and two fenders. Of course, if you're wanting all of that without the extra 70-horsepower, the TR-1 powered VX Limited WaveRunner returns for 2021, as well as the VX Cruiser, VX Deluxe, VX, and VX-C.
To those unacquainted, the VX models share the same hull and deck molds as the performance-bred GP series, meaning the two series share similar handling and cornering characteristics. The differences between the two are in their material construction. The base model VX-C and VX are cast in traditional SMC fiberglass, as the remainder of the VX Series are molded in Yamaha's proprietary NanoXcel clay, providing a thinner, yet equally as durable molecular bond, which dramatically shaves weight.
Above left: The front storage of the new VX models is equally huge, as well as stepped to allow for Yamaha's soft-sided cooler (similar to the FX models). Above right: The VX retains its same hull, which is the same used on the race-course dominating GP1800R models.
Above: The Watercraft Journal was invited to test ride the new GP1800R SVHO before any other PWC magazine in the world. The acceleration, mid-range pull and mid-corner throttle of the new GP has been greatly improved thanks to several changes made to the craft's hookup and cavitation mitigation.
For the race-ready GP1800R SVHO (MSRP $14,749) and HO (MSRP $12,549) models, Yamaha employs its NanoXcel2 material. Shaving off an impressive 18-percent more weight from its NanoXcel predecessor, NanoXcel2 is also 100-percent repairable without the use of special tools or materials too, and results in an automotive-grade Class A smooth, high-quality paintable surface. This lends itself to Yamaha's excellent power-to-weight ratio, and is directly attributable to the GP1800R being the weapon-of-choice of more racers and professional athletes than any other personal watercraft today.
For 2021, Yamaha's engineers have remastered its almost superhuman GP1800R musclecraft by improving on weight distribution, acceleration and cornering. Beginning with the redesigned deck, Yamaha's GP Series WaveRunners benefit greatly from improved ergonomics. A narrow, racy seat profile and deeper, wider self-draining footwells add towards superior rider posture and knee-placement. Add to that an all-new pistol grip-mounted, tilt-adjustable handlebars, and racers and performance enthusiasts alike are going to flip.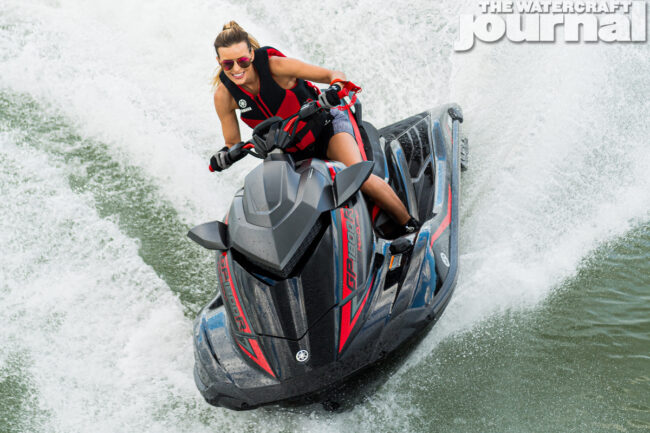 Above left: The naturally-aspirated GP1800R HO returns as well, gaining the redesigned intake grate and improved mid-ship balance via the retracted fuel tank.
Above left: Those intimately familiar with the prior GP1800R SVHO models will immediately recognize the dramatic performance gains in the 2021 model. Initial cavitation is almost nonexistent, and the GP's balanced inside lean through a hairpin is all-the-more predictable. Above right: Yamaha has also introduced an industry-first, "Cornering Control" which automatically trims the nose down to "load" the hull's surface tension prior to accelerating out of the apex of a corner.
More impressive is the introduction of Launch Control and the industry's first Auto Trim system, exclusive to the GP's. Known as "Cornering Control," the Auto Trim feature operates separately from the electric trim system on the handlebars. It automatically trims the bow down when decelerating for a tight corner, and trims back up to plane when accelerating out of the apex. Similarly, Launch Control toggles the trim down and gradually rises back up to the preset when accelerating quickly from a stop or idle speed.
On top of this, Yamaha has developed an all-new top loader intake grate to reduce cavitation, as well as upgraded the jet pump transom that stabilizes the water flow through the jet pump. Gone is the abrupt 155mm step in the aluminum transom; instead, it's a true 160mm that flows into the two-piece pump with a 160mm liner and impeller, and a tapered stator with a 155mm inlet and larger 160mm exit.
Above left: With the redesign comes some niceties as well. All GPs are equipped with a wide folding swim step that butts up to a far wider swim platform. The upper deck includes a molded-in reboarding handle as well. Above right: The new dashboard is easy to read – even at speed – and is easily navigated through the Helm Control pad.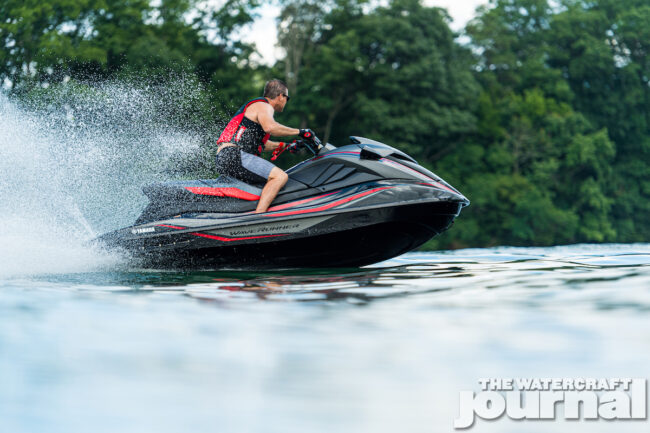 Yet, one of the biggest changes to the GP1800R is one that will likely go the least noticed by the masses: Yamaha's engineers redesigned the inner hull liner, moving the 18.5-gallon fuel tank 80mm (3.15-inches) aft, and half-an-inch lower in the hull. This move strategically optimizes the GP's center of gravity, dramatically increasing the craft's handling prowess and overall agility.
No literally, guys. The difference between the 2021 and previous GP's is night and day. Top speed hasn't changed, but getting there is a whole different experience. Out of the hole acceleration, the mid-range pull into the boost and continual hookup has made the 2021 GP1800R a whole new machine.
Above: Although not advertised, two changes were made to the GP's powertrain; a redesigned supercharger clutch that includes more teeth (27 vs. 24) and a larger diameter. This means greater engagement at all revolutions. Additionally, the transom plate has been machined wider, from 155mm to 160mm, permitting a more stable flow of water into the pump.
Above left: Although the exact same size inside, the opening for the GP's glove box is a little tighter. And you're going to have to check the option box for the USB port and 12v socket that comes standard on the VX models. Above right: And no, your eyes don't deceive you. The GP models come with tilt steering.
Above the bondline, the new GP's enjoy the same 15-percent increase in overall storage, with a bigger glovebox, multi-mount accessory system and the full-color Connext Helm Control (with the control pad below the handle bars on the right) as the other VX models. Equally, both the SVHO and HO can be set to limit the top speed and acceleration from normal to slow. Lastly, the GP's can also be ordered with the factory-installed, custom integrated marine audio system.
Minor changes to the EX Series come in 2021 in the form of a new, fully-optioned EX Limited (MSRP $9,599). The Limited comes with a king's ransom of accessories, including two waterproof wireless EcoXgear Bluetooth Speakers, a single-rider tube, tube inflator, tube holder, tow rope, tow rope bag, fixed bow-mounted dry storage, 12V outlet, custom cover with glove box access and two fenders. Additionally, only the EX Limited employs new redesigned sponsons for increased dynamic stability.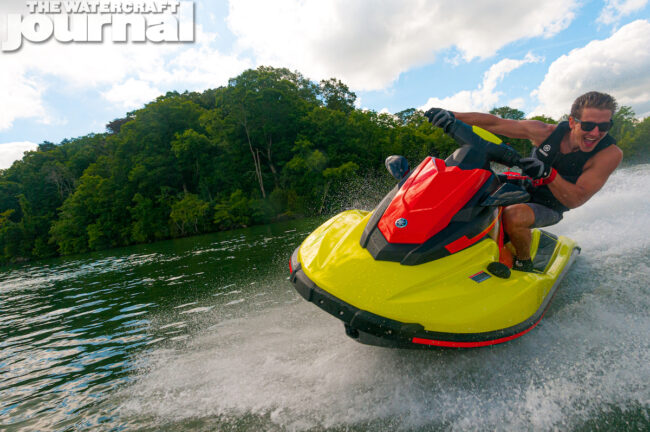 Above: The 110-horsepower EXR returns in an eye-scorching red-and-yellow livery, and remains as fun as ever. (Seriously, it's so stinkin' fun to ride.)
Above left: The EX Series of Rec-Lite runabouts feature some of the most vibrant colors and retro-styled graphics we've seen Yamaha ever use. Above right: The EX Series adds another entry: the EX Limited. In addition to the towable, rope, bumpers, chrome emblems, and a 12v port; the Limited also includes a very cool hard-mounted dry bag in the bow.
The remainder of the EX Series, including the EX (MSRP $6,999), EX Sport (MSRP $7,999) and EX Deluxe (MSRP 8,999) return, as well as the funnest PWC in Yamaha's roster (at least in our view), the 110-horsepower EXR (MSRP $9,499). All other EX models, including the EX Limited, are equipped with the standard 1049cc TR-1 producing 100-horsepower. Likewise, all EX models are made using traditional fiberglass, while the EXR shaves off 70-pounds by using Yamaha's featherweight NanoXcel2 material mentioned earlier.
And, in what might be the industry's most anticipated reveal, is the introduction of the 2021 TR-1 powered SuperJet (MSRP 9,499). Rolling out 30 years since the first SuperJet, the 2021 4-stroke was designed specifically to retain the exhilarating experience of riding a lightweight, nimble standup, while being 50-state legal and not requiring a racing license to purchase.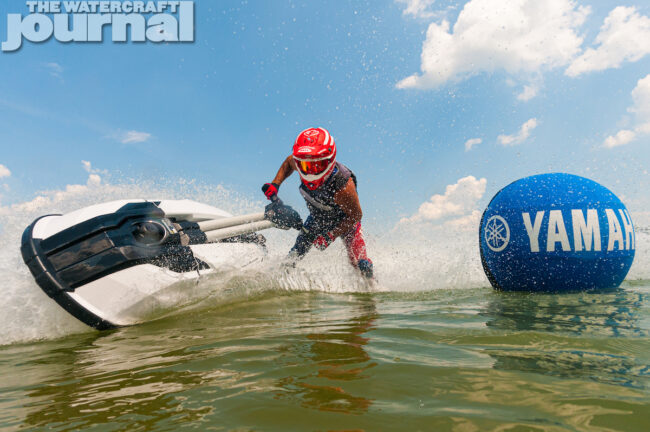 Above: What could be the most anticipated WaveRunner to come from Yamaha in recent years, the entirely redesigned, 4-stroke SuperJet is powered by the same 100-horsepower TR-1 3-cylinder and 2-piece 144mm jet pump found in the EX Series. And yes, you can truly leg drag it.
Above left: While 69-pounds heavier than the outgoing 2-stroke, the 2021 SuperJet dips the scales at 409-pounds (375lbs. dry weight) – a staggering 142-pounds less than it's closest competition. Above right: While certainly no Scott Watkins or Clay Cullen, The Watercraft Journal was able to spend a day riding the new SuperJet and was wowed with its immediate throttle response and light, nimble feel.
Yamaha's new SuperJet is 142-pounds lighter (409-pounds) and 8.8-inches shorter (81-inches, or 6 feet, 9-inches long) than is competition. This also means that the new SuperJet is 69-pounds heavier, 7.5-inches longer, 3.2-inches wider, and 5.1-inches taller than the outgoing 2-stroke SuperJet for comparison's sake.
Powered by the same 100-horsepower TR-1 engine propelling most of the EX Series and many of the VX runabouts, the new SuperJet enjoys immediate throttle response, plenty of torque and even a new L-Mode that de-tunes the TR-1 to 80-percent of its acceleration curve, dropping the top speed to 40mph; ideal for beginner riders. Otherwise, more daring riders can push the SuperJet to a blistering sustained top speed of 54mph.
Above left: The SuperJet retains its sporty, athletic feel; without any of the expected bloat of other 4-stroke standups. Putting the SuperJet on its rail is done effortlessly, and can power out of a corner with ease. Above right: The SuperJet's centralized weight encourages rides to tuck down low and forward. A 3-piece composite hood is watertight and serves as a preliminary air box for the 4-stroke.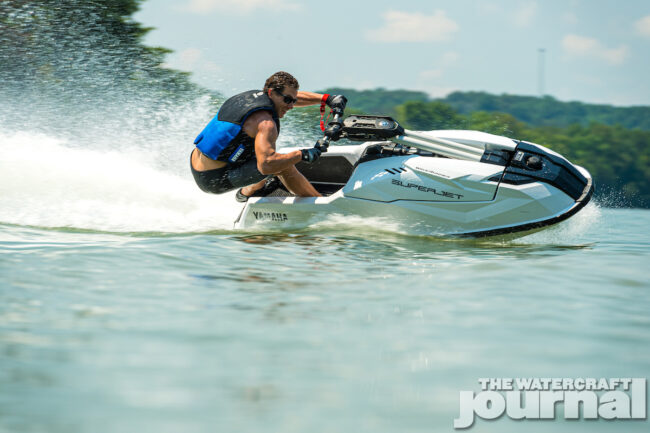 Above: One key feature to the new SuperJet are its adjustable bars – capable of moving 2-inches in length via a set of Allen bolts. The SuperJet also returns with its adjustable turning angle steering, letting the rider set their turn angle from 16º to 19º.
Wanting to give the SuperJet the widest access to a variety of riders, some cool features were added: first, a three-position adjustable handle pole (capable of extending 50mm, or 2-inches in length) and race-inspired handlebars come standard. Second, Yamaha carried over its adjustable steering cable system that can be set at either 16- or 19-degrees to increase the ski's turn angle. Lastly, a small digital gauge is fixed near the base of the handlepole showing the fuel level and L-mode (when activated).
With a wide padded foot tray featuring a small relief in the center – what Yamaha calls an integrated reboarding holder. And with a 5-gallon fuel cell, the SuperJet promises hours of fun on the water. Lastly, the hull was designed for greater static and dynamic stability. The new SuperJet commits to deliver on the promise of a true "physically-challenging, athletic riding experience" while being fuel-efficient and environmentally superior to its predecessor – and at a staggering $9,499 MSRP.
Above: Not to be overshadowed by all of the news above, the "murdered-out" all-black livery of last year's FX SVHO returns, but on the FX Cruiser SVHO.
Above left: The stellar EcoXgear speakers return for 2021, connecting to your smartphone via Bluetooth to play your favorite tunes. Oh yeah, and they float too! Above right: Not to be outdone, Yamaha's accessory division is now offering a monster Garmin GPS chart plotter package for the FX as well. Make sure to ask your local dealer all about it!
And yes, we mustn't forget about Yamaha's full-sized WaveRunner, the FX. The FX Series carries over mainly unchanged for 2021, save for some color variations and adjusted pricing, and all models – the FX HO (MSRP $13,799), FX Cruiser HO (MSRP $14,299), FX SVHO (MSRP 15,799), FX Cruiser SVHO (MSRP $16,499) and FX Limited SVHO (MSRP $17,699) – return as well. Interestingly, with so much of the FX DNA found in the VX Series, we wager it'll be even harder for customers to pick between the two.
With that, eleven new Yamaha machines are being introduced this model year – and new units are being shipped and uncrated by dealerships as this article is published. But be warned, demand hasn't let up, and deposits on all of these new WaveRunners have already been accepted, so next year might be a race to grab a new Yamaha before they sell out again. You better act quick, bud. These are gonna disappear fast.
Above left: As mentioned earlier, Yamaha's selection of stern accessories include a new (very useful) soft-sided cooler that mounts to the back of all FX models. Above right: No matter where you plan to ride, Yamaha's new accessory division has something to fit your needs.
Above: New rigid gunwale bumpers will protect your FX's automotive-grade paint even at a busy dock.
[Editor's note: This article is expressly an overview of the 2021 lineup. Prior to this release, The Watercraft Journal was exclusively invited to test ride four of these new models, the SuperJet, GP1800R SVHO, VX Limited HO and EX Limited. Each of these units will receive a full length review and video in the coming weeks.]