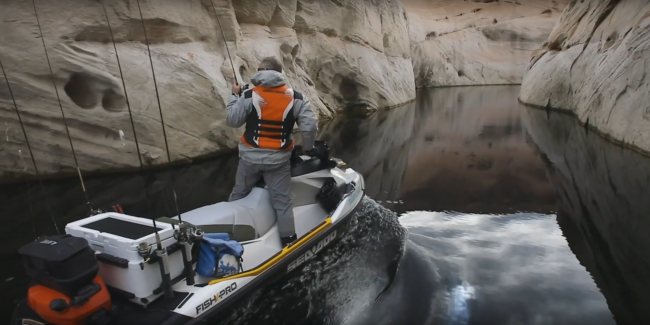 While many of you are already familiar with Sea-Doo's new fishing PWC model the Fish Pro, one outfitter is making your experience on a Fish Pro even better. Up Lake Adventures is an all-inclusive, guided fishing trip in Lake Powell. They offer a variety of packages that range from single day fishing trips to over-night trips that allow you to see even more of beautiful Lake Powell.
Bob Reed, the owner of Up Lake Adventures loves his job and being able to help people catch fish. He knows that to serve his customers the best he can, he can often be seen working long into the night before a big trip to make sure everything is taken care of. He provides all of the seasoning and cooking supplies so they only thing left to do is have the customers catch some fish! Reed is very knowledgeable about fishing on Lake Powell.
He recently went out with Tim McKercher who is in charge of Sea-Doo Special Projects and explained to him how a morning that is colder and has low pressure is the perfect recipe for going after some smallmouth bass and stripers. One of the huge benefits the Fish Pro offers is a fish finder. While some true fisherman may say that is cheating, the main goal of any trip is to stock the cooler full of fish.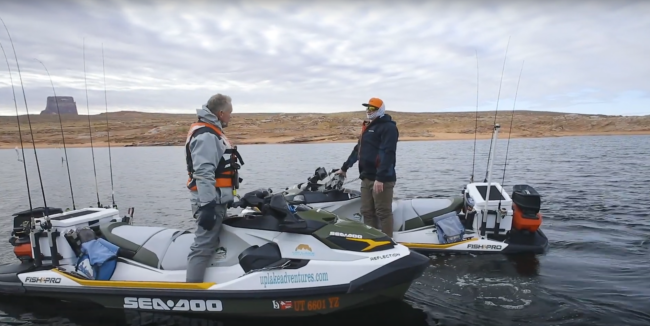 To give you just an idea of how Up Lake Adventures takes care of their customers lets walk through a trip. You will begin your trip at the Wahweap Marine State Line Launch ramp on your brand-new Sea-Doo Fish Pro. Don't worry if your fishing equipment is old or is in need of repair as they provide you with rods, reels and tackle to catch any species in Lake Powell you desire. The species range from fighting largemouth bass to great tasting walleye with a total of 25 different species of fish!
One of the huge advantages of choosing to ride with Up Lake Adventures is you get to operate your own PWC. This means you can choose where you want to fish and how long you wish to stay in one spot. After a long day of fishing and stocking your cooler on the back of your Fish Pro full, they will communicate via the marine radio to where you camp is set up. After you have caught your fish, all you have to do is a turn 180 degrees so that you are now facing your cooler and you can get to filleting your fish.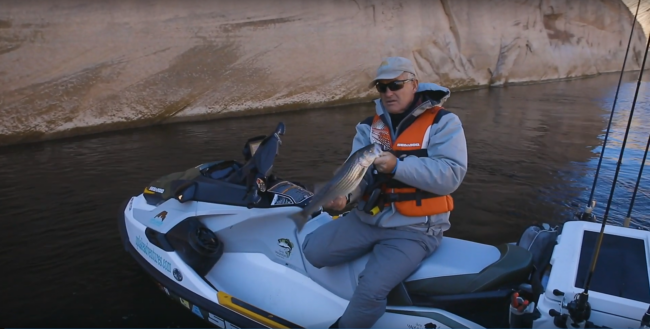 Once the fish has been cleaned and is ready to be cooked, you will head to the shore and season your fish however way you want it. Reed likes to provide rice and vegetables along with the fish to have a great meal in a beautiful scenery.
Some may ask why they need to travel to Lake Powell to fish when they have a pond by their house. The answer is that Lake Powell has clear water and the scenery is breathtaking. Check out this video posted by Sea-Doo and see why everyone should book a trip. If you have any questions or would like more information, check out Up Lake Adventures.