According to Steven in Sales, watercraft salesmen are laid back, making them easier to deal with. They aren't pushy and view jet ski sales more like selling a lifestyle. In other words, you don't have to worry about a pack of them accosting you when you pull onto the lot.
Once you've spoken with a salesperson, email becomes your best bet post shopping for a PWC. It helps the salesman and you, the prospective buyer, keep track of important notes. It also provides documentation of your wheeling and dealing and will come in handy when it's time to close the deal.
Always make sure you get everything in writing with the dealer's letterhead on it. Nothing is a done deal unless you have a bill of sale filled out and both you and the dealership representative have signed it. Make sure you and the rep have a copy.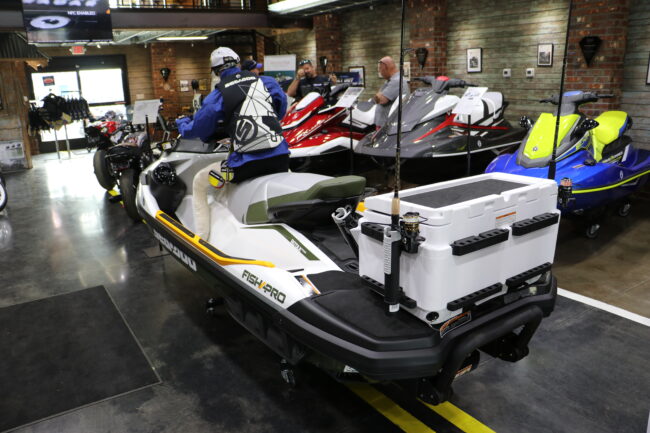 If you can avoid buying a jet ski during the warmer months, do so because prices rise and fall with the temperatures. Another ideal time to buy is after the new models come out. Grab last season's model for a much lower price. Additionally, buying at the end of the month is a good time because dealers want to move product in order to meet the manufacturers demands.
While considering the price of the ski you want, include the pesky fees that can't be escaped. Freight is a big one and the cost of freight is passed on to buyer. Another expense is paying for the shop mechanic to properly assemble the machine. This is a prep fee and usually includes the cost of fuel, fire extinguisher, programming, battery, and other things that will make the ski water ready. A document fee is another cost. These vary from state to state and may include registration, title, etc. Check your state's laws for more information.
Another thing to do is to check for promotional offers. These can usually be found online and are good to know when you go shopping. They come with a lot of fine print, so carefully read them. The costs are not always what they seem.
When it comes to costs and your budget, consider the accessories you want and need. Find out what it will cost to get your machine serviced. This will give you a complete picture when it comes to the purchase price. Also, most dealerships don't have a say when it comes to financing options. It's left up to the manufacturer and the financing options are strict. You won't have a lot of wiggle room with this and neither will the salesman.
Another item to factor in is what the dealer charges for the jet ski's first service. The charge is not included in the deal and it's crucial when it comes to the life of your ski. Plus, it takes care of a lot of initial break-in things, like little metal shards that come from running a new engine.
Test drives? Unlikely unless the dealership is near water or has a special event. The shops may have a few demo models to try or buy at a super low cost. It's a slippery slope when it comes to test riding a PWC.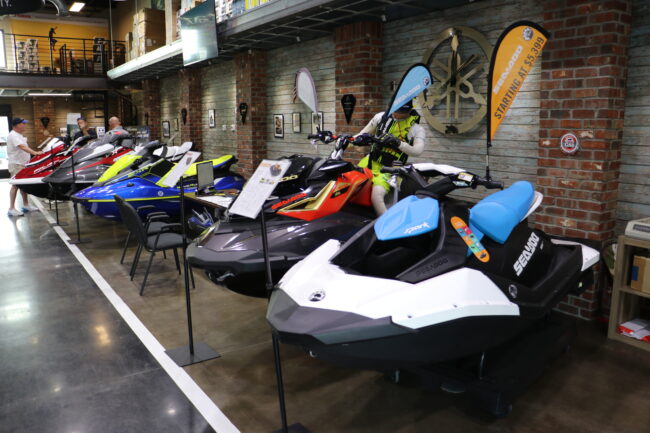 Once you've picked out your new ride, purchase PWC insurance whether it's required or not. It's not expensive and will give you peace of mind.
If you decide to buy a trailer, make sure to get it right before taking off. It's best to do this while still at the dealership because they have all the tools to make any needed adjustments.
The last thing to do before taking delivery is to have your salesperson show you how to start and drive the machine. Check out this "how to" video for some basic instruction.
When you finally do go for a ride, make sure to carry your bill of sale with you and keep it in a dry box. Once the state gives you the numbers for your ski, follow this link to buy the type that are USCG approved and apply them to both sides of your ski. You won't have to carry the bill of sale once the numbers are on your ski.