For most of the northern hemisphere, it's getting pretty cold out there. Yeah, yeah we get it, Florida. It's pretty much riding season all year long, but you've also got love bugs and snow birds…so the Sunshine State isn't the Garden of Eden all the time. Nevertheless, cold weather means many – if not most – will be winterizing their watercraft and hanging up their lifevests until things begin to thaw again. Hopefully, all of that open time is spent doing something productive (rather than sitting around thinking about riding again and waiting for Spring).
For those watercraft enthusiasts and those who love a watercraft enthusiast, we've kept up our annual tradition of putting together a Top 10 suggestions for Christmas gifts. Pulled from our ever-growing Review section of The Watercraft Journal, and few upcoming reviews of other products, this list includes many items that will maximize the experience of the water-lover in your life next time they head out. Of course, not everything is the "perfect fit" for everybody; and that's OK. So again, as some of are eking out the last minutes of the shopping season, you might find that many of these would make a great gift for the holiday season!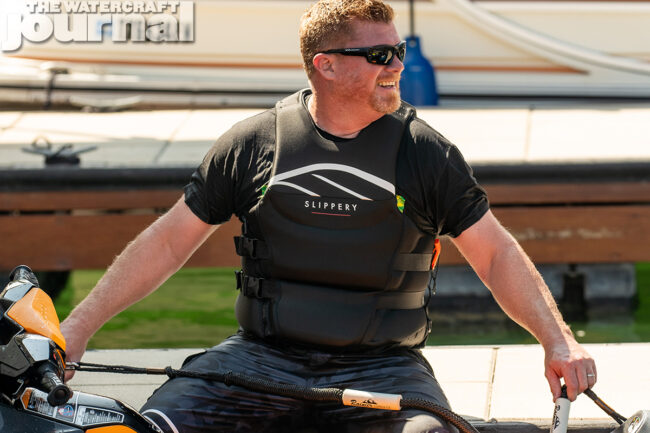 Slippery Wetsuits' Array Side-Entry Neo Vest – $99.95
Side-entry life vests have a nasty habit of being clunky, uncomfortable or non-compliant with USCG regulations. Even here at The Watercraft Journal, we've reviewed sporty side-entries that were either stitched together using coarse canvas (like what you'd expect a duffle bag to be made from), filled with thick, flat-sided slabs of heavy foam, or are just plain ugly in their design. Thankfully, the Slippery Array Neo vest is none of those things. It's comfortable, flexible, smartly molded and will keep you afloat without riding up.
Made with a variety of materials, including super-comfortable neoprene stretched over multiple EV foam panels, the Array Neo is smartly segmented, meaning you can freely double over while searching through your storage bin; has wide arm and neck holes allowing for a wide range of motion without feeling constricted; and its large 2-banded buckle-and-side zipper secures firmly without vicing you taught. It's easily one of the most comfortable and well-made side-entries today, and why we chose it for the top of our list today.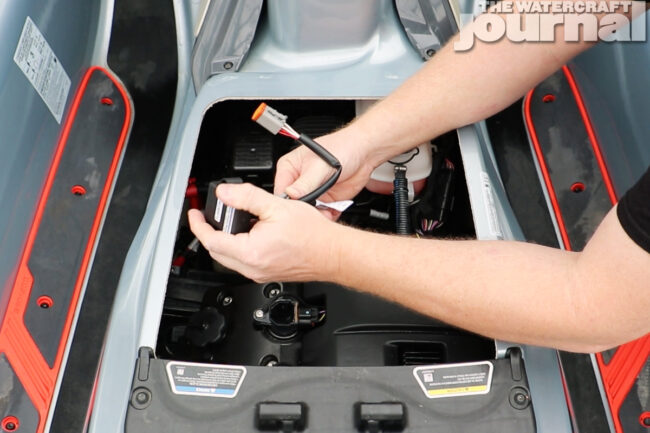 RIVA Racing's Sea-Doo 300 ('18-'20) Speed Control Override Module – $199.95
Here's a fact: most people don't care to heavily modify their personal watercraft. While tales of 80 or even 90 mile-per-hour supercharged PWC are fun and exciting, most folks are content with pretty much what the factory offers. And more often than not, that's because they don't want to void the vehicle's factory warranty or risk injuring the craft's running gear. Amazingly, there is a device which can unlock 75-plus-mph speeds from today's 300-horsepower Sea-Doos all without any of these dangers, the RIVA Racing Speed Control Override Module (or "SCOM").
The SCOM simply interrupts the communication between the GPS-controlled speedometer and the ECU, permitting the 300-horsepower Sea-Doo (be it a RXP-X, RXT-X or GTX Limited) to reach unrestricted speeds all without altering the factory ECU tune or increasing engine RPM. It can be installed within a few minutes, and delivers real results – especially when used in ideal conditions. On a '18 RXT-X 300 with 50 hours, we hit 75mph with a pretty full tank and several hundred feet above sea level – others have seen upwards to 77-78mph. And best of all, it's 100-percent reversible meaning it can be quickly removed prior to going to the dealer for service.
The Watercraft Journal Premium Hoodie – $39.99
Like we said, it's chilly out. Even Floridians, who raid the shelves at Publix for milk and bread when ice collects on their windshield, want to bundle up when the mercury dips low. When we wanted a new lineup of apparel for The Watercraft Journal we specifically mentioned wanting a top quality, super-comfy hoodie in the lineup – and here it is! Made from a thick poly-cotton blend, the WCJ Premium Hoodie is a unisex design and comes in four wintertime colors (black, charcoal, navy and blue).
This year we kept things simple and simply printed the thin-white logo design that has made The Watercraft Journal the most popular personal watercraft magazine on the earth today. We know you'll enjoy this hoodie, and so will your girlfriend or wife (or both, yikes!) who'll likely steal it when you're not looking. The big kangaroo pocket is large enough to stuff your hands into even while wearing gloves, and keeps you toasty even while wearing it out on the lake beneath your life vest. (Ask us how we know!)
BlackTip JetSports Elite Seat Covers – Various
A couple years back, The Watercraft Journal was loaned a rather plain-looking Yellow 2-up Sea-Doo Spark. Although a fun little romper, the Spark just lacked a certain visual punch that we were hoping to elicit; so we jazzed it up with a SCS graphics kit from Sea-Doo Parts & Accessories, a Blacktip JetSports Elite Traction Mat kit and some other goodies. The final trick was getting that narrow banana seat looking right. The factory vinyl was slick, and my younger kids had a time keeping from sliding around. Equally, wear-and-tear in the form of small cracks were beginning to show at the corners, which threatened to spread over time.
That's why we were quick to return to Blacktip JetSports for one of their Elite Seat Covers. Using their easy-to-navigate website, we were able to select the colors, materials and patterns to create a customized, one-of-a-kind seat cover that arrived at our doorstep within the same week of placing our order. There's literally no other company making custom seat covers who can duplicate this level of customer satisfaction. Our cover arrived ready to be installed, with directions on how to do it, and even with instructions on where to trim excess material where needed. The final result was a slick-looking, custom-made, high quality seat cover and at a competitive price.
WindRider Pro Foul Weather Jacket – $136.95
The WindRider Pro Foul Weather Jacket is made with waterproof, water-wicking materials and lined with several layers to keep the coat breathable and fast-drying no matter the circumstances. The roll-away hood and cap tucks neatly into the fleece-lined collar and will keep you warm and protected thanks to two drawstrings. The high collar is fleece-lined so it won't chafe when the wind blows by. The sleeves feature both an inner and outer adjustable cuff, with the inner being a rubberized liner that keeps out water when cinched tight.
WindRider pretty much thought of everything, including not one Velcro-adjustable cuff, but a rubberized adjustable inner cuff (with a second Velcro-strap) that not only keeps the rain and wind out, but acts as a faux-drysuit, keeping your arm dry as you submerge it underwater. It's brilliant! And when the cold air gets too much for your hands to take, the fleece-lined "hand warmer" pockets live up to their name. In fact, WindRider covered the jacket in pockets; two extra deep, Velcro-closed lower pockets, two zipper chest pockets, and an internal mesh pocket.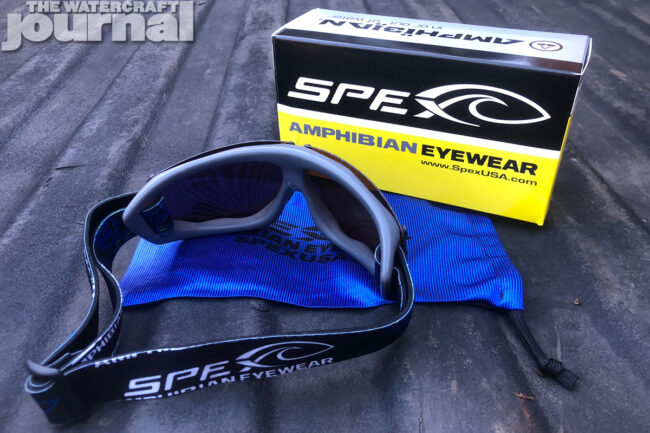 Spex Amphibian Eyewear – $59.95
We're still in the midst of testing out these Spex Amphibian Eyewear and should have a full-length review early in the New Year, but we can definitely include them in our Buyer's Guide given what we've seen thus far. The Spex Amphibians are unlike any floating sunglasses you've seen before. Primarily because they're not just sunglasses. Equally, they're not just goggles either. But rather, a blend of the two that make for a unique all-around experience, that is comfortable, lightweight and entirely geared towards PWC.
There's quite a bit of unique function in these as well. The interchangeable lenses are fastened to a soft-molded frame – made from a proprietary material called "Floatron" – that is durable, lightweight, and buoyant. Interestingly, the polarized lenses do not sit in the frames, but in front of them, leaving a thin gap between the two. This gap lets fast-moving air circulate through, keeping the lenses from fogging or moisture collecting. Additionally, a soft neoprene strap keeps the Spex taught but not too tight to your face even if adjusted incorrectly.
Sea-Doo LinQ Adjustable Ski Pylon – $314.99
One of the genius moves by Sea-Doo was the incorporation of its LinQ accessory attachment system to not only all full-sized ST3-based runabouts in 2018, but its Recreation segment (GTI-based) runabouts for 2020. This permits widespread versatility of use of its various models across all segments and regardless of features. Want to take your supercharged RXT-X 300 for a long-distance haul? An extra fuel caddy is available. Fishing from a GTX Limited? All of the Fish Pro equipment is easily attached. How about tow sports? The LinQ Retractable Ski Pylon can be mounted to darn near everything.
That round puck behind the rear seat unscrews a quarter-turn to reveal the mounting point for the Retractable Ski Pylon, whichs comes standard on the Wake Pro, providing a compact and secure mount that for an added 7-and-a-half inches of height when extended – ideal for board sports, with inflatables needing to use the tow eye mounted above the bondrail. It's important to note that the Ski Pylon should never be used to tow an inflatable tube or similar raft, as they have too much drag and/or weight for the pylon's mount. Instead, always use the rear cleat that's hard mounted to the hull above the bondline.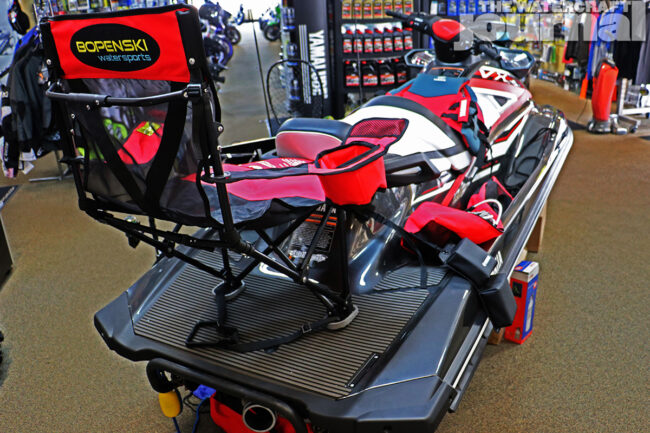 Bopenski Watersports Kickback PWC Chair – $99
In the many years that The Watercraft Jouranl has published its Christmas Buyer's Guide, the Bopenski Watersports' Kickback PWC Chair is the only product to be featured twice – and two years in a row! Many of you are already familiar with the unique two-legged folding chair, and thanks to its presence in major aftermarket retailers like RIVA Racing and Watercraft Superstore, the Kickback chair has become a huge hit! And what does that mean to you? It means that you can grab the only folding chair specifically designed for PWC for a new low price of $99!
Easily the most-overbuilt folding chair the world has ever seen is now available through two of the largest aftermarket product vendors in the industry! And yes, it really is that good. Made from anodized and powder coated aluminum and stainless steel, the frame is as rugged as you can imagine, with the perforated mesh seat being double layered and heavy stitched to last a long, long time. For you outdoorsy types, this folding chair is 100-percent on par with the nicest camping and collapsible hunting chairs that you see at Cabella's or Bass Pro Shops for double the price of the Kickback.
Makeport Marine PWC fenders – $24.99 – $29.99
Pulling alongside a dock can be nasty business without some protection. Rub rails get chewed up, paint scratched and decals torn. And some factory-offered bumpers require drilling or mounting brackets, all something most folks just don't want to do. That's why Makeport Marine's personal watercraft fenders are such a no-brainer purchase. They're designed specifically to fit your personal watercraft and require zero modifications to fit right every time.
Available in either black, white or a custom triple-tone cover, they feature a solid inner structure wrapped in a 6.5-inch protective padded surface with a high quality carbon fiber marine grade vinyl cover. Fenders come with quick and easy-to-use attachment straps that can be set up in seconds. Prior to order, simply email or call Makeport Marine with the make, model and year of your watercraft to ensure that you get the perfect fit! Although each fender is sold separately, it's highly recommended the use of two fenders for optimal protection.
BRP Premium Audio System – $999.99
And here it is, our final item. We always reserve the final spot for our "big ticket" purchase, and this, impressively enough, is the most affordable item we've ever listed in this spot: the BRP Premium Audio System. Although not the first factory-installed on board sound system, or the most powerful (those honors go to Kawasaki's Jetsounds and Yamaha's JL Audio package, respectively), the BRP Premium Audio System is the best integrated and the best value when weighed against the competition. And now that its available as an option for all 2020 GTI-based Recreation segment Sea-Doos, the package is all the more relevant.
What makes the BRP Premium Audio System so great is how it fully integrates into any ST3 or GTI-based Sea-Doo. Each package seamlessly plugs into the existing harness, powering two 50-watt speakers that can be heard clearly even at wide open throttle. Remote control pad on left speaker quickly and easily changes songs and volume from a Bluetooth-connected device. And music will play even after engine is turned off for an hour or until the battery alerts the ECU that its charge is running low. In nearly every review published here at The Watercraft Journal we've advocated ordering a new Sea-Doo with the sound system; for those who didn't, you can order the BRP Premium Audio System and have it installed by your dealer too.