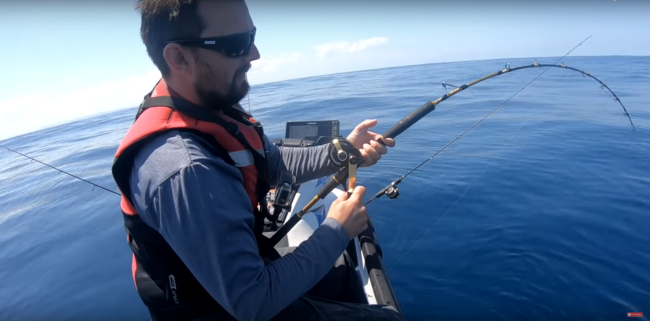 Check out this rad video with Mark from GC Jetski Fishing. He is on New Zealand's west coast and taking us offshore and to the deep blue Pacific Ocean. He loads up his Yamaha WaveRunner FX Cruiser HO, which is powerful enough to take on the rolling swell and wind. The WaveRunner is outfitted for fishing with a rack on the back that holds a cooler, four rods, and a net. Mark gets underway with four heavy-duty bait casting saltwater fishing rods, tackle, and safety gear.
After crossing the Waikato River bar, the hunt was on for big fish that were in the water's due west. He caught up with a pod of dolphins in about 40 meters of water and rode with them for a while then jetted away from the dolphins after receiving intel about some albacore tuna a little further out. Trolling and jigging from the ski, he hooked into some tuna and kingfish at the 55-meter mark. The snapper were out in full force as well and he easily caught his limit of ten. They were good sized too. It is so cool to watch him reel in those big fish from his jet ski alone in the open water. We can only imagine how it feels to be out there in deep blue among the fishes.
On the way in, Marlin were breaking the surface and a nearby pod of dolphins was also getting in on the action. The dolphins cruised alongside of the ski for a while and this made for the perfect end of a beautiful day on the water for GC Jetski Fishing.