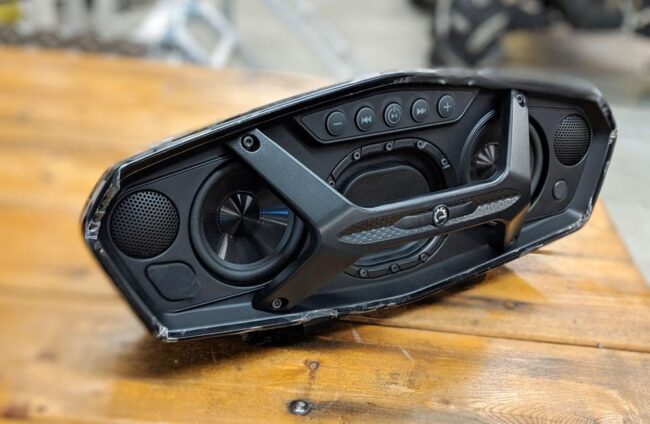 Many of us like to listen to music while on the water and Sea-Doo is taking music a step further with its innovative portable audio system. It's pretty cool. Take your tunes along after you've reached your destination. The component's portability makes it useful for tailgating, working in the yard, or just relaxing on a riverbank.
The Sea-Doo Spark Portable Audio System will enrich the Sea-Doo Life by giving you more fun on the water. You know how it is when you're excited about hitting the water and you're amping to your favorite music. Music helps get the adrenaline flowing, so why not keep it going with some sounds from the 50-watt audio system with its Bluetooth connectivity? This bad boy works on ALL Spark models.
The system is also fully submersible, which makes since. After all, we don't always stay upright on our skis. Stuff happens. The system does have one necessary component needed for installation and that's a Support Base with quick attach system. It's required for a quick install.
The speakers are front mounted and positioned toward the driver to get the greatest sound clarity. It also has a convenient control pad on the speaker for volume and song adjustment. A rechargeable lithium battery is all it takes to power it up for 24 hours.
The Sea-Doo Spark Portable Audio System will bring you joy. Maybe you just want to chill and ride your Sea-Doo while listening to some smooth jazz. Whatever your preference, this system has you covered!