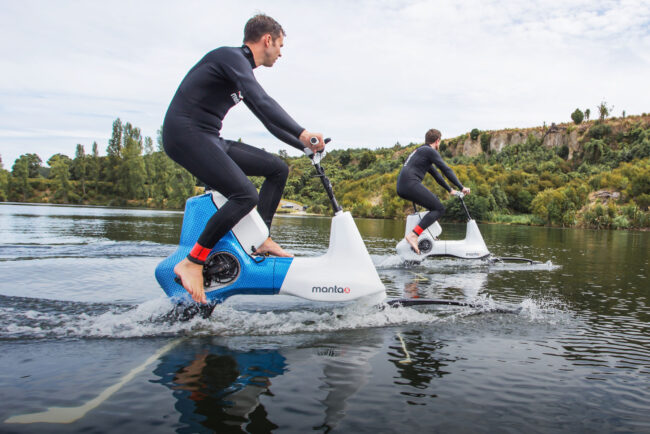 This isn't your old school WetBike. This Hydrofoil Electric Bike is the world first "hydrofoil e-Bike" and is available to purchase now. Manta5, the creator of the Hydrofoiler XE-1, recognized how passionate people are about cycling around on land. From mountain biking to road cycling, the industry is huge. While riding on land is great, wouldn't riding on the water be even better?
The way this electric bicycle is designed, is using hydrofoils that cut through the water. To bring the bike up to plane, you stand on the bike in the water as if you were on land and start pedaling. The momentum you build will bring you up to plane and allow you to start cruising. Once cruising, you have three different speed options to choose from: Training, Cruise and Performance. For all you speed fanatics, the top speed is 13mph. While that doesn't seem fast compared to personal watercrafts, it makes for a pretty quick ride on a bike.
One of the key aspects to this hydrofoil electric bike is that is has a battery that last up to 5 hours and leaves no harm to the environment. Protecting the marine environment is a huge issue many places are taking seriously. This bike has no boundaries, allowing you to ride up a river, across the lake or even in the ocean. With a stable stance and a sleek design, you are sure to turn heads wherever you venture to.
The price tag for the Hydrofoiler XE-1 is $7,490.00, but with a 10% refundable security deposit they will start making yours right away! So forget having to stop at traffic lights, forget riding next to speeding cars, cruising a bike on top of the water is the newest way to get around. Check out this video of them riding down in Taupo, New Zealand.