Demi Morgan, a teenage jet skier from Aostin, Washington, was 9-years-old when she purchased her first jet ski. Two years later she became passionate about riding personal watercraft after she spent a summer honing her skills by going upriver on her ski every weekend with friends.
She began competing at an amateur level in March 2014 and placed 9th in her first event where she also picked up her first sponsor, Blowsion. She was competing at their event, the Blowsion Surf Slam and the crew saw potential in her skills and has continued to push her capabilities as a Jet Ski pilot.
Morgan is currently 16 with aspirations of becoming a pro rider in a couple of years. Her goal should not be an issue since she is one of the few females who can land a backflip. In an interview with KLEW3 she claimed:
"I landed it, and hit it so perfectly that when I landed I landed flat, and usually you don't land flat, you nose it in, and I looked around, and I yelled Wooo and ran onto the beach and all the Blowsion crew was running at me and they hugged me and were like that was crazy!" said Morgan.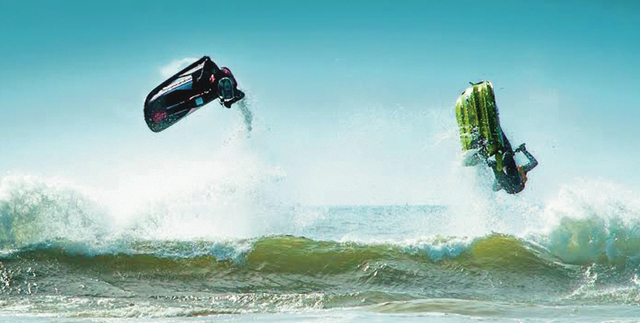 She has not had an easy path to her new found fame. The 6-day a week workouts were not in her plan until the ambitious professional inside her began really driving its way to the surface. Her social life is fairly non-existent due to her constant drive to get better and compete on an elite level. Morgan is so focused on her goal that she does not have time to hang out with her friends and that is okay with her.
She hopes to set an example for other kids by showing them that they can set goals and achieve them as well by following through and putting forth the effort.
"I wanna show girls and just other kids in general that they can go after their dream," said Morgan. "Money's a big part of it but really if you work towards something and put in the effort, you can always accomplish what you want to accomplish."
Morgan credits much of her success and confidence to her parents; coach Brice Barnes at Riverview Marina, and her sponsor Blowsion.