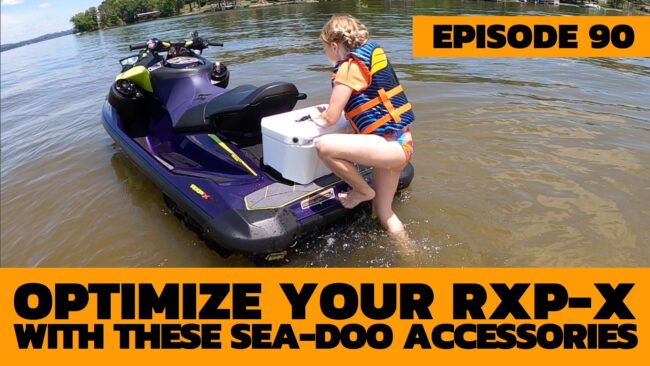 In a day when enthusiasts want everything but the kitchen sink available on their personal watercraft, it's impressive to see the leading sales brand, Sea-Doo offer a one-seater musclecraft. The 2021 RXP-X wowed all of us when first introduced; not just for its aggressive styling and whip-snap cornering prowess, but also for its intimate single-rider ergonomics – dubbed Ergolock-R. And being a musclecraft, Sea-Doo sought to shave off some extra pounds where possible, so some otherwise expected features are absent, which is understandable.
Here's the problem: folks still want the ride and feel of a sporty musclecraft without sacrificing the creature comforts and conveniences of a fully-loaded three-seater. So what do you do? You turn to Sea-Doo's Parts & Accessories catalog, that's what you do! While we could've gone hog-wild and marked off a whole lot more stuff than we really needed, like the USB port/phone charger, heated handgrips and drop-in bumpers; but we're looking at maximizing the utility of our RXP-X 300, not turn it into a Cadillac.
First on our "must haves" was the Passenger Seat exclusive for the 2021-and-up RXP-X. Priced at $409.99, it was our most expensive addition, but also our most necessary as we plan on racking up plenty of ride time with the family. Designed specifically to pair up with the Ergolock seat, the rear saddle features a very cool center handle. Made from heavy-duty pliable rubber, the handle is contoured for an easy, secure grip and sits in a pocket lined in breathable canvas. There's also side rails on either side, so there's plenty of places to hold on tight.
Another "must have" to make our RXP-X just a bit more user-friendly was the addition of Sea-Doo's spring-loaded, Boarding Ladder. Priced at $214.99, it too can be a bit of a big purchase – particularly after forking over a base MSRP of $15,799 – but one that'll help reboarding a world easier. Last is what could be easily, one of the best innovations for the GTI-based Sea-Doos: the 1.6-gallon, foam-molded Lid Organizer storage bag. Priced at a paltry $60.99, this single item is almost mandatory equipment for anyone with a RXP-X or GTI-based runabout.
Thankfully, installation of all three of these items takes less time than it does to gather up the tools to do it. The rear passenger seat merely requires removing both the lumbar pad from its perches and the removal of the snap-in base. With two clicks, the rear passenger seat is locked in place giving our co-pilot a comfortable spot to sit and a strong, durable handle to cling on to.
Installing the Lid Organizer requires a socket wrench with a 5/32 Allen driver or a same-sized Allen wrench. Sea-Doo provides the necessary screws, which gratefully do not require any drilling to mount: the holes are already drilled into your Sea-Doo's hood base. Simply line up the screws with the holes and tighten them down snuggly. Rubberized hoops make opening and closing the center storage bag or the mesh front pocket just as easy.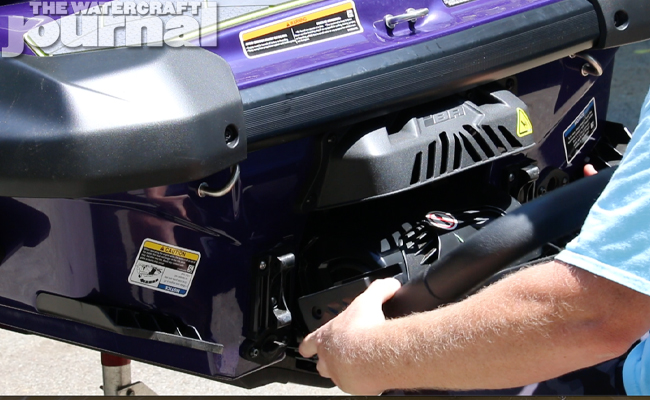 Lastly, installing the folding Boarding Ladder requires the most tools: a 10mm socket and a socket wrench, and a  10mm box-ended wrench. The long stainless shoulder bolts, washers and nylon locking nuts all come included. Equally, your Sea-Doo will come from the factory with the integrated mounting points on the watercraft making this a direct bolt-on installation. And extra points go to Sea-Doo for making the fitment so tight that the ladder literally kept its place while we threaded in the four bolts! Now reboarding our Sea-Doo is as easy as ever.
With our newly-equipped RXP-X, we hit the water. And with a LinQ cooler packed full of ice and drinks mounted to the deck, we were ready for a day out on the lake. Sure, we felt a little guilty saddling our racy musclecraft with some extra weight, which is sure to slow it down a bit, but we dramatically opened up the Sea-Doo's usefulness and utility in a matter of minutes. Again, it's all about getting the most use and enjoyment out of your Sea-Doo and we wouldn't want our RXP-X any other way.