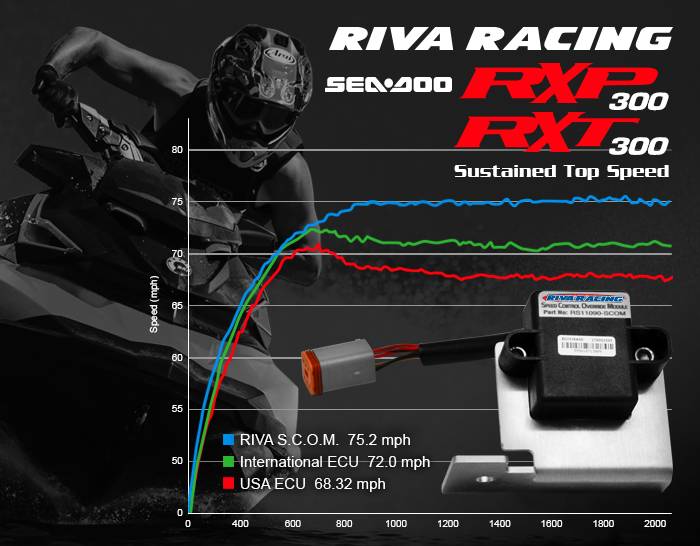 Although the United States of America is the single-largest marketplace for personal watercraft, it's also one of the most restricted, particularly as it restricts OE manufacturers from producing and selling new models capable of exceeding a sustained top speed of 68.5mph. This bar has been moved time and again, but today stands around 68 or so. Interestingly, outside of the US, new watercraft are known to have zero top speed restrictions, and thereby are seen as being somewhat superior. But, what if we told you that international ECU's are just as restricted?
It turns that yes! watercraft outside of the United States are limited on their top speed as well. The best illustration we have of this is the current RXT-X 300. In stock form, the US-sold 2018 Sea-Doo will top out oat 68.3mph. Yet, the internationally-sold RXT-X 300 will cap off at exactly 72mph. These numbers are all sustained top speeds – meaning that the craft will maintain that speed after a slight peak at first. Sounds pretty clear, right? Well, that's where things get sticky:
With the addition of the RIVA Speed Control Override Module (SCOM), the module interrupts the restrictive GPS speed control function on Sea-Doo iControl, permitting the 300-horsepower RXT-X to run unabated. When installed, which takes literally minutes, with zero cutting or permanent modification, the RIVA SCOM uncorks the Sea-Doo to run a blistering 75.2 miles per hour. And that is with ABSOLUTELY ZERO modifications to the ski. No sponsons, prop, ECU reflash, cold air kit, you name it.
Additionally, the SCOM also reprograms the Sea-Doo to start in "Sport Mode" for maximum performance right from the get-go. And yes, "Touring Mode" can be manually selected after start up. That's a pretty amazing feat for one priced at $199.95. We're thinking of picking one up ourselves.
NOTE: Stock ECU limits peak RPM for first 5 hours of operation. Top speed increases should be measured after 5 hour break in period.