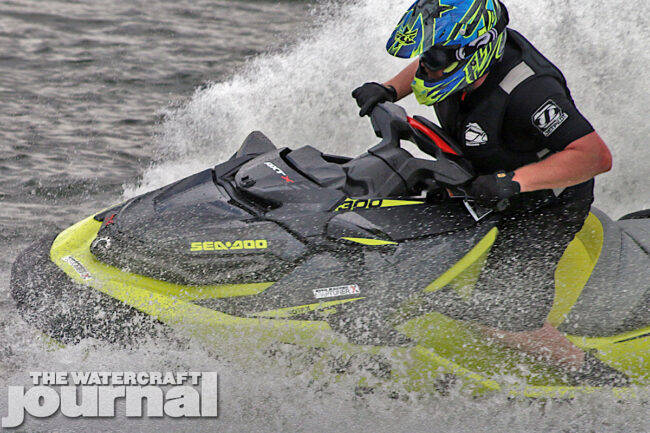 Introduced in 2018, the entirely redesigned ST3 hull promised a slew of newfound benefits from Sea-Doo. Most prominent was the full-sized runabout's unmatched stability. This was predominantly in favor of the Fish Pro, which arrived for the 2019 model year. The hull was lightweight (thanks to its CM-Tech high pressure molding) and incorporated a blend of design features from the RXP-X's T3 hull, the outgoing S3 hull, and the near 90-degree outside chine of larger fishing boats.
And while performance tuners have eked out incredible top speed numbers from the 300-horspower variants (specifically the RXT-X 300 and GTX Limited 300), the ST3's nearly-erratic rough water tracking and almost wholly unpredictable handling leave much to be desired. Extensive testing by RIVA Racing developed its Pro Series Sponsons, which did much to improve the ST3's straight line tracking and high speed cornering, but now with its aggressive Top-Loader Intake Grate, we think RIVA might've finally solved it.
"Our Top-Loader Intake Grate delivers the ultimate in speed, hook up and strength," RIVA states. "[This] all new design features [an] oversized top loader wing and optimized inlet ramp for closed course and offshore racing. [This] race bred design significantly reduces cavitation and provides superior handling along with unmatched durability in extreme conditions. [A] durable black race coating protects from corrosion."
Precisely shaping a Top-Loader Intake Grate requires countless hours of prototyping. Not only are you looking to reduce cavitation, but pick up significant gains in traction – particularly in rough water (consistent hookup is key to speed and traction). This new grate features a deeper, two-tiered wing with thicker blades that cut deeper into the water giving the ST3 much more bite. And all of this is done without scrubbing top speed. And while this fits all ST3-based Sea-Doos (RXT, RXT-X, GTX, GTX Ltd. 300, and Fish Pro) it also can fit all new 2020 GTI and GTR models!