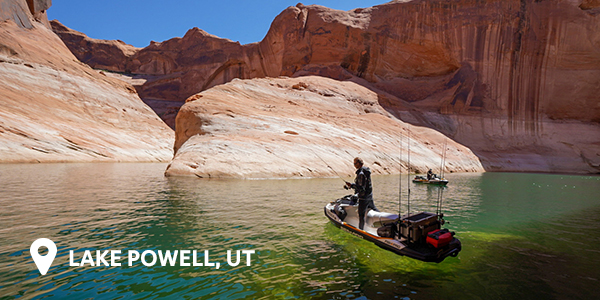 To his fans and YouTube audience, he in known as The Fish Whisperer. To Sea-Doo, Kyle Naegeli is a brand ambassador promoting the #seadoolife and charting out fishing adventures aboard the Fish Pro.
Now you can follow along on this unique adventure on Lake Powell as Naegeli cranks up the fun. Want to take on this exact adventure for yourself and explore the unique scenery of this beautiful area? Continue reading the Sea-Doo Blog below to find out how and be sure to check out the video.
The Fish Whisperer Takes on Lake Powell
Ride along with Sea-Doo Ambassador Kyle Naegeli as he hits Lake Powell for a Sea-Doo Life fishing adventure you have to see to believe.
Joining with Up Lake Adventures aboard the Sea-Doo Fish PRO, Naegeli – AKA: The Fish Whisperer – dials up the fun in every aspect along the waters and surreal scenery of one of the world's most unique bodies of water. And the ultimate versatile watercraft, he squeezes every ounce out of the adventure thanks to the Fish PRO
Naegeli's out-of-this-world Lake Powell adventure is closer than one might think. Check out The Uncharted Society, which offers the adventure package you see here and many other custom adventures through a curated list of providers.