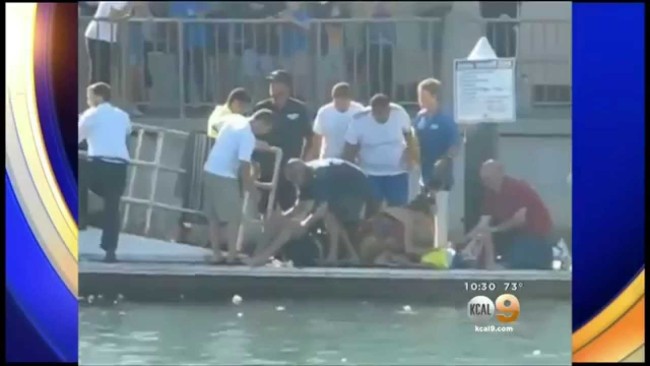 CBS Los Angeles (CBSLA) reported that a father and his young son were pulled from the water and taken to a California hospital after the father crashed his new jet ski into a dock outside of Waterman's Restaurant in Dana Point Harbor.
CBSLA's video filmed by a bystander showed the child sitting in front of his dad while his dad piloted the watercraft. The short video also shows a man in a kayak paddling toward the scene where many people had already gathered to help and render first aid to the victims.
The injured parties were transported to a hospital and kept overnight for observation. It was amazing that neither sustained severe injuries.
The father was pulled from the water by Alex Pocock, a server from the restaurant, and several of the restaurants guests. "We hopped over the fence and another one of the guests that I was waiting on and also was the first person over the fence," Pocock said. "The guest was actually the first person into the water helping the father."
Pocock said the crash was incredibly loud and he bolted into action. Harbor Patrol said the man had lost control of the ski. He was said to have been going at least 25mph. The father was unconscious when Pocock and the guests pulled him out of the water.
"The father was right next to the dock so I held onto him and pulled him out of the water to keep his head up," he said. "Other people came and joined and helped me pull him out while I kept his neck steady," exclaimed Pocock.
According to Orange County Sheriff's Harbor Patrol, when the father regained consciousness, he told them he had just purchased the PWC and took it out the day before for the first time. He also claimed that the throttle malfunctioned and accelerated. Operator error? You decide.