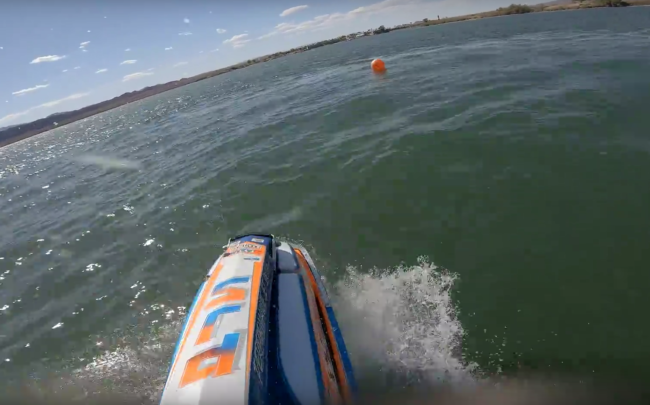 Undoubtedly, one of the biggest names in jet ski racing must be "Jammin' Jeff" Jacobs. The multi-time IJSBA World Champion heralded the height of performance PWC racing, and truly established a watermark that racers of all stripes would forever strain to reach. Jeff, keenly aware of the industry shift from 2-strokes to 4-strokes, wisely bowed out of the racing scene and has lived a somewhat quiet life outside of the limelight, appearing only to spectate at the annual World Finals.
Last night, Jacobs' shared a YouTube clip to his Facebook page of Jacobs piloting his famous PJS (Performance Jet Ski) Kawasaki JS550 around the infamous Body Beach buoy course. The torquey 2-stroke rapped loudly as Jacobs idled out before vising the throttle and letting the ski rip. Within minutes, Jacobs is passing (and lapping) other skis on the course, all the while hooting and whooping as he lays the Kawasaki flat on its rail while snapping a hairpin.
While not the same ski, it's coincidental that UK ski shop Line One completed work on another PJS ski – Jacobs' 1989 Open Mod JS550, stating in a Facebook gallery:
So here we have a special project, another one of Jeff Jacobs World Champion Jetskis – this one was his 1989 Open Mod, It did a whopping 55mph (how things have come on heh), just done a compression test – 240psi – that's pretty high even for one of Jeff's boats. We've worked out how Jeff kept the boat hooked up so well, probably 2llb of resin poured into the front nose section of the ski – very clever. So as Nick starts to strip and rebuild the engine the hull, hood & pole goes off to the sprayers to have the mother of all makeovers.