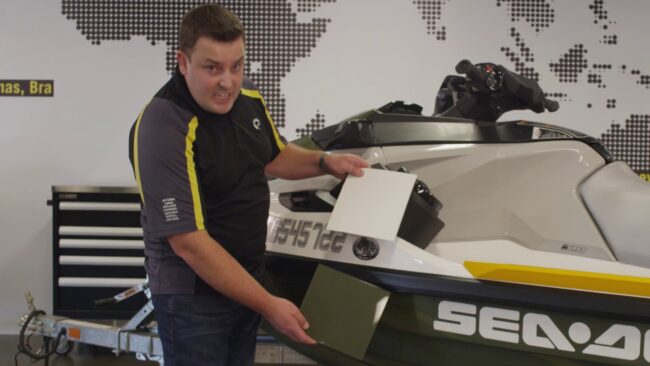 In a recent video published by Sea-Doo, Simon Boucher, Global Product Specialist, explains the CM-Tec hull and deck material. Standing for Closed Mold Technology, CM-Tec is comprised of a mixture of fiberglass and polyester resin, that together with an outer thermoformed acrylic layer, is compressed in a closed mold, sealing the structural layer of the hull and deck components to its respective colored, acrylic skin.
Thankfully, repairing the inner substructure can be done successfully using traditional fiberglass repair kits. Yet, when it comes to repairing the sensitive acrylic outer layer, Boucher says, "In case of damages, the repaired surface should be painted to maintain optimal results."
To those familiar with paint matching and blending, successfully doing so requires the right colors and materials. Sea-Doo has worked closely preforming surface repairs and refinishing with BASF. BRP and BASF have been working together to create a "painting repair procedure specific for the acrylic," says Boucher.
Lastly, if you have any questions about maintaining or repairing your CM-Tec hull or deck, Boucher recommends referring to Sea-Doo's new online brochure. It has detailed information about paint repairs and routine care to keep your Sea-Doo looking great for a long time. In the brochure, you'll find directions on how to repair structural and surface areas.
One thing to keep in mind with a CM-Tec is that you should only use certified products that are specifically designed to be used on acrylic layers. Sea-Doo offers a wide range of XPS cleaning products that will not harm or discolor your Sea-Doo's sensitive finish as traditional gel coat cleaning products have harsh chemicals in them that can strip away at the acrylic.