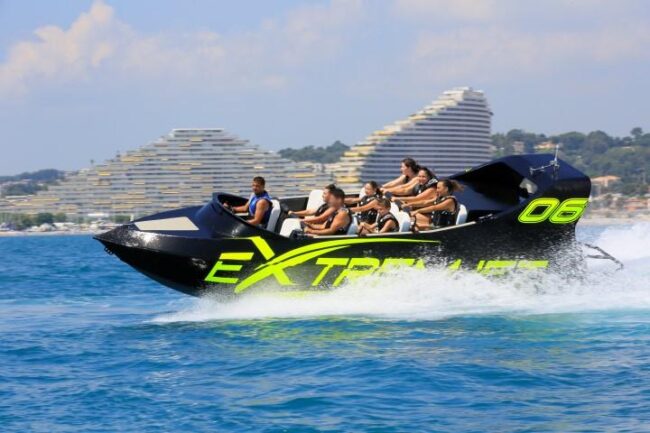 Adrenaline runs through many of you readers veins. It is something we strive for. Whether it is trying to go faster on the water or trying something new, it fuels us to push our limits. Well, there is something new that is very exciting and will be sure to get your blood pumping. The new Extremjet is a jet powered boat that is offered at Sea-Doo Proshop and School Center. This powerful jet boat is able to seat twelve passenger and is sure to make each of them screaming with joy and smiling ear to ear.
Be sure to wear your swimsuit and bring an extra pair of clothes for afterwards. The driver likes to make sure that everyone is soaking wet by the end of the trip. The jet boat is much bigger than you average personal watercraft but it is quite powerful. Being able to turn into corners and spin around with ease. It is like a roller coaster and the track is the open water.
The Sea-Doo Proshop and School Center is located in Villeneuve-Loubet, France. So if you are ever over in France visiting and want to sign up for an exciting, adrenaline-pumping activity, check it out. This jet boat has a ton of power and you will be wanting to go on another ride when your ride is done. To see how fun this ride is, check out this video. Every passenger is loving every minute of it.