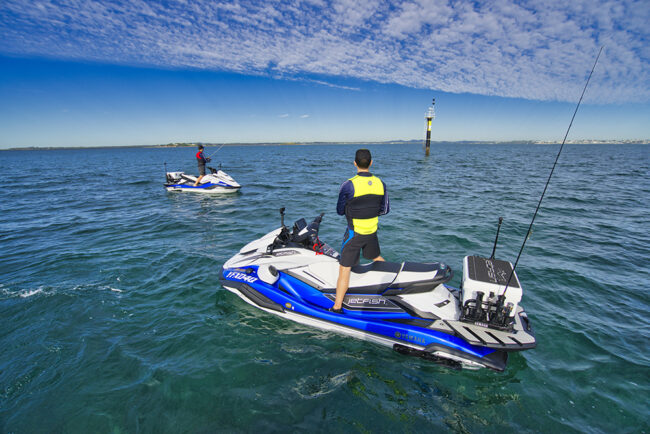 Yamaha Motor Company has just rolled out what they have branded as the JetFish WaveRunner at the Sydney Boat Show. The unique WaveRunner begins as a naturally-aspired 1.8L FX HO equipped with a Garmin sonar/GPS (with a hull-mounted transducer), RecDeck, multi-use rack, an Engle 45 quart JetFish-branded cooler with a CNC-cut JetFish cutting mat, two Ram Mount cup holders, two fishing rod holders and unique decals and badging.
With PWC fishing becoming quite popular around the world, it was only a matter of time before Yamaha made a splash in this niche. The Watercraft Journal had predicted that Yamaha would enter this arena with a full array of fishing accessories – and did so two years ago as they released the RecDeck accessory bundles – but were surprised to see a fully dedicated model …that is, until we learned that the JetFish wouldn't be sold in the US.
As of this writing, the full Yamaha WaveRunner JetFish branded FX series is only available in Australia. Priced at $27,899 AUS (or $18,349 in US dollars), the JetFish as you see it here will not be sold outside of the Land Down Under. But don't fret! Yamaha still has the JetFish accessory packages that you can purchase and install on your current FX platform, or any Yamaha WaveRunner with the RecDeck.
Yamaha currently offers three JetFish packages for the US market;  JetFish Package, FX Premium JetFish Package and the FX JetFish Package. The JetFish Package is for any WaveRunner that is not an FX, but has the RecDeck.  The other two options are for the FX platform, as stated in the title. You can view them HERE. See Yamaha Australia's official reveal video below:
Humorously, Yamaha Australia brilliantly let the proverbial "cat out of the bag" well over a month earlier when contestants of the Women's Fishing Classic were seen riding aboard the freshly-minted JetFish WaveRunner. The FX HO serves as a fantastic platform for this sport as it is both smartly balanced while static as well as a significantly superior ride while at speed in any sea state. Here's the clip from the Women's Fishing Classic: