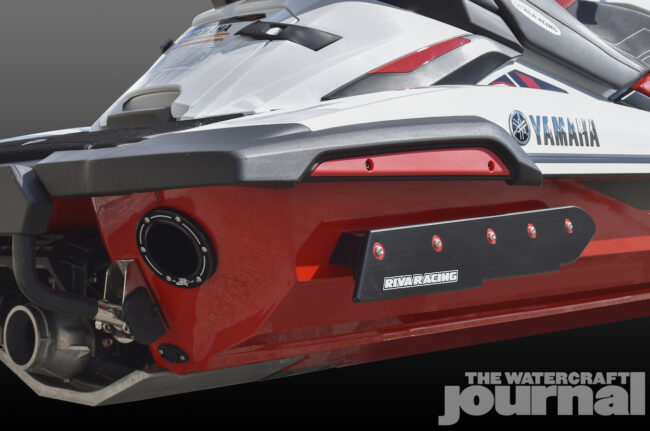 When it comes to amping up your racing, RIVA has you covered. RIVA Racing carries many different performance products to help you reach the next level, like their many performance exhaust kits.
RIVA Racing carries rear exhaust kits for many makes of Sea-Doo, Yamaha, and Kawasaki. They range from $300 to $500. These kits allow for removal of restrictive sound suppression and also improve engine performance by nearly eliminating back pressure and restriction. One of the Yamaha rear exhaust kits includes a mandrel bent powder coated aluminum exhaust tube. The powder coat prevents corrosion. A large billet through hull exhaust outlet, billet OEM exhaust outlet block-off, and high-temp silicone couplers are also in the package. All hardware and installation instructions are in the box.
Do you want to step it up even further and go faster? You can with one of RIVA Racing's Water Boxes. A water box will give you even more horsepower. Its function is to deliver increased horsepower and performance by reducing exhaust restriction and back pressure. RIVA's water boxes were developed on a flow bench and feature radiused exhaust tubes and end caps for optimum exhaust flow.
The boxes were built using a short design, which makes it easier to service a supercharger. The exhaust system no longer has to be removed for working on the supercharger. That's a nice time saver and less of a headache. The water boxes are comprised of high strength aluminum and precision welds that will survive backfires and overheating. The boxes are powder coated as well and come with detailed instructions.
RIVA Racing also stocks Free Flow Exhaust kits for Yamaha, Sea-Doo, and Kawasaki. The Free Flow exhaust kits replace sound suppression systems on PWC's. They also improve engine performance by reducing back pressure and harmful detonation. Free Flow systems are easy to install and don't require cutting hoses and they are IJSBA Limited and Superstock legal.
If it's time to add some performance parts to your pwc, head on over to RIVA RACING and check out their goods. You won't be disappointed!