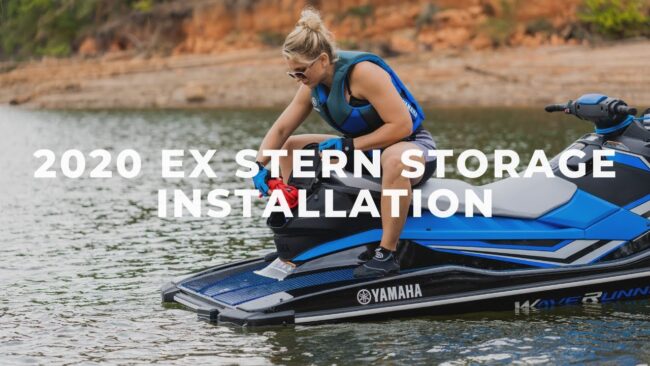 Yamaha has a couple of new storage options for the Yamaha EX Series. On offer are the Genuine Yamaha EX Stern Storage Bag and the Genuine Yamaha EX Hatch Bag. Both bags are compatible with the all EX and EXR WaveRunners. They are designed to seamlessly integrate with your ski while providing easy access to on the water essentials and your extra stuff. The stern storage bag offers 15 meters of storage capacity and has open access to your ski's towing point so you can still wakeboard or pull a tube.
The hatch storage bag enables easy access to your phone with its transparent built-in phone sleeve. It sits forward the steering housing, making it easy to view the screen, while cruising. The bag also has a large compartment behind the phone sleeve. The compartment has room for plenty of essential items. The bag is comprised of durable water-resistant material.
Both bags are super easy to install and only take minutes. No tools are required to install the stern storage bag. You will have to drill a few holes to in order to secure the hatch storage bag using the included fasteners. The Yamaha EX Stern Storage Bag retails for $129.99 and the Yamaha EX Hatch Mounted Storage Bag retails for $54.99. See them both online or shop your local Yamaha WaveRunner dealer for bags and the all new 2021 Yamaha WaveRunners.