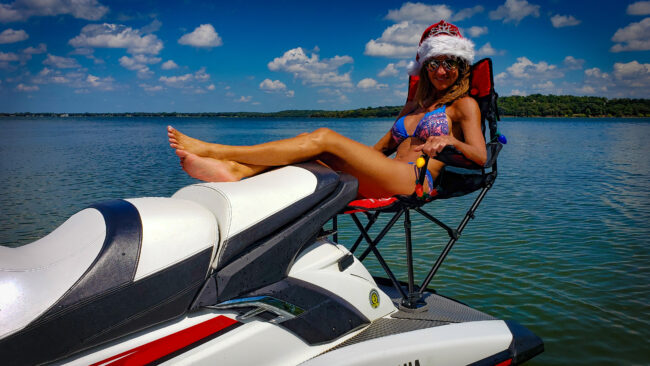 Listen, everyone could use an extra helping of cheer these days, so we're gonna give you a "pass" if you've decided to start celebrating Christmas well over a month early (just don't make a habit of it). Thankfully, if listening to Mariah Carey's "All I Want for Christmas is You" on an endless loop sounds closer to Guantanamo Bay-level torture, there's other ways to get into the Christmas spirit: like saving big on your favorite stuff.
The Bopenski Kickback PWC Chair has been on The Watercraft Journal's Top 10 Christmas Gift guide a few times already, and frankly, will likely return again this year. It's really that good. Thousands of Kickback chairs have been sold since it's initial release, and through some of the biggest names and distributors in the industry. If you love to "kick back" while out on the water, the Kickback PWC chair is the ticket.
Now Bopenski has a special Christmas discount code that will shave off a nice chunk of change when you purchase from their store. They announced, "We have created a discount coupon that works only on our site (www.bopenski.com) for a $20 savings – the coupon is "BELIEVE" and it will be good through December 15th." Again, that's a little over a month away, so you better get off your duff and place an order soon!