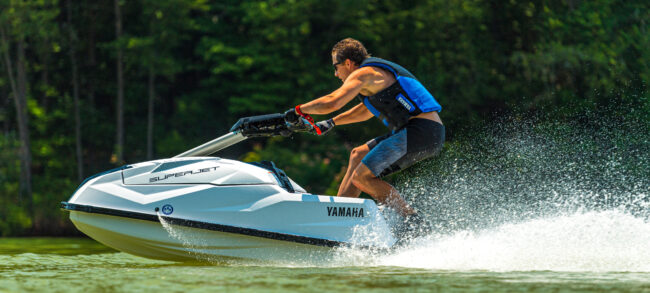 According to a recent Yamaha newsletter, "For 65 years, Yamaha Motor products have exceeded customers' expectations with innovative technology, forward thinking engineering and thoughtful designs."
Here, we learn about some of the many ways that Yamaha WaveRunner products allow customers to do more, experience more, and connect with each other on the water in new ways; it's Yamaha's pursuit of perfection.
It all begins with a passion for innovation at Yamaha.  Power and soul are inspirations behind the Yamaha name badge and through this drive to innovate, Yamaha creates exceptional value and experiences that enrich the lives of customers.  This is how they revolutionize fun on the water.
Innovation is born when we break through challenge barriers and Yamaha is no stranger to challenges.  After all, Genichi Kawakami, the founder of Yamaha Motor Co., defined a spirit of challenge 60 years ago when he said "It isn't a product if it isn't world class."  This statement set forth a clear standard for Yamaha engineering and manufacturing.
Yamaha's originality in innovation is also derived from a company mission to be kando.  From the early days to the present, Yamaha definitely delivers on their desire to bring joy and unexpected exhilaration to customers around the world.
To read more about Yamaha's rich history and innovative technologies, check out their story.