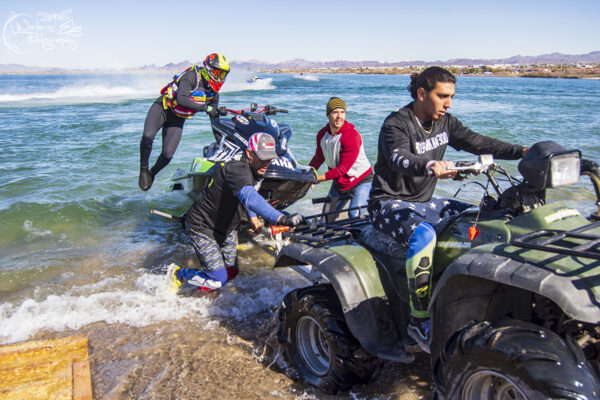 Frankly, 2020 has been tough on watercraft racers. With venues shutting its doors, promoters struggling to find ways to appease local governments and travel restrictions, attendance at what few events that occurred was thin – and that's not including the events that didn't happen at all. So it's very welcome news to learn that the Mark Hahn Memorial Havasu 300 will return for 17th year this coming February, in 2021.
In a recent press release, event founder and former offshore champion racer, Mike Follmer announced that Yamaha has renewed its title sponsorship of world's longest-running PWC endurance race for 2021 as well. Prior to his retirement, Follmer was the longest continually-signed factory-sponsored racer for Yamaha bringing home a steady string of Region 1 podium finishes, as well as being instrumental in helping develop countless aftermarket performance parts with RIVA Racing and R&D Racing.
Here's the entire press release from Mike Follmer:
Fountain Valley, Calif; Kennesaw, GA – Yamaha Watercraft renewing its Title sponsorship of the 2021 Yamaha Mark Hahn Memorial Havasu 300 Endurance Race presented by Hot Products /Jettrim /RIVA Motorsports, the longest-running PWC endurance race in the world. Now in its 17th year in Lake Havasu City, Ariz., the internationally attended 300-mile race is considered one of the sport's premier events and a favorite for Yamaha high-performance watercraft owners.
"The Yamaha Mark Hahn 300 is a world class event sanctioned by the IJSBA. This format of professional and novice racers can both compete side by side to test their skills," said Andrew Cullen, Sr. manager, digital marketing and communications, Yamaha's Watercraft Group. "The race demands a combination of high performance, durability, reliability and fuel efficiency – all attributes the Yamaha brand is known for and we look forward to seeing several different models of ours in the competition."
Slated for Saturday, Feb. 27, 2021, and held annually at the Crazy Horse Campgrounds, in Lake Havasu City AZ, the Yamaha Mark Hahn Memorial Havasu 300 was created by former Yamaha Factory Rider Mike Follmer, in memory of his friend fellow endurance racer Mark Hahn, who was instrumental in promoting endurance PWC racing across the country before his untimely death in 2004.
The "team" format allows two riders for runabout, or sit-down, teams and up to three riders for a stand-up watercraft. Solo riders are also welcome to "Ironman" the race on either style of watercraft, which is the ultimate test of endurance and stamina.
Entry forms, race information, updates and results will be posted on the Mark Hahn web site: ijsba.com www.markhahn300.com
Contact: Mike Follmer, 714-241-9600, mfollmer@aol.com