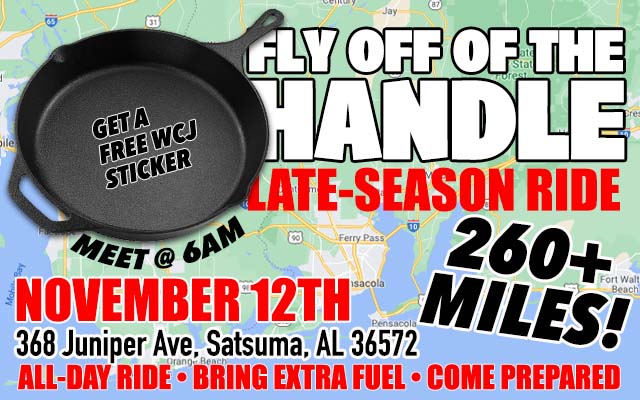 It's no secret that we at The Watercraft Journal have been jonesin' to go on a long-distance, one-day ride through Florida's panhandle. Thankfully, so many of our awesome fans and followers know this area like the back of their hands, so we're proud to announce that barring a major weather event (ie. hurricane), we are quasi-hosting our first Fly Off of The Handle Late Season Ride!
We say "quasi" because this is not an official event. There are no entry fees as The Watercraft Journal is not providing any insurances of each participant's individual safety or security. In today's litigious society, we have to preface this by saying that you are joining a casual group of friends for an awesome one-day, 260-plus-mile ride on your own accord and at your own risk.
This coming Veteran's Day, Friday, November 12th, we will be launching bright-and-early from Steele Creek Lodge (located at 368 Juniper Ave, Satsuma, AL 36572) so be ready to meet at 6am. From there, we'll be riding south through Mobile, Alabama into the Gulf of Mexico, where we'll cut in at Orange Beach and ride the Intracoastal Waterway all the way to Destin – turn around and come right back!
We plan on riding faster than most casual groups (averaging around 50-60mph) so we insist you bring extra fuel as we won't be making frequent stops. Some lengths will be 80-plus miles between fuel stops – so come prepared. (We do have a list of fuel stops every 40 miles or so in case of emergencies.) The route takes us through glassy bayou, brackish deltas and open sea. You've been warned! This ride is meant to challenge you and your ski!
All participants will get a free decal from The Watercraft Journal and we'll bring other prizes for yet-to-be-announced contests. We will be guided by Brad Bertrand on his bright yellow Sea-Doo RXT-X 300. Brad is leading the pack and setting the pace. Again, stops for food and fuel will be minimal so pack water, snacks and extra gasoline. As reference, watch Brad's video below: