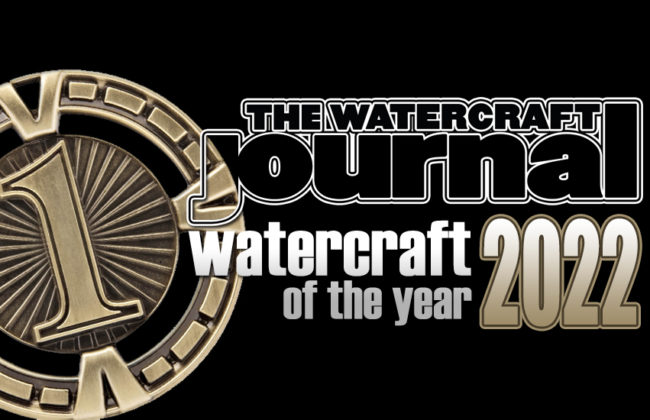 Typically, The Watercraft Journal issues its annual Watercraft of The Year award a little earlier in the month. Yet, this year's results resulted in so much deliberation, debate and re-evaluation that judging spilled over an extra two weeks until a consensus could be made. And since we do not include vehicles that we at WCJ have not personally tested, there were a few contenders that simply weren't eligible due to lack of access.
The process in determining what qualifies a particular model for the Watercraft of The Year award is rather straightforward: each model is weighed against a specific scale indicating excellence in all categories – and must be done so without imposing any personal bias. A number of our judges' personal favorites were routinely voted out; making of each of the finalists shown below a unilaterally balanced result of intense scrutiny.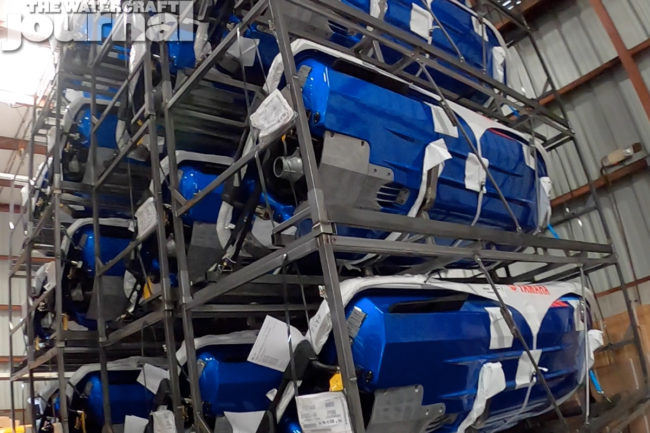 The scale from which we evaluate each entry by is called the IDEA score, an acronym standing for Innovation, Design, Execution and Affect. These categories breakdown a personal watercraft's achievements in Innovation; overall Design aesthetic; the final Execution of the production vehicle; and finally, the model's lasting Affect on the marketplace and/or industry. Previously, each category was worth a maximum of 10 points totaling a combined 40 possible points. We've doubled that.
Previous years have resulted in increasingly closer judging results, which has made our role as judges all the more difficult. Increasing the total possible points to 80, which each category valued at a maximum of 20 points each, made the winners far more salient. This change became particularly valuable in the categories of Innovation and Design, as all three of the finalists demonstrated unique features and aesthetics that were significant in their respective regard.
---
2022 Watercraft of The Year 2nd Runner-Up: 2022 Kawasaki Ultra 310LX JetSki
Innovation: 18; Design: 16; Execution: 17; Affect: 15; Total: 66 points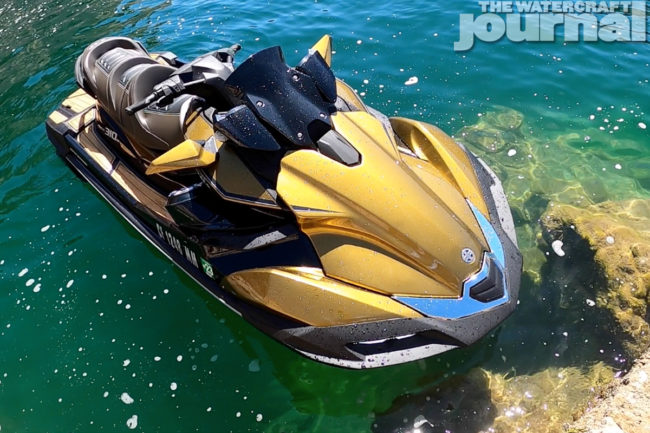 Brandishing possibly the most polarizing redesign of any established unit in years, the top offering of the refreshed Ultra JetSki, the 310LX was not the preferred choice of two of this year's judges. Rather, it was in spite of these judges that the 2022 310LX entered the pantheon. Kawasaki took what many believed to be a staid model and leap-frogged the competition in a variety of ways – both in innovation and creature comforts. If evaluated on this alone, the 310LX could earn top honors.
Aesthetically, the new Ultra is a bit of an acquired taste. The gold requires seeing in person under natural light. The "chunkiness" can leave many longing for the smooth lines of its predecessor. Yet, it's when you're seated behind the bars that it begins to feel "just right." Ergonomically, the cockpit fits comfortably; its dual gloveboxes beneath the fairings swing up on gullwing hinges. The center jog dial scrolls effortlessly, and the new buttons are responsive and click satisfyingly.
Kawasaki's new KSRD braking system may take some getting used to as well, particularly if you've been using RiDE or iBR for some time. The quad-speaker 100watt Jetsound4S is the only factory sound system that we found that could go "too loud", and the phone interface was the least cumbersome of all three OE's (although still not great). The 3-way adjustable seat and 5-way tilt bars allow the Ultra to fit nearly all types and sizes, and yeah, the reverse camera is pretty nifty too.
While sales are strong, the Ultra didn't catch fire in the court of public opinion at first. Only as firsthand reports came trickling in and tuners discovered the Ultra's new engine management allowed for greater speeds that enthusiasts began catching on. Nothing matches the sound of the Eaton TVS supercharger at full fever pitch or its gel coated, SMC fiberglass hull's talent at tracking straight in rough; and now with a low center of gravity, the Ultra's ability to carve a corner too.
---
2022 Watercraft of The Year 1st Runner-Up: 2022 Sea-Doo Fish Pro Trophy 170
Innovation: 18; Design: 17; Execution: 17; Affect: 17; Total: 69 points
Seemingly always the bridesmaid and never the bride, the Sea-Doo Trophy has remained in The Watercraft Journal's Watercraft of The Year podium since its introduction in 2019. So the Trophy – being the brand's most advanced, most comprehensive offering – being included on this list was, by most all accounts, a given. The Trophy has, by nearly every paradigm, full right to this title, except for the fact that it's sooo specifically tailored for a single group of buyers. It did it's job too well. 
After dedicating massive resources to cater to the every imaginable whim of the PWC fisherman, the 2022 Sea-Doo Fish Pro Trophy 170 offers tournament-level amenities never seen on a watercraft before. Sea-Doo co-opted its 13.5-gallon cooler into a functioning live well with a quick detachment for washing down the deck and cutting board. A hard-mounted anchor with a dedicated cleat is within arm's reach. Added LinQ mounts for a cup and extra rod holders are standard too.
A larger 7-inch Garmin full-color touchscreen paired to a through-hull transducer gives fishermen a full view of the area around them and pages chocked full of mapping and waterways. A unique mount in the engine cover permits the rear passenger seat to be attached to a fixed stilt becoming a true swivel seat with a backrest. (An electric trigger in the mount alerts the ECU not to exceed 18mph when the swivel seat is assembled.) And all of it breaks down and stows neatly away.
All criticisms attributed to other ST3-based Sea-Doos diminish in this application. When this platform used outside of fishing is falters, but here it shines. The balance and stability are second to none. It's dry ride allows the rider to don jeans and a flannel (expect your feet to be wet). In our assessment, we cannot fathom a better equipped Sea-Doo dedicated to the sport of PWC fishing. It bares all of the touchstones of something designed by enthusiasts intending to use it themselves.
---
2022 Watercraft of The Year: 2022 Yamaha FX SVHO Limited
Innovation: 18; Design: 18; Execution: 17; Affect: 18; Total: 71 points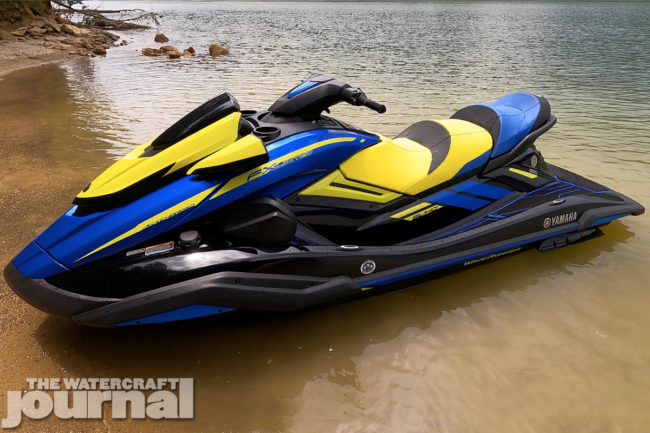 Albeit highly praised, the Limited accessory package is not what earned the FX SVHO Limited the title of The Watercraft Journal's Watercraft of The Year. Rather, this was a result of a culmination of changes, improvements and subtle tweaks made over the years resulting in what could be Yamaha's crowning achievement in the full-sized performance runabout segment; recognizing the FX's sportiness being impressively balanced opposite its mature, adult mannerisms was key.
For 2022, Yamaha took a studied look at its current FX platform and adjusted wisely: the aggressive GP-inspired hull retained its shape but was cast in heavier, more forgiving SMC fiberglass giving the FX more resistance to vibrations, jolts and impacts. It also muted a lot of the chatter and heavier jostles that comes with rough water riding. Yamaha elevated the planing bow by resculpting the ride plate for a dryer ride, while giving the craft better bite in hard corners by relocating the sponsons.
As all of this equated to a superior, more enjoyable ride, Yamaha equipped the FX with a wider (7-inches), more responsive Connext touchscreen offering full smartphone integration, GPS mapping, geofencing, and a GPS speedometer. Below the handlebars are audio controls with a noise-reducing microphone to allow riders to make and receive phone calls – and even call in sick for work from the water. (Although we don't recommend it. Human Resources checks your social media posts.)
Beneath is voluminous, padded and rubberized glovebox equipped with dual charging ports, a phone holder and LED lighting topped with a spring-loaded waterproof lid – easily the best, most accessible bin offered today. Certainly, a lesser equipped FX SVHO or FX Cruiser SVHO will share the same performance attributes and creature comforts – especially a 2023 unit, as all come standard with sound and the larger dashboard – but for 2022, the FX SVHO Limited has earned our vote as the 2022 Watercraft of The Year.