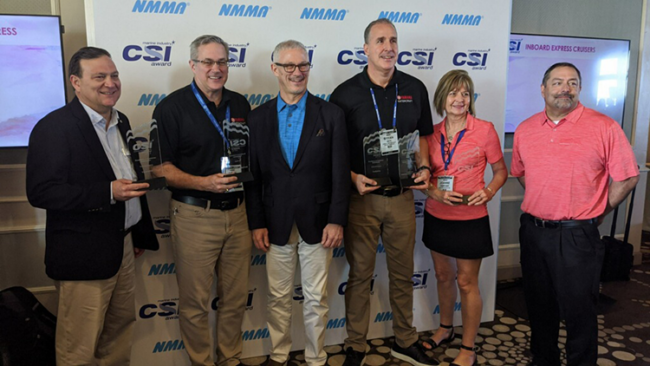 When it comes to building a reputation, reliability is the name of the game – and the one thing that Yamaha Motor Corp. USA prides itself on is maintaining a stranglehold on being the most reliable brand in the industry. Paired with stellar service, a robust dealer network, and a stellar overall customer satisfaction rating, and it's no wonder that Yamaha's US Marine Business Unit received the National Marine Manufacturers Association (NMMA) CSI award in a whopping five categories! It's a pretty big achievement and just goes to show how dedicated Yamaha is to its customers.
Here's the original press release:
At the Miami International Boat Show® last week, Yamaha's U.S. Marine Business Unit accepted the National Marine Manufacturers Association (NMMA®) CSI Award for excellence in customer satisfaction in five categories including Outboard Engine, WaveRunner® personal watercraft, and Jet Boat as well as Yamaha's boat companies Skeeter® and G3® Boats. Yamaha has received this award for its Outboard Engine category every year since the award's inception in 2001, an achievement no other outboard manufacturer can claim.
"Customer satisfaction is at the center of everything we do and every product we make," said Ben Speciale, President, Yamaha U.S. Marine Business Unit. "I would like to thank our boat builders and dealers for helping Yamaha deliver exceptional customer experiences on the water. We share this recognition with them and look forward to what the future holds for integrated boating applications."
NMMA® launched its Marine Industry CSI Award Program in 2001 to provide boat and engine manufacturers with an independently measured, cost-effective tool to help improve customer satisfaction in the boating industry. The program allows participating manufacturer companies to monitor customer satisfaction on an ongoing basis and to create benchmarks in the industry.
The National Marine Manufacturers Association (NMMA®) is the leading association representing the recreational boating industry. NMMA® member companies produce more than 80 percent of the boats, engines, trailers, accessories and gear used by boaters in the United States. The association is dedicated to industry growth through programs in public policy, market research and data, product quality assurance, and marketing communications.