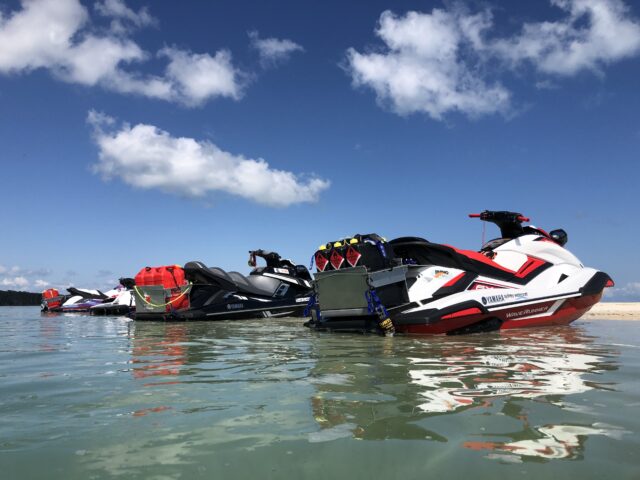 The Yamaha Variety Jet Trek is easily one of the world's largest gatherings of personal watercraft enthusiasts united in raising funds for a special cause. The money goes to help disabled and disadvantaged kids; providing "computers, school buses equipped with wheelchair access, special technology to help kids read or hear, and waterproof wheelchairs that can be used on a beach or at a swimming pool," according to a report by Boat Advice.
This year shattered records by raising a total of $404,708 – the highest ever recorded from a Jet Trek – surpassing last year's $380,000 and $270,000 in 2017. Moreover, this year's Jet Trek welcomed more riders and dared a more challenging route than ever before. The annual event went from from Bundaberg to Hamilton Island, the last stretch of Queensland coastline that the event had yet to cover during its 20 years.
Tracking the route from Bundaberg to 1770 (Agnes Water) to Yeppoon and then on to Stanage Bay, Mackay and Airline Beach before finishing on Hamilton Island. Yet much of the event's challenge came not by rapidly changing sea states (although that happened regularly) but the logistics of the support crew, as the town of Stanage is so remote that is calls for transporting all of the ski down a 96km stretch of dirt road.
Add to that Stanage's limited electricity supply (meaning using air conditioning in one house dims and the lights next door); limited supplies from the pub/gas station/post office; and non-existent WiFi, and you've got a problem. Refueling 100 jet skis (almost all with accessory fuel cells and jerry cans) nearly depleted the town's fuel supply. The extra fuel was necessary to make the 190km run from Yepoon to Stanage.
Riding in surging swells is not for the faint of heart, and being caught in the middle of the ocean covering big distances aboard a jet ski can be overwhelming. Add to that a few open ocean refueling stops – without getting sea water in your gas tank – added to the challenge. Rider were encouraged to ride alone except for those few smooth days, where passengers were temporarily permitted. Safety is key for the Jet Trek and the toll on both body and machine is extreme.