Back in 1999, "Crazy Joe" Davis and his wife, Connie from New Baltimore, Michigan started racing jet skis. They started traveling all over the nation racing on the closed course circuits. From then on, they were hooked. They also brought along their young children, Joe Jr. and Kristen, who were instantly hooked as well. Their infatuation with racing quickly became a lifestyle for the entire Davis family. Living on Lake St. Clair, their summers were spent entirely on the water, whether it was boating or riding jet skis.
As time passed by, the racing scene in the Midwest was on a decline; less people showed up to the races and many of circuits dissolved because of lack of participation and funding. More and more people were venturing into freestyle and leaving the racing scene. This proved true for Crazy Joe and Joe Jr. as they spent more time focusing on freeriding rather than racing. When the aftermarket hulls entered the industry, they both knew this was something they wanted to be apart of, but the cost deferred them from buying one of the many options out there. Already riding SuperJets, an idea sparked in their minds: Why not just make their own hull?
So, they quickly began chopping an old square nose (1990-1995) SuperJet hull they had and after some major changes, ended up with a very ugly, torpedo-like hull. Both said the torpedo hull wasn't very practical, but the idea of creating their own hull was formed. They rode the torpedo hull for a couple months and wrote down what they liked and disliked about it. They went back to the drawing board and incorporated the changes they wanted to make. They decided to chop up another old SuperJet and this time they were more successful, but were still not satisfied. However, they started to throw every local rider on the chopped up SuperJet. They started taking opinions on the hull and starting making notes of what people said needed to be changed and what needed to be kept. As changes were made and the hull was improved, they finally had something to work off of.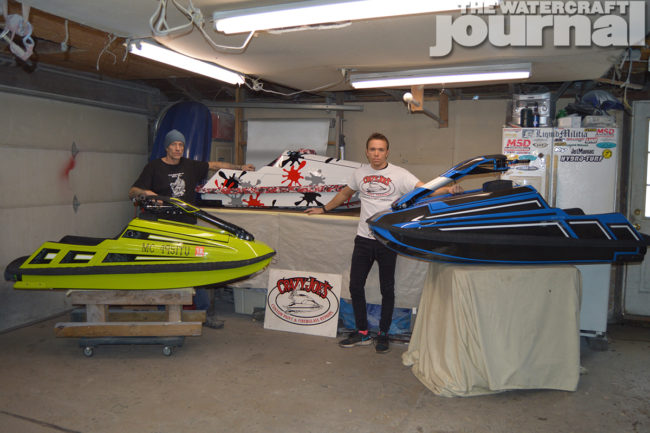 At this point, the father-son duo knew it was time to start building a mold so they could reproduce their skis. However, it wasn't something they had done before so they reached out to a friend so they could learn from him about the plug-and-mold process. After months and months of research and practice, they had their mold. The first, few skis were tests and only ridden by Crazy Joe and Joe Jr., in order to make sure everything was right. After they had produced a couple, they began to get more quality hulls each time they made one. Eventually, they needed a name for the ski. Both of them came up with the name "BAM" which stood for "By Any Means." They settled on BAM because they had a commitment to bring an affordable hull to people in the Midwest by any means.
Today, Crazy Joe's Customs is a custom paint and fiberglass repair shop and is one of the few aftermarket freestyle hull builders in the Midwest. Crazy Joe's Customs is a family run business, as both Crazy Joe and Joe Jr. run every aspect of the company whether that is production, sales and social media. Besides the BAM hull they offer custom chin pads for aftermarket handle poles, custom chin pads for the 1996 and newer SuperJet and custom footholds.
The BAM hull is priced at the entry-level $4,200 for a new fiberglass hull. The price includes the hull, hood, ride plate, foam, scupper, footholds and all mounts. This also includes a Crazy Joe's paint job. The price for the carbon hull starts at $5,600. The weight of the hulls typically can range from 40-to-84 pounds, depending on what the customer wants. Since each ski is hand built on the individual needs of the customer, those prices are subject to change depending on how you want it setup.
However, each hull is built with top-notch quality and the attention to detail is absolutely insane. You don't get the long wait period for your hull to arrive or the inferior quality of some of the hull manufacturers out there. Another thing they have done is partner with KP Poles, which gives the customer an aftermarket pole at a very low price.
Every year at Wave Rave, Michigan's biggest freeride on the beautiful, sandy shores of Lake Michigan, the BAM is always the hull that you see everyone trying. Each time the person riding the BAM comes back, all you can see is a huge grin from one ear to the other. It absolutely shreds and slashes the rough surf of Lake Michigan. On flat water, it is equally impressive as it is can be flipped no problem. During an exclusive test ride, we found the best aspect of this hull is the way it planes out.
It did not have the feeling you get on most aftermarket hulls, that extreme, nose-high "squirleyness" where it feels like you are riding a 2×4 with a powerful motor that can only flip. Riding the BAM, it just felt natural and right. You can just tell that so much R&D had been put in to make this thing perfect. It is definitely a "do-it-all" hull. It has been proven surf worthy handling the surf down at Wave Daze and the Lake Michigan surf. However, it definitely can be a flat water hull at the same time. It would be the perfect hull for someone who is looking at getting an entry-level hull that can perform in more ways than one. Not to mention, the customer service is impeccable.
As far as changes to the BAM hull, you won't see much difference in 2017. "We weren't looking to make any visual body changes yet. We will be having some practical changes to the bottom," said Joe Jr. They decided on the changes after attending freerides and getting as many people on it as possible. They credit the riders who give them their honest, constructive criticisms and what they like about it. One of the two changes was made in the tray. The tray has been widened, which will allow for more room in the tray as well as cover more surface on the water. The second change was made to alter the cavities under the hulls to change the water flow. Keep an eye on their social media pages for any further updates on changes and news.
Some things to look out for would be the new hulls, white with splatter paint and the blue and black pictured, as they are the lightest hulls produced so far. The goal was to build the lightest hull possible without sacrificing strength. "The white hull with the splatter paint job is a special one, and we wanted the paint to represent that," Joe Jr. mentioned. They credited Art at Engine Tech Superchargers for his guidance on what motor to choose for the white hull. They chose the ET 1107, which is an absolute monster of a motor. Expect some big things from Crazy Joe's Customs with this white hull.
As for the blue hull, it is almost entirely visual carbon and is an absolute piece of art. Their rider, Alex Anulli, also will be on a new hull that will be unveiled soon. With the move to making things as light as possible and the addition of the ET 1107, it definitely hints at something big to come for 2017. Things are constantly changing at Crazy Joe's Customs so don't be surprised if we see something "crazy." To keep updated on everything Crazy Joe's Customs, please find all new info on their Facebook and Instagram feeds as well as their YouTube channel. Also, look out for them at upcoming freerides this year for test rides.