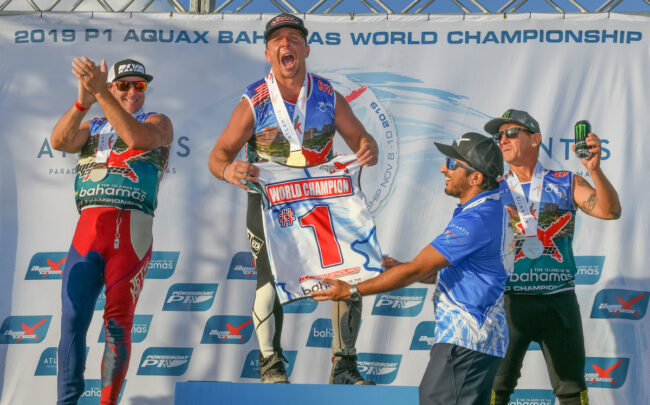 In October, The Watercraft Journal posted a news story about the P1 AquaX World Championships being held on Nassau's Paradise Island for the first time. Paradise Island is a pristine area to rest and relax given the beautiful beaches and resorts. While there were some members of the resorts resting, many people were their November 8-10th for the P1 AquaX World Championships. It had been a great season of racing so far and fans from all over were boarding their planes to arrive on time. What more could anyone ask for, world class racing from some of the best racers in the industry in a beautiful setting? I mean come on.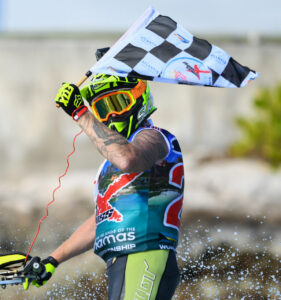 It was a great weekend for Yamaha as the top three finishers overall were all on board a Yamaha WaveRunners. Over the weekend, Eric Francis on board his Yamaha FX SVHO, was able to finish 1-1-1 and prevail as the world champion for 2019.
Following behind him was IJSBA Pro Stock World Champion Brian Baldwin on board his Yamaha GP1800R. In third place was decorated racer Chris MacClugage on board his Yamaha FX SVHO. Another reason it was a great weekend for Yamaha was that the top 14 racers were riding either a FX SVHO or GP1800R rider.
Going into the final race of the season, Francis knew that he needed to finish in the top 4 in order to be crowned the champion. He got into third place and stayed there throughout the race until the very end. Just before the end of the race, he was able to use his skills and get into first place. He was the first racer to cross the finish line and earn the World Champion Title. Congratulations to all of the racers as this year was full of exciting events and a special congratulations to Eric Francis!