Sealver Wave Boats and SunTrust Banks' Lightstream have teamed up to bring qualified buyers an awesome deal on financing a new wave boat. The boats are really cool and are built to give you the best of both worlds through the use of a compatibility kit that converts your ski into a wave boat. The boat is powered by the PWC motor and steered using the PWC steering housing. It's a cool design that allows riders to get underway with five to seven people, depending on the model. Your friends will be stoked to go out on one of these easy fun little boats.
Now is a good time to take advantage of financing offered by Lightstream. Sealver Wave Boat loans begin at 4.29 APR with AutoPay and financing from $5,000 up to $100,000. No fees or down payment are required and Lightstream will beat any competitors qualifying rate.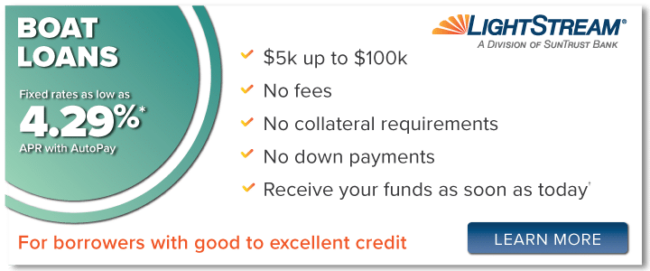 The people at Lightstream financing believe that buyers with good credit should be rewarded with a low interest, fixed rate loan. You get to choose when your funds are deposited and that means money for a new boat can be in your account the day you apply. Lightstream boat loans are unsecured and have no prepayment penalties or fees. It's very simple to apply. Check your rate and apply from your smartphone, tablet, or computer. It's seamless and virtually paperless.
Pick out a Sealver Wave Boat online and head over to the Lightstream website to make your new boat a reality.