All signs predicted the single worst conditions imaginable: 7-to-9 foot waves, white capping with 20-to-25 mph winds. Hurricane Dolores threatened to either churn the race course for this year's Long Beach-to-Catalina Offshore National Championship into an absolute squall, or completely cancel it altogether. As Yamaha JetRenu racer Curtis Marker recounts, "There were some racers dropping out the week of the race, as the hurricane in Baja brought rain, wind, and some large swells prior to the race. But on race day, it was as smooth and glassy as I have ever scene the channel." In fact, it would go on record as the calmest conditions since 2007.
With gentle rollers reaching slightly over a foot, the threat was immediately withdrawn and racers scrambled to adjust accordingly. As the green flag waved, racers shot towards the gap in the Queensgate breakwall. The route to the turnboat just outside of Santa Catalina Island's Avalon Harbor was a smooth one, allowing racers to push their craft to faster speeds than ever recorded.
The Watercraft Journal talked to Monster Energy Kawasaki's Craig Warner who stated, "[It] was the smoothest, fastest offshore race I have ever raced in my whole carrier. [I] had a perfect start and straight line to Catalina, being the first to arrive." Warner, flying in from Ackworth, GA, returned on his Factory Kawasaki-prepared turbocharged Ultra to clinch his sixth National Championship, his fourth consecutive year in a row.
But Warner wasn't alone though. He continued, "Shortly after the turn, Mike Klippenstein pulled up next to me, gave me a look and just drove right by with an easy 5-7 mph higher speed then my Kawasaki Ultra 310R. I just held my line back to [Long Beach] and noticed Mike's line was all over the place, going back and forth in front of me and looking back every 30 seconds."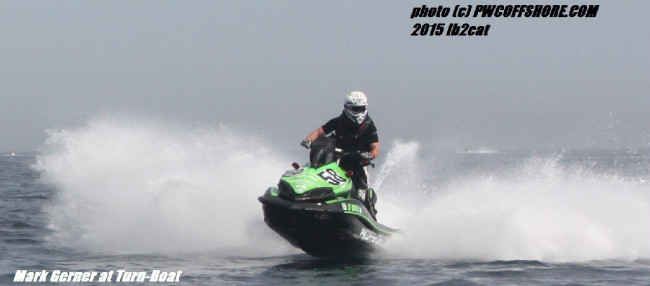 "I saw an open window to mess with him and slow him up and push him as hard as possible, hopefully to make a mistake or overide his engine. About 3/4 of the way back he slowed down, I went by and never looked back, just kept it pinned the entire race," Warner smiled. Klippenstein's R&D Turbo-equipped Yamaha FX SVHO was as fast as Warner said, and could've possibly grabbed the championship were it not for a $4 hose clamp. Klipper scrambled to reattach the line, and limped the ski in 16th place.
With Klipper out of the Top Three, PWCOffshore.com's Mark Gerner pressed the champion all the way to the finish. Undaunted, it was Warner who passed the checkered flag with a staggering 51:21 total elapsed time, with Gerner a mere 31 seconds behind at 51:52. Both managed to crush the previous record by nearly 3 minutes.
Working with technician Josh Paddock, Gerner and Paddock spent the past year dialing in his turbocharged Kawasaki Ultra and its flying. "It was moving fast today," Gerner said. "I inserted the mouthpiece and clamped the throttle for 51 minutes and hoped for the best; Craig was faster today and I congratulate him on his victory, 6 championships and his tremendous accomplishment."
Filling out the podium was Michael Perry on a Manufacturer Stock Kawasaki Ultra 310R with a time of 56:20. Not to be outdone, Curtis continued, "All I had to do was be able to hold my Yamaha FX SVHO wide open for an hour to possibly finish in the Top 3. I am very happy with a 5th overall finish and taking the win in the 4-stroke Stock class."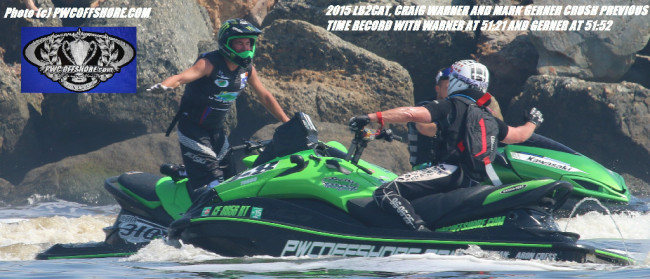 At the awards ceremony, Gerner – who has had countless second place LB2CAT finishes behind Craig Warner – smiled and joked, "Let's see, how do you explain this to your family? 'I broke the world record today, actually I crushed the record – the only problem is Craig Warner set a new record today and beat me by 30 seconds and set a new record, and I came in second place!'"
Lastly, we talked with Kawasaki's own Jon Rall who cheered the winners, saying, "We're very happy with the results of this weekend's race and just as happy that so many racers choose to use Kawasaki products for this race. What a tremendous achievement to push these machines – many of them completely showroom stock – to incredible speeds. Congratulations to Craig and the rest of the athletes who participated this weekend!"
1. Craig Warner, 2. Mark Gerner, 3. Michael Perry, 4. Jeff Lane, 5. Curtis Marker, 6. Anthony Radetic, 7. Tom Cruz, 8. Tera Laho, 9. Ryan Ellefson, 10. Dustin Steward, 11. Jonathan Mangan, 12. Charles Anderson, 13. Ashley Sponaugle, 14. Brittany Marker, 15. Marlon Macadilig, 16. Mike Klippenstein, 17. Mickey Musick, 18. Jason Gigliotti, 19. Terry Rowden, 20. Christopher Cantle, 21. Shawn Mulkey, 22. Brandi Price, 23. Michael McCormack, 24. Frank Gavit, 25. K.C. Heidler, 26. Justin Retzer, 27. Michael Retzer