Right out of the gate, it's important to note that for the past three consecutive years, the Yamaha VX Cruiser High Output (MSRP $12,049) has remained the highest-selling personal watercraft in the world. Again, let me reiterate: for the past three years in a row. And with PWC sales the highest they've been since 2007, Yamaha Motor Corp. USA wowed the industry by rolling out an incredible eleven new models for 2021, making this the single largest new product launch in the brand's 35 years of watercraft production.
Coming into 2021, Yamaha focused on it's most popular series – the VX WaveRunners – by integrating a king's ransom of new standard features and accessories previously unavailable on models other than higher-end FX Series runabouts. Of course, the biggest addition to the VX Series is the new top-of-the-line model: the 2021 VX Limited High Output (MSRP $13,549).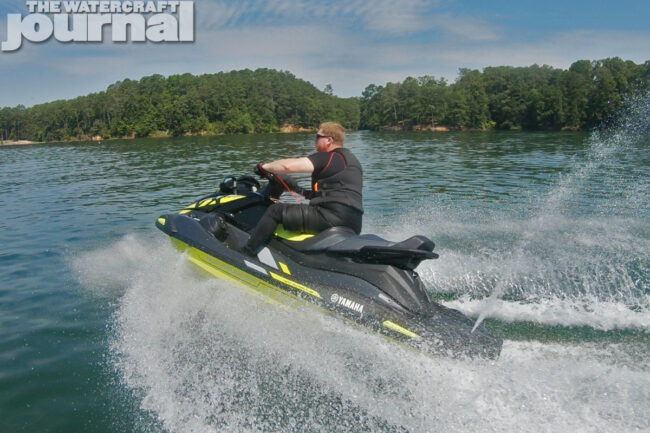 Yamaha married its single-most popular WaveRunner with its "everything-but-the-kitchen-sink" Limited accessory package previously exclusive on the TR-1 powered VX Cruiser (MSRP $12,449) and flagship FX Cruiser SVHO. For those unacquainted, the Limited package provides buyers with nearly the entirety of Yamaha's accessory catalog including a matching ski cover (with glove box access), a color-matched tube and rope, a tube inflator, a tube holder, rope bag and two Yamaha fenders.
New to the Limited package for 2021 is the inclusion of Yamaha's factory-installed marine audio system; comprised of twin 4.5-inch waterproof marine speakers, an integrated 2-channel (50 watts per channel) amplifier, and a low-voltage regulator to protect the battery that's all operated by an easy-to-access control pad found below the handle bars on the left hand side.
Also below the handlebars is an all-new glovebox. And not only is it the largest glovebox ever offered for the VX Series, it's also watertight and lit with blue LED lighting coming from a USB and a 12v power outlet as standard equipment (except for the base model VX and VX-C). In fact, all of the VX's base storage is up – from 24.6-gallons to 28.4-gallons, thanks to a wider bow compartment for easier access; a more durable, high strength hinge and dampener; and a snap-top, water-resistant box found beneath the rear seat.
The complete redesign of the VX Series' deck also provides deeper and wider self-draining footwells; a broad, flat rear swim platform; and a completely reshaped seat that radically improves rider comfort and ergonomics. Add to that new standard features like a full-color digital dashboard, and the VX has seriously stepped up its game.
Drivers now enjoy the industry's first full-color LCD "Helm Control" – the 4.3-inch screen displaying Yamaha's Connext software reading off fuel mileage and consumption rates, a PIN security code and even the ability to pre-set a maximum speed – all controlled by a touchpad located beneath the steering on the right hand side.
Connext can also adjust acceleration speeds from "normal" to "slow" ideal for less confident riders – a smart addition as last year marked the first time in decades that the percentage of first-time buyer sales (52%) eclipsed return buyers (48%). Just aft of the gauges is the newly standardized multi-mount accessory system integrated into the dashboard. Now riders can simply screw in a RAM ball-mount and attach any number of items like a GPS, fishing rod holder, an action camera, and more.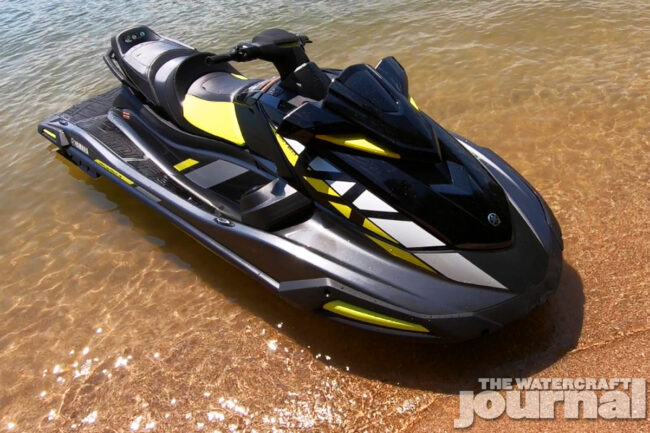 With the deck's redesign comes a reshaped saddle that is 1.5-inches narrow and slightly tapered at the knees, allowing the driver better lower-body grip while cornering and greater comfort while cruising. This new seat mounts to a secondary deck panel – similar to those first used on the EX Series WaveRunners – providing greater engine access when removed.
Below that is Yamaha's naturally-aspirated High Output 1,812cc four-cylinder. Producing a reliable 180-horsepower on 87 octane, the Yamaha High Output 4-stroke delivers plenty of low-end grunt for towing the kids on the raft or just ripping across the lake. (It is the same powerplant used in the race-ready GP1800R HO after all.)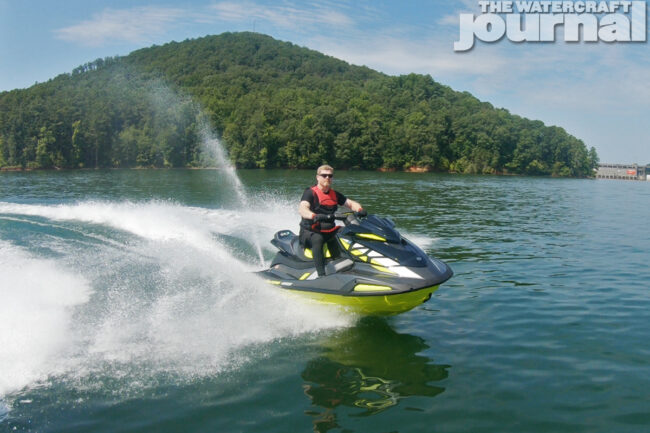 In fact, that's not all the VX Limited HO shares with the GP1800R. The VX models share the same hull and deck molds as the performance-bred GP, meaning the two series share similar handling and cornering characteristics. The differences between the two are in their material construction. The VX Limited HO is molded in Yamaha's proprietary NanoXcel clay, providing a thinner, yet equally durable molecular bond as FMC, which dramatically shaves weight; while the GP's are cast in Yamaha's NanoXcel2 material shaving off even more weight.
Thankfully, the VX Limited's casting is far more forgiving in rougher water, soaking up a lot of the chatter and vibrations that comes from streaking across a bumpy lake. Striking the balance between sporty and comfortable is a hallmark of the High Output VX's, and the Limited is no different.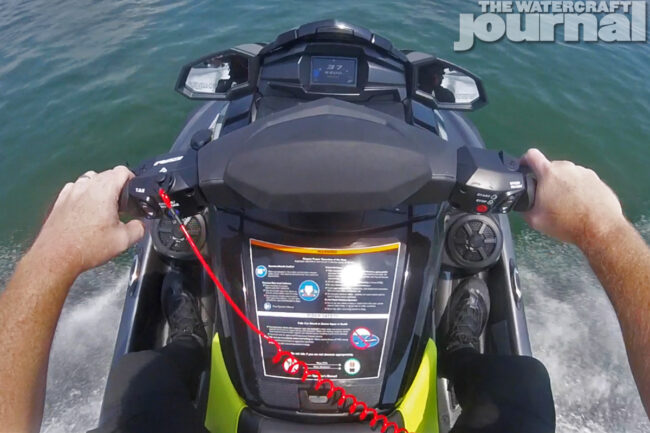 Equally, both series share the same 18.5-gallon fuel cell providing the VX Limited HO plenty of range for those looking to rack up some serious mileage. Though for 2021, the VX Limited HO does pack on a few extra pounds over previous – coming in at 794-pounds, 27-pounds over last year's model (a large part of that is attributed to the added deck panel, tilt steering and standardized sound system).
Backing out of the dock using Yamaha's dual throttle RiDE system is a cinch, as its quick forward-and-reverse response is second to none. And since the VX Limited HO comes equipped with Yamaha's easy-to-operate Cruise Assist and No Wake Mode features, idling through the marina's prolonged slow speed zone was a breeze.
For 2021, Yamaha radically redesigned its steering controls as well. Gone are the traditional start/stop buttons; replaced by a single ignition-and-kill switch moved to the right-hand side. Equally, the Cruise Assist and No Wake toggles are on the left, while the speed control toggle is now on the right. (It's a slightly frustrating change that's gonna a while for the more experienced of us to reprogram our muscle memory.)
Once past the buoys, we could open up the VX for some fun. With a nearly full tank, we managed a respectable 62 miles per hour at 7500rpm. According to our rough math that equals roughly about 13.5 gallons per hour at wide-open-throttle.
When otherwise operated, the VX Limited HO is torquey, with satisfying throttle response offering a playful ride without feeling loose or squirrelly. It's certainly fun enough for dad to come back to shore with a big smile on his face, with enough static and dynamic stability for mom to feel confident piloting on her own.
For 2021, the Yamaha VX Limited HO comes in Carbon with Lime Yellow with coordinated two-tone Hydro-Turf deck mats. The iridescent yellow is a little flashy for some people's tastes but Yamaha is pouring on the bold for 2021, and that's alright with us. Given the balance of an enjoyable, predictable ride; radically improved ergonomics and an avalanche of accessories all with a pricetag of $13,550, it's no wonder the 2021 VX Limited High Output is going to be yet another home run for Yamaha.