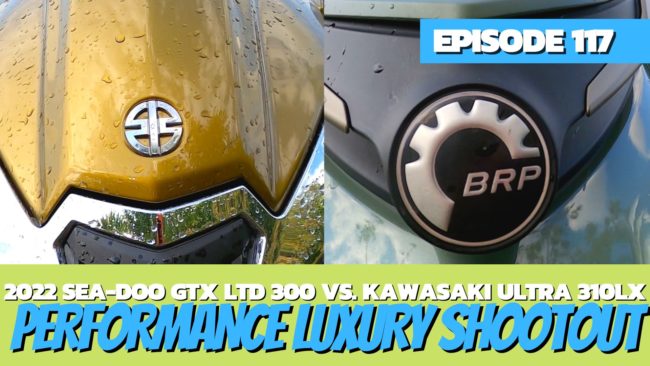 It's not often we get our hands on two of the industry's leading machines but these past few months have allowed us exclusive access to the two most well-equipped luxury performance runabouts: the 2022 Sea-Doo GTX Limited 300 and the newly redesigned 2022 Kawasaki Ultra 310LX JetSki.
With both machines making 300-plus horsepower, it was an obvious comparison – until we started stacking up the two machines against each other. As The Watercraft Journal has already published detailed reviews of each units, we encourage you to peruse our Reviews section for the respective evaluations.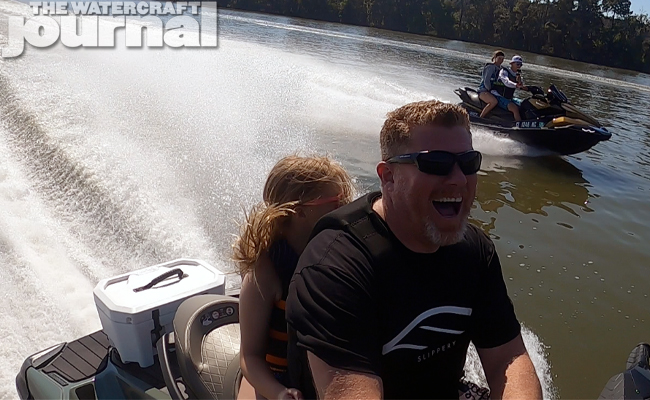 Rather, we're going to forgo the pleasantries and jump right into the shootout. Right out of the gate, the sticker shock is likely what most would-be consumers would notice: the Sea-Doo's top tier model is priced comparably modest with a $18,299 MSRP (add another $300 for the Premium Metallic Sage green hue) when presented next to the Kawasaki's MSRP of $19,499 in Ebony & Metallic Shadow Gold.
That $900 difference can make-or-break a sale, giving the Sea-Doo a slight edge. Yet, the Kawasaki offers a handful of features that cannot be found on the Sea-Doo, justifying a large portion of that price jump: most notably the Ultra 310LX includes the Ultra Deck platform extension, offering several square feet of added cargo space at the transom.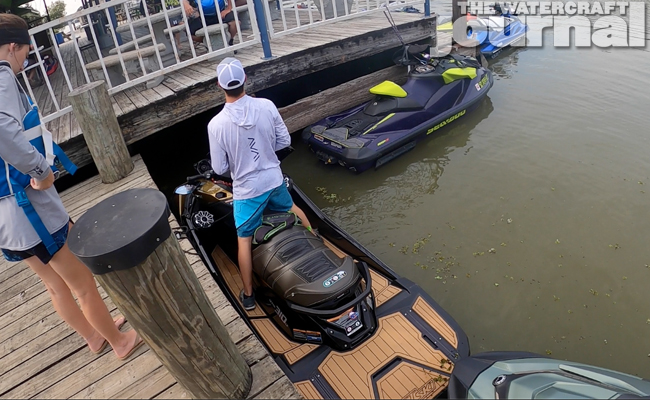 The Ultra Deck includes teak-colored matting and slide-rail attachment points for Kawasaki's new accessory racks. Sea-Doo's LinQ system – a proprietary accessory attachment system – also offers the customer a wide array of accessories (much more than Kawasaki presently), so there's that to consider.
At the rear, the Kawasaki includes its Rearward Facing Camera, offering three zoom-angles for the driver to watch on the TFT screen while underway; useful for keeping an eye on the wakeboarder or raft you may be towing (although this does not absolve you from USCG law, which requires a spotter at all times).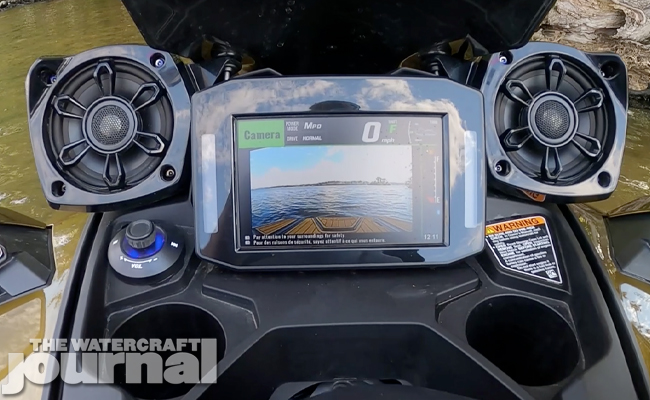 Additionally, the Kawasaki includes its dual LED visibility lights up front for greater visibility for oncoming boat traffic; although they do not cast a beam in the dark and do not qualify the JetSki for nighttime riding. All other offerings are somewhat similar and worth mentioning:
Both machines offer premium sound systems that tether via Bluetooth to your device. Sea-Doo's BRP Premium Audio is now integrated into BRP's "Tech Package" which includes the new 7.8-inch full color screen. Per Sea-Doo, a rider can pair their device to the speakers via Bluetooth, or do so using the BRP GO! application when properly plugged into the USB port in the glove box.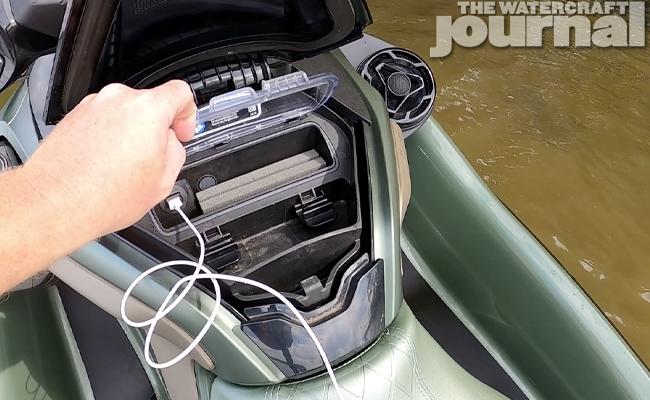 When connected, this is supposed to present the current track and all other information on the dash's split screen, even while at speed, pumping out tunes through two 50 watts speakers. Kawasaki doubles the output with a quartet of speakers blaring out 200 watts whether tethered by a USB cord or Bluetooth as well.
Operating the Kawasaki's Jetsounds 4S system requires two Bluetooth sign-ins; one to the TFT dashboard and the other through the LED-illuminated jog dial located just below the dashboard (often identified with the sign-ins "Ultra 310" and "Kawasaki" respectively).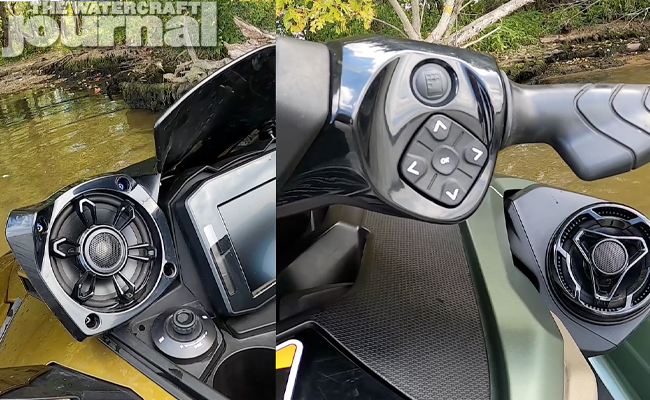 In our review process, we found the Kawasaki slightly less cumbersome than the absolutely infuriating BRP GO! application integration. We could sync to the Kawasaki rather quickly and play our music without much trouble, although the jog dial will often misread commands (skipping tracks when adjusting the volume, and no "pause" feature).
Conversely, we struggled to even get our iPhone to pair with the GTX. You cannot listen to music via Bluetooth if you're plugged into the USB, meaning you'll drain your phone's battery. If plugged in, the dashboard will insist on using the BRP GO! app, which if you don't have a strong enough signal, won't pair.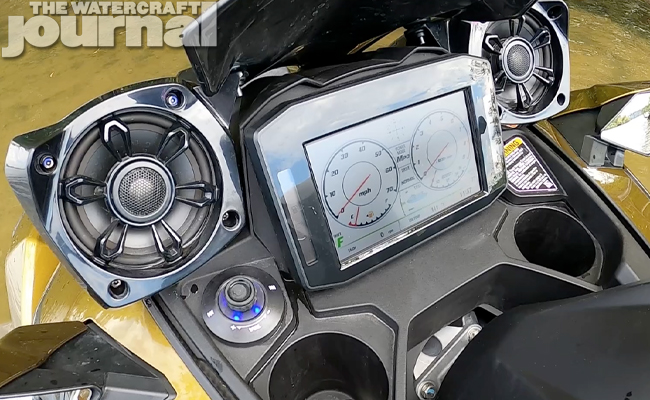 We did enjoy the app's GPS function and found it incredibly useful when we could get the two to connect; again, you'll need a strong enough signal to access the app and an overpriced Apple Inc. brand cord if you've got an iPhone. (Thankfully, Samsung phones aren't nearly as picky.)
In regards to clarity, the Jetsounds 4S pummels the Sea-Doo particularly above 55-60mph. In our testing, we found ourselves needing to max out the BRP Premium Audio while needing to turn down the volume on the 4S. Let that be a first: the Jetsounds 4S was often too loud.
Both the Kawasaki and Sea-Doo offer full color digital dashboards. While we preferred the squared 7-inch TFT over the short-and-wide split screen 7.8-inch BRP dash, the Sea-Doo is far easier to navigate while underway. The Kawasaki locks out the crotch-level jog dial at speed, while Sea-Doo allows some adjustment through the right-hand thumb pad.
Equally, Sea-Doo made selecting Launch Control much like a video game (press the "up" and "down" on the VTS pad simultaneously until a prompt appears) unlike the Kawasaki, which needs to be retrieved from 3-levels down the dash's prompt page.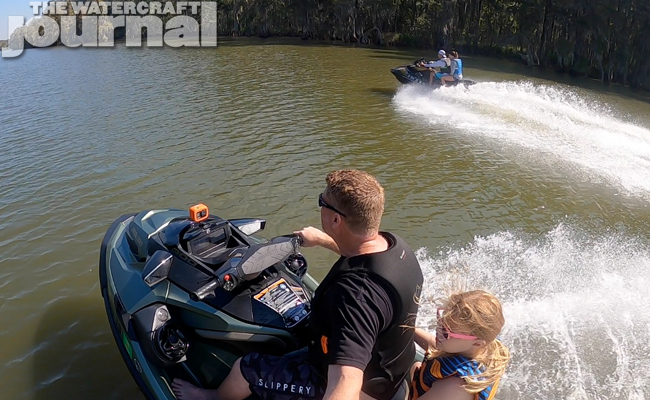 We also found the GTX's "Speed Control" preferable over the Ultra's "Cruise Control" as the Sea-Doo allows the driver to ease off of the throttle without losing their setting compared to the JetSki which will abruptly cancel out if the throttle is eased back.
Sea-Doo's controls are nominally second nature and all within reach on the handlebars themselves. Kawasaki's new buttons are far more responsive and give a satisfying affirmative "click" but require a bit of a stretch for most hands to activate.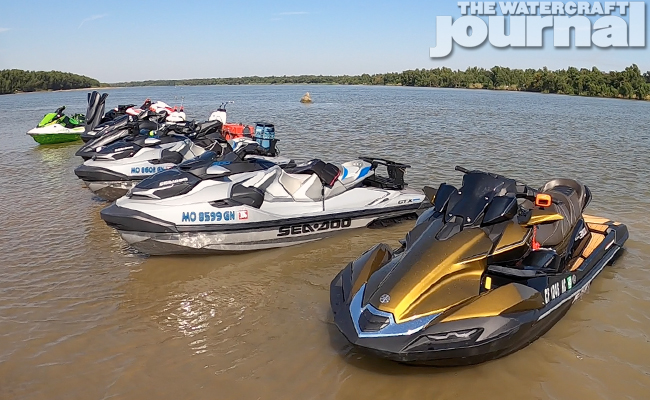 Of course, the biggest news for 2022 was Kawasaki's addition of a true braking/reverse system. Kawasaki Smart Reverse With Deceleration (KSRD) is a right-handed thumb trigger that deploys the reverse bucket similar to Sea-Doo's Intelligent Brake & Reverse (iBR) but doesn't slam on the brakes as forcefully as the GTX. Although the ease of use is appreciated, the iBR really does a fantastic job of bringing the ski to a stop in a panic situation.
Adjusting acceleration modes (Full, Medium, Low & SLO on the Kawasaki, and Sport, Touring and Eco on the Sea-Doo) require decelerating to an idle, which we hate with a seething passion but both are guilty of this, so no points lost or gained here either. Let us swap maps on the fly, guys. It can't be that hard.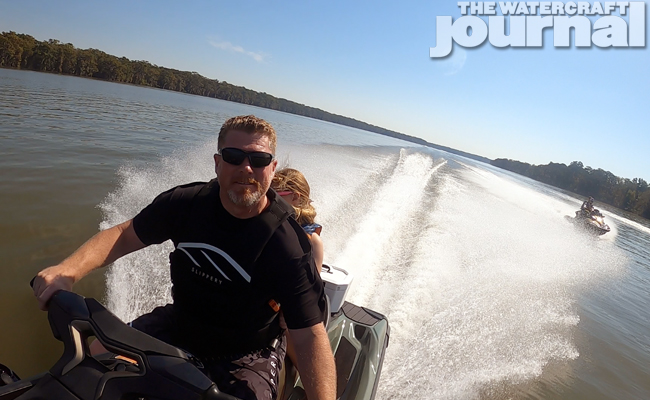 We would've liked to have seen a better live trip data screen (MPG, MTE, miles ridden, etc.) from both vehicles as well. The GTX offers a depth sounder and water temperature, while the Kawasaki gives both water and air temperatures but no depth. All of this data should be available on such high tier machines.
Both runabouts offer variations of dashboard coloring and layout, which is a nice bit of customization but sacrifices some live data or at least, prioritizes some readouts over others, making it a bit of a Sophie's Choice on what information you need more than others. More often than not, we chose white-faced gauges over black.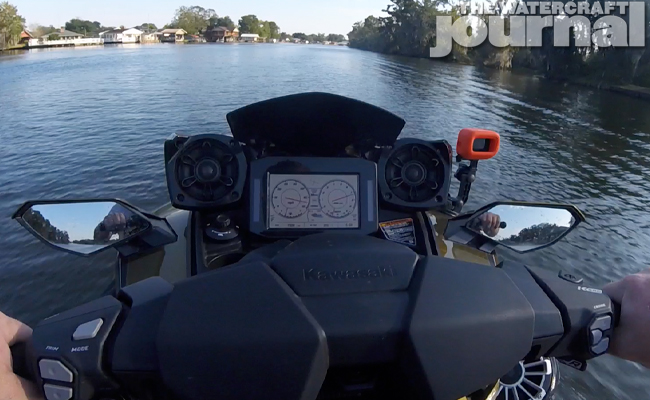 The Kawasaki's boost gauge was easily the most welcomed dash feature; indicating when the JetSki's 1,498cc TVS supercharged 310-horsepower, open-loop 4-cylinder was inhaling gobs of positive atmosphere is both helpful for the fuel miserly as well as the performance enthusiast wanting to see that bar ramp all the way up.
The GTX's 1,630cc 300-horsepower, closed-loop 3-cylinder makes much more low-end grunt (ie. torque) without needing the assistance of its centrifugal supercharger earning it far, far better fuel consumption numbers. Despite its smaller 18.5-gallon fuel cell, the Sea-Doo often returned home with plenty of 91-octane left in the tank compared to the Kawasaki's 21.1-gallon cell that we routinely drained.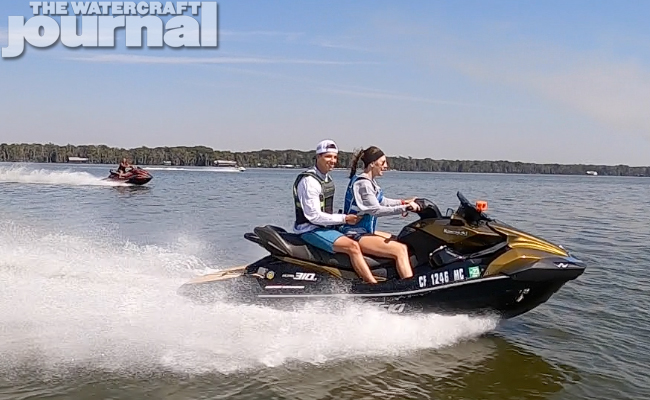 Ergonomically, Kawasaki made massive efforts to improve on the Ultra's cockpit. The narrowed saddle, deep knee coves and Ergofit bench seat adjustable to 3-inches back – paired with the 5-way tilt steering – offered a variety of comfortable positions for many different riders.
Interestingly, Sea-Doo managed to get it right the first time in 2018. Ergolock still remains one of the brand's best innovations and gives even a full-sized ST3 runabout a small, sporty feel that's comfortable for youthful, healthy riders or those with injuries to their backs and/or hips alike.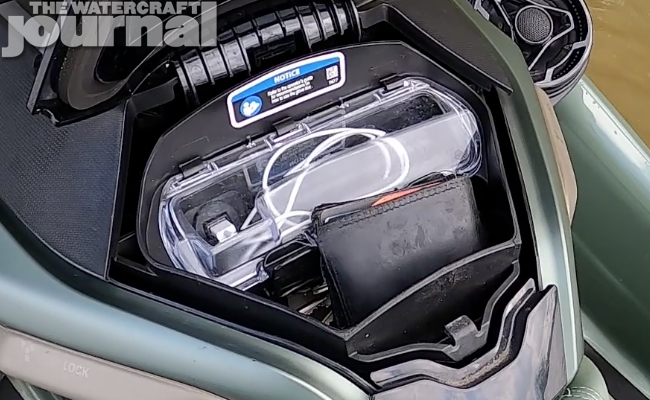 This feature also lends itself to storage access, which is a hotly contested topic. Sea-Doo eliminated the bow storage compartment, opting for a 23-5-gallon central storage tub. The GTX Limited package includes a mesh storage divider among other accessories. Above it is a frustratingly small glove box that struggles to accommodate most contemporary smart phones and little else.
Kawasaki took its industry-leading 60-gallons of storage and inexplicably reduced it by 25%, dropping the Ultra's total storage to 44.5-gallons. This cargo room is broken up into a small rear pocket (ideal for dock line and tow ropes), an innovative dual-access center storage hidden behind gull wing-style hinges and a front stowage.
While 10-gallons of center storage replaces a traditional glove box, there is a waterproof cubby with dual USB ports on the port side. Forward of the dashboard is the bow storage and fuel cap. Kawasaki dramatically reduced the opening making it difficult to insert and remove backpacks or dry bags, as well as impossible to bring a cooler or extra gas can.
Two deep-set cup holders have been molded into the Kawasaki's center console for easy access. There's no place to keep a drink or bottle of sunscreen on the GTX; you'll have to stow it under the center storage lid and pull up the whole top just to take a drink. Not exactly convenient.
Albeit these two watercraft vary in large ways from one to another, the biggest differences have yet to be addressed: How much bigger is the Kawasaki against the Sea-Doo? You'll be surprised.
As they stand, the Ultra totals 140.9-inches in overall length, due primarily to the addition of the Ultra deck, placing it a true 5-inches longer than the GTX (at 135.9 inches long) and stands slightly taller due to the air-diffusing meter visor.
Surprisingly, the Ultra is a scant 47-inches wide compared to the GTX who comes in at 49.4-inches. This of course, ends the debate whether two Kawasakis on a trailer will rub versus two Sea-Doos. Yet, the biggest factor to hurdle is weight.
As noted in other articles and videos that we produce, Kawasaki lists curb weight over dry weight. By corporate's definition, curb weight includes a full tank of gas, oil and battery – meaning the Ultra's curb weight of 1089.3-pounds totals a comparative dry weight of 950-pounds. Compare that to the GTX's advertised  dry weight of 849-pounds and calculate for a battery, coolant, oil and fuel and its a curb weight of 974-pounds.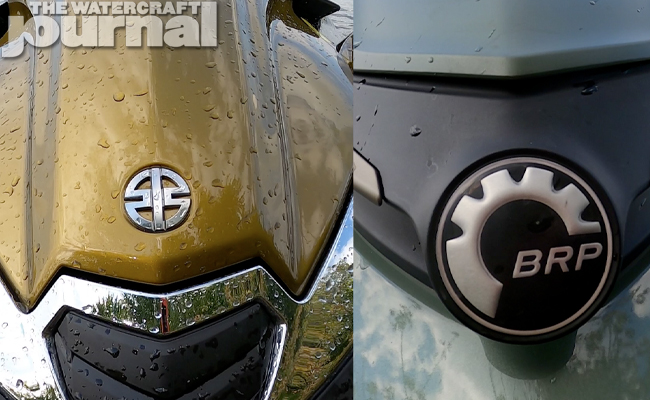 And yes, while that's still a difference of 115.3-pounds, which is still substantial; consider the added weight of two extra speakers, the Ultra's second waterbox and the Ultra Deck and it makes more sense. Then you must consider that the Kawasaki is made entirely of SMC fiberglass and gel coat, a far heavier, denser material compared to the GTX's proprietary CM-Tech acrylic-and-liquefied fiberglass construction.
All of this leads to how each watercraft rides. Again, the GTX benefits from stellar seating comfort and due to the ST3's hull wide design, unmatched low speed stability. Yet, this is where the Sea-Doo's advantages end. The ST3 struggles to track a straight line in anything other than unbroken glass conditions. The runabout wanders – often erratically – with every ripple, wake and wave of the surface.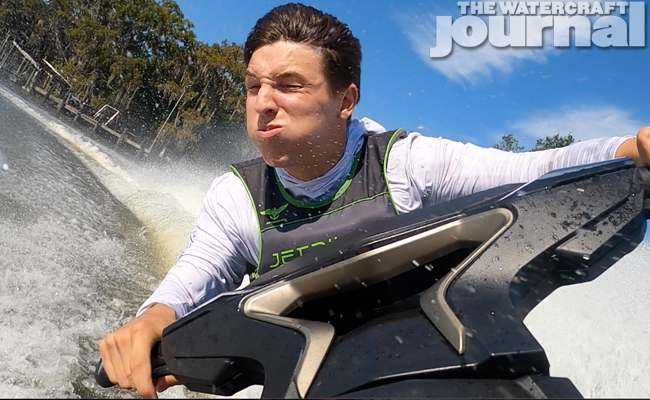 It's flat midships and rear attributes to the hull's ability to achieve higher speeds when modified, but in a stock-to-stock comparison, also means that the tail can "wash out" or immediately loose traction in a corner. This is a trait desired in smaller, more playful models but not in a full-sized, supercharged machine.
Conversely, the Ultra's true Deep-V hull displaces water like a larger vessel, absorbing bumps, bangs and jolts far better than any other full-sized hull on the market. Albeit a comfortable ride, it's nowhere near as a dry ride as the GTX. Rather, the Kawasaki shines best in rougher conditions as it sluices through waves and chop with ease. Yet, due to its deep draft, the Ultra ultimately is much slower than the Sea-Doo.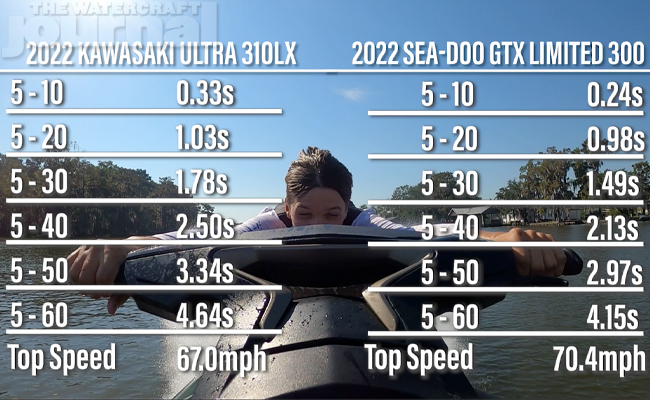 Acceleration testing revealed a half-second gap in favor of the Sea-Doo, reaching 5-to-60mph in 4.15-seconds versus the Kawasaki's 4.64-seconds. Top speed wasn't useful as the Kawasaki's stonewall speed limiter stopped the Ultra dead at exactly 67mph while the GTX ticked 70.4mph before throttling back down to 68mph.
In regards to sporty riding, the GTX's flat tail broke free in each corner, its sponsons offering little to any traction. The Ultra's newfound lowered center of gravity unlocked the JetSki's ability to roll into a corner effortlessly and snap a hairpin like a watercraft half of its size.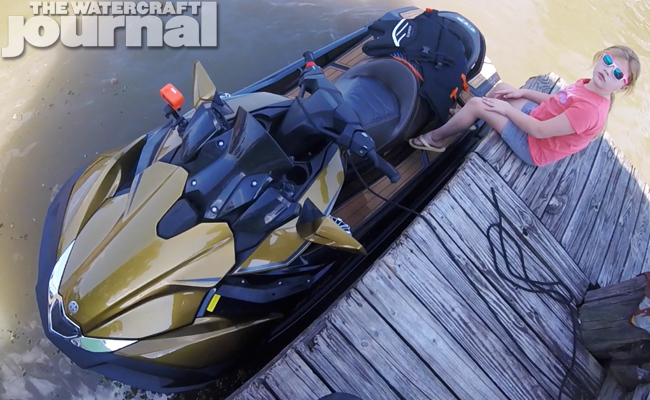 In all, the newly minted 2022 Kawasaki Ultra 310LX beat out the Sea-Doo in most categories either by a considerable leap or just by a squeak. Sea-Doo fared better in speed numbers, superior fuel consumption, offering a drier, more comfortable ride and a lower price entry for sure. The center storage is convenient but fails to provide a serviceable glove box or drink holder. And then there's the hull design, something which we've critiqued heavily elsewhere.
While the final results were close, we have to award the win to Ultra. The ride is just superior in nearly every imaginable metric. Ergonomically, Kawasaki made huge strides in the right direction while trying to do something unique, which we can appreciate. Innovations, unique takes on existing features and trying to offer the customer a luxurious experience puts the Ultra 310LX at the top of our list for 2022.