The San Diego BayFair is a much-anticipated event that draws thousands of spectators and boat enthusiasts every year. With its infamous "Sunny San Diego" weather, combined with the beautiful venue that is Mission Bay Park, the BayFair creates an exciting atmosphere for families, retired boat racers, and the rich and famous.
This year, however, the BayFair was turned upside-down as jet ski trailers, toy haulers, and RV's began filling their hot pits Friday afternoon. Launch dock personnel stood dumbfounded as 30 racers overtook their small-scale ramp with UTV's, ATV's, and beach totes. SuperJets and SXR's were dwarfed by the 32-foot H1 Unlimited Hydroplane boats as they were craned onto the water just mere meters away from each other. And the crowds watched in awe and cheered as jet ski racing made an all-awaited comeback to BayFair for the first time in 6 years!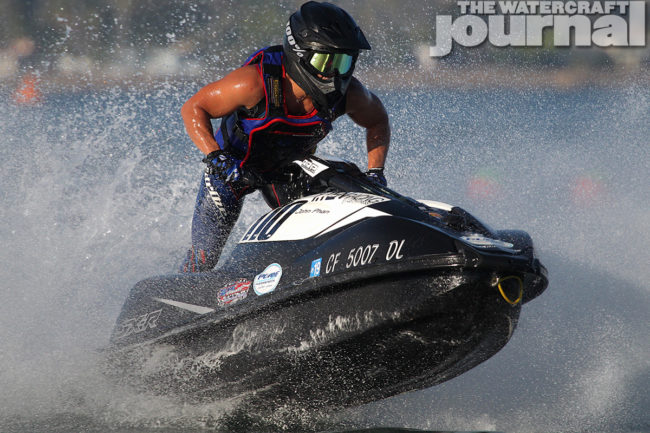 Hosted by the highly-recognized graphics company IPD Graphics, the exhibition was a great success, despite being given very little time to plan the event. "After we got off the phone with them, we all looked at each other wondering how we were going to pull off an event like this with such short notice," mentions Ally Emig, Web Manager for IPD Graphics. "But we rallied our forces, made some phone calls, and before we knew it, we had 20 racers confirmed, and the list continued to grow!"
With the growing anticipation as 2018 World Finals approaches, many racers saw this as an opportunity to get some much-needed practice time under their belts. The 2-day event included a closed course "Australian-pursuit" format positioned directly in front of the beach on East Vacation Island in front of the Hydroplane course, and a dual slalom course placed in front of the reserved RV parking on Fiesta Island.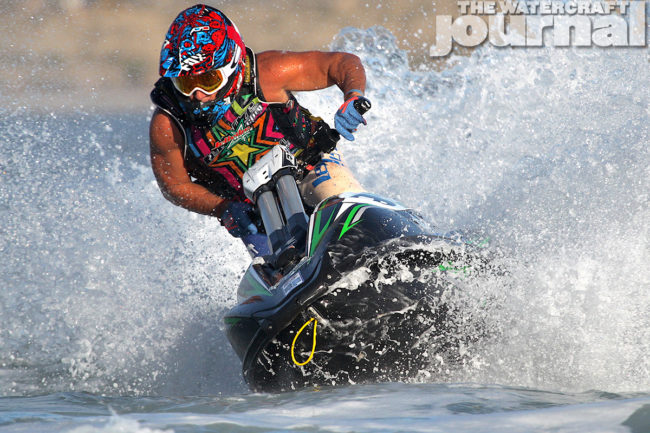 "This event brought PWC racing in front of a crowd that we don't get unless we piggy-back with such an event," says racer Joe Gesicki from Long Beach, CA. "Lots of people walked through our pits and stopped to ask questions and to tell us how much they enjoyed watching us bangin' bars out there!"
JC Racing owner and fellow racer Jason Carlton agreed that the exhibition was a great way to highlight the sport. "It was awesome! Between being on the water with million-dollar hydros, to turning the front straight corner and seeing thousands of people packed on the sand cheering for you, to kids shouting "Do a backflip!" at the slalom course, it was so much fun! I hope we left a lasting impression on the youth that stand-ups are cool, and that we are here to grow the sport!"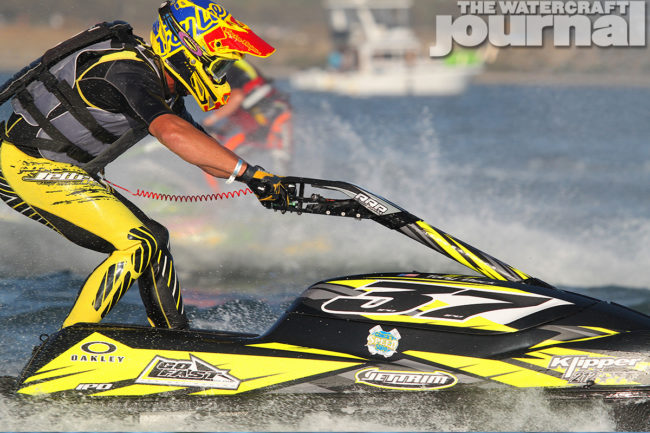 The event was certainly low-key compared to other races that these premier riders are used to, but all of them benefited from the stress-free, but professional race environment. "This was one of the best events I have ever been to," mentions Jim Marcich, who's son Reese Marcich raced in the 800cc class. "Having boats and jet skis racing together on the same day makes for a great event. Having only two ski classes made it easy; no rushing around and having to worry about multiple motos that are back-to-back."
"One thing that was super nice and if you can keep it this way going forward was the cost!" mentions Angie Carlton. Racers paid a one-time weekend APBA membership fee of $50 for the whole weekend. "It was nice that it didn't run $200 for a person to race the whole week and we could race multiple classes if we wanted."
Overall, the exhibition was a great achievement, and a great stepping stone on being invited back next year. "I worked side-by-side with the BayFair staff and they were blown away at how professional and friendly the jetskiers and their staff were. The only comment I could come up with to describe my racers was "Racing is their world; it's in their blood!" The staff laughed, and wished us luck on being invited next year.
IPD Athlete Jon Phan is also hopeful about coming back, saying, "I wanted to personally say thank you to Casey Mauldin, Ally Emig, Riff Del Prado, and the entire IPD Graphics team for putting in the hard work and producing one of the most memorable and enjoyable watercraft racing event this year. To be able to race beach-side in Mission Bay San Diego, with thousands of spectators, was amazing. Coupled with the action-packed H1 Hydroplane boat racing throughout the weekend, it was a sight to be seen. The entire IPD Graphics team managed the races so smooth and efficiently, that it really allowed the rest of the watercraft competitors like myself to concentrate on racing and enjoy the entire weekend festivities onsite!"