There's not a whole lot of personal watercraft enthusiasts who longingly look back through the near half-century of PWC models with a sense of nostalgia the same way a car or motorcycle enthusiast might. But that's not to say that there aren't those who still enjoy saving an old school standup or sitdown from the scrapper when the opportunity arises. One such individual was Chris Busutil who rescued an '82 Kawasaki JetSki JS440 from certain doom and rebuilt it into a gorgeous keeper.
"I started off with a non-running $200 JetSki (with a clean AZ title) that I found on a forum called 'The Yuma Boat Exchange' here in town," Chris told The Watercraft Journal. "I wanted anther summer project. The guy said it sat on the side of his house for years – and it showed. It was in very bad shape! Everything on the ski was original but the engine. It was originally a 440 but it had a 550 engine dropped into the 440 hull. I loaded it up in the back of my truck and took her home knowing I was going to fully restore it.
"First thing I did when I got home was a compression test and got 0 psi in both cylinders. Right then and there I pulled the engine out." Chris explained the the ski was spray painted 4 or 5 different colors in its time. "It was cracking and sun faded very bad! They painted over everything, it was a mess! I started stripping the ski down to nothing but a bare hull. My brother and I used aircraft paint stripper to take all the paint off." From that point they started to sand down all the fiberglass. "I took off all the old turf and hood seal and found that it had some cracks in the nose.
"I fixed all the cracks with fresh fiberglass, then used Bondo for a smooth finish; and decided to fill in the gas cap hole for a smooth look. I used carbon fiber to fill that hole, then Bondo to finish it." After completing all the bodywork, Chris took the ski to his father's house for a fresh paint job. He explained, "My dad has been a paint and body man for over 40 years, he knows what he's doing. He started going over and touching up anything I left behind. After he was happy with the hull he started primering. Next, he started the bottom in Jet Black and laid on four coats of clear.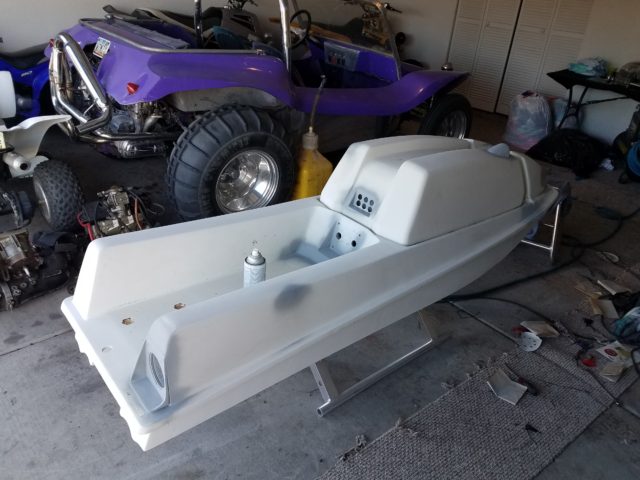 "After it dried, we started on the top half." Chris continued. "We laid a base coat of white and then yellow, called 'Suzuki Daytona Yellow'. It looks very nice in the sun! And same as the bottom, he laid on another four coats of clear. After all the paint work was complete, he wet sanded and buffed for 2 days on the ski." With the hull of the ski cleaned up and repainted, it was time to start on the powertrain. "Most of the parts came from the Facebook Kawasaki 550 JetSki group. Other parts are from eBay. It's got 76mm Wiseco pistons, all new crank seals, a new flywheel, Westcoast manifold and pipe, Westcoast head with 23cc domes pushing 170psi, 38mm carb with a Blowsion tornado airfilter. Stock electronics.
"I went with the BlackTip Jetsports Retro Square traction mats in black and yellow to match my ski. I've always used Blacktip on all my skis and love it!" Chris noted. For steering, he explained, "Its got Blowsion 0-degree black bars with a Blowsion aluminum finger throttle. ODI lock-on grips and a lanyard-style kill switch. Under that is a bilge pump on/off switch. For the exhaust I'm running a Coffman water box with a polished exhaust elbow and a 2-inch exhaust tip from AutoZone. [laughs]"
Chris concludes, "The pump is a factory piece bored-out with a Solas 15.5 stainless prop, Westcoast ride plate and a Jetsport intake grate. Every nut and bolt has been cleaned up or replaced with stainless hardware. From start to finish, it took me 3 months and a total coast of $2,488.16." As an end cap, Chris laughed, "It worth every penny in my book!" and we'd have to agree. He also included a very detailed price list of everything that went into the build:
'82 Kawasaki JS440     $200.00
Westcoast pipe and manifold     $206.10
Solas 15.5 pro     $128.93
BlackTip Jetsports Retro Square traction mats     $84.95
Blowsion finger throttle     $69.95
Blowsion 0-deg. bars     $74.95
SBT throttle cable     $55.85
Black HD pole spring     $39.95
Top-end gasket kit     $31.49
Blowsion front & rear bow eyes     $21.09
Yellow wrist lanyard     $21.95
ODI lock on grips     $22.37
Lanyard start stop switch     $28.99
Exhaust gasket set     $20.88
Crank seals     $15.95
Hood seal     $16.88
Hood shock pads     $17.95
Blowsion black pisser     $17.95
Handle pole chin pad     $45.89
Flush kit     $11.95
Yamabond 6B case sealer     $18.95
New Mikuni 38mm carb     $180.00
Yellow, white, black, primer     $174.76
Coffman water box     $104.65
Start/stop switch housing     $50.00
intake manifold spacer     $38.00
Vintage Westcoast decal     $7.49
Fuel bowl and filter     $25.00
Flywheel     $65.00
Westcoast head with 23cc domes     $206.10
Blowsion Black Tornado Air-filter     $53.65
NGK spark plug caps     $25.98
Bilge pump kit with on/off switch     $161.67
Blowsion Black bar pad     $24.95
Black powder coated hull braces     $170.09
Single carb primer kit     $27.95
Exhaust elbow polished     $10.00
Exhaust tip     $9.87


Total cost     $2,488.16