The rain fell so hard against the windshield that I had to slow down just so that the wipers could catch up. Charcoal gray skies dropped a silvery curtain, drenching everything between Nashville and Huntsville, Alabama. Breaks in the downpour provided a little relief between showers all the way to Birmingham. The route to this year's Mudbug in Morgan City, Louisiana was a wet one, and only a small taste of Mother Nature's irritable mood.
A few extra stops along the way and some construction zones delayed our early afternoon arrival by a few hours, but not enough to miss a personal invite by Greenhulk.net's founder Jerry Gaddis to join him that Friday evening, some family and the "Yamaha guys" at his parents' camp along the Avoca Island Cutoff, a glassy green vein of bayou running alongside Highway 70.
Of course, "camp" is a word used egregiously loose around these parts, as the site was an elevated two bedroom flat sumptuously furnished with enveloping couches and cool tile floors. Beneath the stilted home was a welcoming arrangement of benches and picnic tables only a few steps away from the water's edge. Rainfall that week had raised the water levels through the bayou, bringing the river up to the property's edge.
The MudBug first started in a similar bayou a decade earlier, but not as the mega-event it has become. Rather, it was birthed as an underground drag race complete with radar gun runs. At its height, it swelled to over 300 skis in attendance. In recent years, the cloud of liability has spun off the racing to the HydroDrags, leaving the MudBug to more of a social event.
While Jerry prepped a comically-oversized pot of writhing and frankly, terrifying mudbugs for their inevitable fate, blankets of rain doused the area, churning the still waters of the swamp into a tempest. Together with his parents, two sons Greg and Alex, and my 5-year-old daughter Morgan, we were joined by Yamaha's Andrew Cullen and Bob Gonsalves for an enjoyable – albeit wet – evening.
Earlier that day, MudBuggers who had traveled down earlier had joined Bryan Muirhead ('DrivingZiggy') for an adventure ride. Bryan recounted the day's ride to The Watercraft Journal, saying, "Steven ('Stevencr21') finally responded to all of my begging for somebody to ride with. And Cliff ('Rooster') was gonna be just in time. So we launched out of Amelia on three skis. Steven also had the lovely Maddy with him. Me? Well, I had not one, but two GPS' with the Mega Marsh Loop loaded into them.
"Everything was going swimmingly for a few miles. But then we saw what looked like fog up ahead. Nope, wasn't fog. It was rain. So that took the wind out of our sails and we just turned around and headed back to Amelia. We decided that we would make another attempt. As Cliff and I lounged and jaw-jacked, we saw…several other vehicles with skis pulling in: Billy Duplessis Sr, and son, Billy Duplessis Jr., Lance Mercier, and Kenny Blum. And they were daring enough to go along with us and trust me to guide them through the marsh. Buncha goobers if you ask me!
"It wasn't too long before my ski threw a code. And it mysteriously cleared up after a few minutes. So we cruised all over the marsh. Things were going well; we saw a couple of eagles and lots of other birds including great blue herons and egrets. I 'may have' seen an alligator, but all I really saw was a ripple in the water as I approached.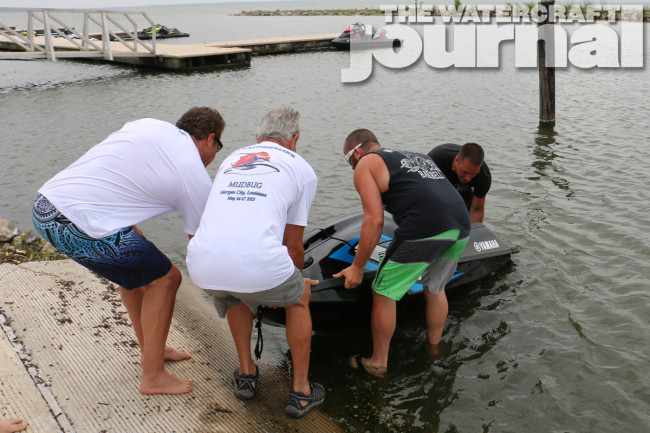 "We were pretty relieved to arrive in Du Large where we were able to refuel the skis and (some of) the humans. Cliff was getting antsy by this time, though, as he really, really wanted to meet up with the other group at 4pm for an excursion into the other side of the swamp. I wanted to go also, but was beginning to see that the Mega Marsh Loop takes quite a bit longer than I remembered.
"Then we took a wrong turn. I must have saved the route wrong or something, because we took a right into Lake Hackberry and as we made our left out of Lake Hackberry, the GPS told me we had reached our destination. Everybody was so pleased with me at that point. Some even pledged their undying loyalty and willingness to follow me anywhere!
"So we backtracked to the Intracoastal and managed to find our way back to Amelia. No injuries if you don't count sunburn. Safe and sound, but too late to join the other crew. We discovered Grace waiting for us at the ramp. Apparently she had been there for 5 hours. Shucks, if we had known that we could have waited for her and she could have become just as lost as the rest of us!"
Others coming down to celebrate the MudBug's 10th anniversary – in the case of the Jersey Crew, several days earlier – had already racked up several hours and had discovered that the elevated water levels had caused locals to put out enforceable No Wake Zones, thus causing thrill-seekers to find alternative routes. Early Saturday morning, I and my 5-year-old co-pilot sought to rack up some seat time ourselves.
Launching the Dragon Red-and-semi gloss black '11 Sea-Doo RXT-X 260 loaned to us by our pals at America's Motor Sports in at Bayou Long in Stephensville, we made the leisurely loop around Hog Bayou, into Grassy Lake and continuing our route through the inlet to Lake Palourde, taking us to the small breakwater inlet and ramp where the MudBug was being hosted.
Wind churned Palourde into near Pacific-like conditions and did it's best to buck and injure riders daring to cross it at any speed above "crawl." The remainder of Saturday consisted of a few other casual rides to and from Gros' waterside bar/fuel station/convenience store to relax in the shade and take in the live music, while others were content to stay on site, devour the amazing pastalaya (jambalaya made with pasta instead of rice) and spicy pork sandwiches.
As hinted, Yamaha put on a private test ride day, offering rides on the all-new VXR and supercharged FZR SVHO. The rough conditions made it a challenge for many to get a proper feel for these machines' cornering aptitude, but a blast nonetheless. All test riders left with broad smiles and a free Yamaha shirt. Having our fill of amazing food and sunshine for the day, I and Morgan retreated to the hotel.
The next day, and after some online supplication, we were invited to join Bryan and the Jersey Crew (Vic, Ian, Jay, John, Mike, and a bunch others) to tour much of the Atchafalaya River, taking us a little into Flat Lake and Dog Island Pass. From wide open channels with barge traffic to coursing through tightly-knit alleyways through gray Spanish moss whipping at the tops of our heads, it was unequivocally some of the most enjoyable riding I have ever experienced.
Saturdays are typically the "main day" with Sunday being the day for most to return home in time for work. As for me, Sunday was the best day, and these MudBuggers made it so. Returning to the launch, I waved goodbye to our new friends and mentally rescheduled next year's MudBug from a "maybe" to a "definitely" return date.
Additional images provided by Billy Duplessis. Video by Bryan Muirhead.