We first learned about Take Point Now's desire to build a adaptive personal watercraft for injured and handicapped veterans late last month. By happenstance, we were already well acquainted with Design Ability's President and Chief Engineer, Bill Stuck after test-driving his joystick-controlled Polaris RZR a year earlier. Struck's talent at adapting aircraft-grade electronics and industry-leading technology and design to powersports for those otherwise hindered by immobility is impressive to say the very least. So to learn that Design Ability was the mastermind behind Take Point Now's idea was impressive.
But even getting the idea materialized is a story unto itself. The Watercraft Journal was able to talk with PK Ewing, team leader for Take Point Now who walked us through its development: "The idea for an adaptive jet ski came from how this Take Point Now effort affected my teammates. Now without airing too much laundry, my teammates and I all have PTSD. At least two of us have TBI issues as well.
"We all suffered in similar and different ways. We all responded in similar and different ways and we all sought treatment of some kind with varying degrees of success. I won't go into a discourse on PTSD but we all felt the deep depression, isolation, headaches, violent mood swings, insomnia and tremendous anxiety."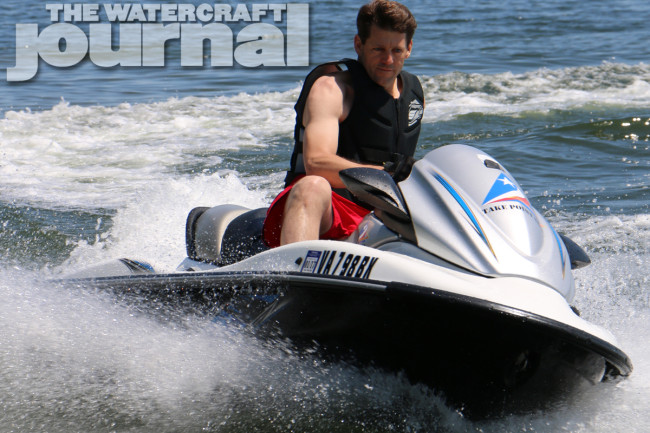 "But being on the water together, we found some peace. And riding the skis together quieted the demons and gave a tremendous outlet.
"We were all talking about it after riding one day and we all came to the same conclusion at the same time. Every vet should experience this feeling. This led to the next logical question: What about the Wounded Warriors who physically can not ride anymore?
"While we were discussing it, I think it was John Pignone who said it first, 'We should figure out a way to bring this to every veteran who needs it.'"
"So I decided that this should be something that we should tackle as the Take Point Now team. I started thinking about adaptive controls for riders who were amputees. I looked and searched but found nothing. I realized we were going to have to design something from scratch. But this was a task beyond our abilities. I had an idea for a yoke and a saddle but no way to build it myself.
"My search led me to Bomboard LLC. They are designing and bringing to market a revolutionary PWC. It looks like a really thick surfboard but it's modular and breaks down into four components that you can fit into a small car. It's also a fraction of the cost of a regular jet ski. It's designed so a rider can sit/kneel or stand on it while riding. That made me think that it's the perfect platform to modify for a disabled rider. I called them and spoke to the founder and owner John West.
"He's a Vietnam War vet and he was very enthusiastic about adapting the Bomboard for Wounded Warriors but unfortunately they are still in the design phase and won't be hitting the market for some time. But they put me in touch with the engineer who worked on their throttle system: Bill Stuck and he has been designing adaptive controls for side-by-sides for years. Erika and I paid him a visit and he brought our idea to reality."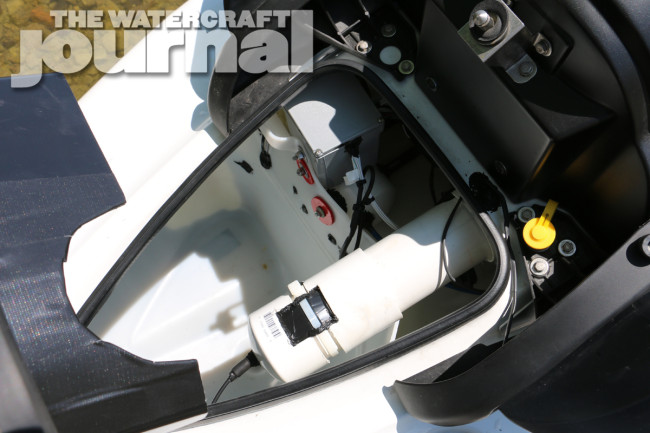 PK provided Bill with his own Kawasaki STX-15F. The current STX-15F is the oldest-running PWC designs (besides the Yamaha SuperJet) available today, and is void of contemporary niceties like electronic throttle control, cruise, no wake mode, or trim control (not to mention brakes). The right-hand reverse lever is also a long overdue carryover from a decade earlier.
Yet it was the lack of such contrivances that made its transition to one-hand-drive easier. As Bill Stuck explained, "The stock forward/reverse system was designed to be used by an individual that had the ability to hold the handle bar with one hand and move reverse lever with the other. That task was not very functional for an individual that was a full or partial amputee.
"The new system incorporates the use of an actuator and relay logic to control the forward/reverse functionality electronically using a simple switch. This modification enables an individual with one arm to have full control of the reverse system and still have steering and throttle control with one arm. The system is also designed to be used with either the left or right arm."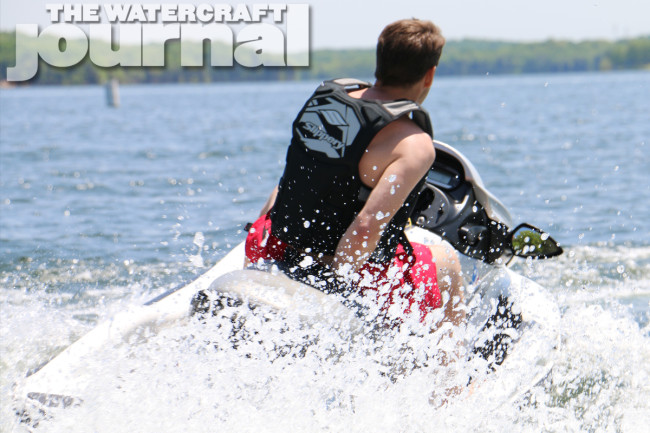 This ambidexterity is achieved by removing the traditional steering cross handle and replace it with a single, centered yoke. Stuck continued, "The choice of a hand grip control arm was a combined design effort between PK and myself. The thought was that PWC would be kind of like riding a bull. The grip would be low so you can hold on and pull yourself into the seat for support. The throttle is a standard electronic trigger that most individuals can adapt to very easily."
The single yoke and arm sits on the factory steering knuckle, and the electronic servos controlling the forward/reverse system both do not replace the factory components, but only override them – allowing for easy installation and removal. We found this to be ideal, as many runabouts on the water currently feature the same low-level of technology and would make the package's installation fairly routine.
On the water, we found the experience very unnatural (as to be expected). Traditional handlebars provide not only added control but stability as well. Negotiating turns – even at half throttle – proved difficult because of the low-slung yoke's lack of leverage. Likewise, the centered yoke makes leaning into turns a wholly new experience that will take some practice to master.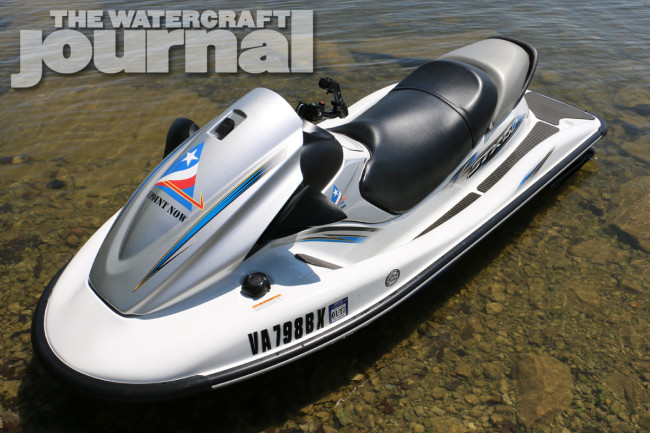 Stuck relocated the start/stop unit directly beside the yoke and operates using the traditional lanyard kill switch. The yoke features a trigger for the throttle, which takes some getting used to, particularly as the STX-15F is one of the sportiest naturally aspirated entry-level crafts on the water.
The yoke's thumb buttons manipulate the electronically-controlled forward/reverse bucket, and takes only a couple of seconds to engage. For now, the Design Ability/Take Point Now Adaptive Steering System is in its early prototype stages, and given the minds behind it, promises to become a very useful resource for injured veterans.
"As for the future of this program," PK concluded, "that is driven by Take Point Now's mission to inspire veterans to seek out and recreate the team dynamic that characterized our military service.
"My mission is to inspire, so how we proceed will be informed by that. These prototypes are templates and tools to that end. I want to find a way to get these tools into the hands of the inspired and build community of riders who otherwise would miss out on the joy, the exhilaration and the humbling beauty of deep water and open sky."