The 2016 model year marks three consecutive years where the Yamaha Motor Corporation has dramatically raised the bar. In 2014, Yamaha's Super High Output (SHO) engine was heavily reworked with improved boost volumes, increased oiling capacity and superior internal components giving us the Super Vortex High Output (SVHO). Last year, 2015 introduced us to Yamaha's innovative RiDE dual throttle system. Other technological advances included the introduction of NanoXcel2, an even lighter, yet equally durable hull and deck material effectively shaving upwards to 40-pounds from Yamaha's top-of-the-line runabouts, and over 30-pounds from its sportier FZ series' craft.
For 2016, the Yamaha Motor Corporation is doubling-down on its mantra of "power-to-weight ratio is key" by not only shaving more weight from its incredibly popular VX and V1 series craft, but increasing horsepower to boot. How? Gone is the old MR-1 4-cylinder, 4-stroke 1100 motor, replaced by an all-new lighter and more powerful plant.
After a decade-plus of faithful service, the 1.1-liter is being replaced with the TR-1. The dual-overhead-camshaft, four-valve-per-three-cylinder, 4-stroke is 40-percent smaller, 20-percent lighter, and 13-percent more powerful than the outgoing engine.
And what does that mean in practical numbers? Try 125-horsepower from a 1-liter (1049cc) naturally-aspirated 3-cylinder, weighing 160-pounds when fully loaded and ready to run (exhaust, wiring, air intake baffling, etc.). The TR-1 promises to be a serious feather in Yamaha's cap, as throttle response is immediate, acceleration is harder, top speeds are increased, and fuel economy improved for all as-equipped VX models using the new engine. We've ridden it, and the claims are true.
Above left: The TR-1 is the rightful younger sibling of the current Super Vortex High Output (SVHO), delivering immediate throttle response that one might expect from its larger displacement bigger brother. During our testing, we were pleased to find  a strong torque curve (without lulls or "flat spots") that carried upward in a linear band. Above right: Don't be fooled by it's demure 1 liter package, the TR1 packs all the punch of the outgoing 4-cylinder and more. Nearly 20-percent more, to be exact. Weighing nearly 40-pounds less and producing an unofficial 125-horsepower, this new 3-cylinder power plant not only improves the overall performance of the so-equipped VX models, but rightly cements Yamaha's place as an engine manufacturer first, and a boat builder a close second.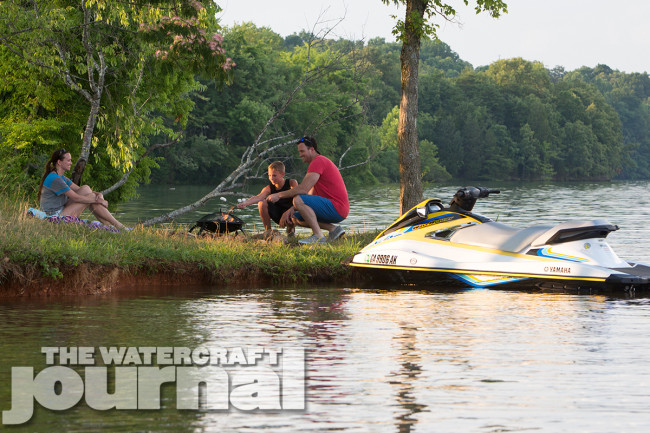 Now, before you standup riders start frothing at the mouth, it is important to note that until a baffling system can be devised to keep water from being ingested into the 4-stroke's sensitive internals (ie. hydrolocking), we can't expect to see a TR-1 equipped SuperJet. But that doesn't mean the 2016 SJ has been forgotten. For the first time in years, the SuperJet ($8,499) has changed deck colors and comes with an option of two graphic packages.
Those models equipped with the new TR-1 receive quite a bit of added excitement, including Yamaha's Spark-fighting V1 and V1 Sport ($7,899 and $8,699, respectively), which still rides on the brand's previous VX platform. The new VX models – VX ($9,499), Deluxe ($10,199) and Cruiser ($10,499) – also welcome two new models to the lineup: the VX Limited and VX Cruiser HO, bumping Yamaha's total lineup to a staggering 17 models.
Similar to the National Championship-winning VXR ($11,899) and VXS ($11,599) both fitted with the larger 1.8L High Output engine, the VX Cruiser HO ($11,099) answers the request for a "more luxurious VXR/S" with Cruise Assist and No Wake Mode, not to mention the VX Cruiser's scalloped seating. The other addition – the VX Limited – is truly something to be excited about, as it is what we at The Watercraft Journal dubbed, "The Family Summer Starter Package."
Not only does the new VX Limited ($10,899) come in retina-scorching fire engine red metallic with black and white highlights, equipped with Cruise Assist and No Wake Mode, and Yamaha's RiDE system, but comes with a color-matched inflatable towable (tube) and rope, it's own tube inflator and holder, a rope bag that attaches to the back of the Limited's deck, a reinforced ski tow eye, dry bag, chrome 3D Yamaha emblems, and four pull-up cleats. Oh yeah, and a custom ski cover with a trickle-charging solar panel. Yeah, seriously.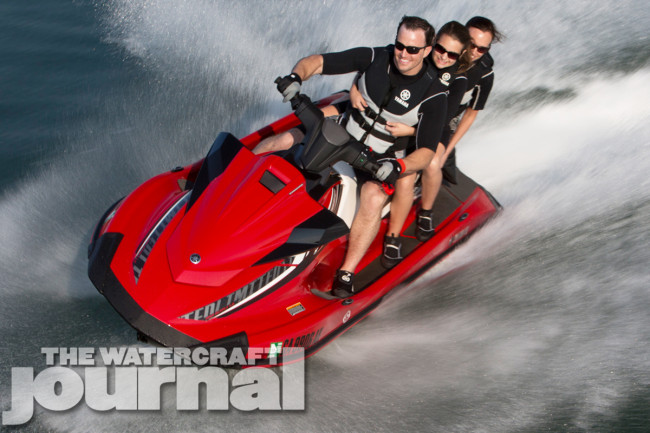 But there's one more – and frankly our personal favorite – feature that we expect (and what consumers should demand) for all future PWC: a 12-volt plug in the glove box. Not only does this allow riders to inflate the raft while on the water (with its included pump), but allows for recharging a cell phone, GPS or a live bait tank's re-circulation pump for those PWC fishing. It's a brilliant touch of usefulness that we can see on all watercraft regardless of brand.
Leaving the VX lineup, the National Championship-dominating FZ series WaveRunners – FZR and FZS (both $14,799) – get what Yamaha boasts "some of the best looking colors and graphics […] produced in years." White was a surprise hit in recent years, so Yamaha slathered most of their 17 units in the blank stuff, with both FZ units wearing white decks.
Only the R-models get the eye-catching red hull treatment, while the S-models sport a choice of iridescent green hoods, graphics and fairings, or a fetching all-blue livery. And no, there is no RiDE-equipped FZS, as many had hoped or rumored to be imminent.
Stepping up to the flagship FX series, color options ranging from both mature and jubilant depend on preference. Again, while Yamaha excels at offering color options when others don't, white is almost dominating the entire FX line, with brightly hued graphics being the highlighting feature, from the top-of-the-line FX SVHO Cruiser ($15,899) to the entry FX HO ($13,099).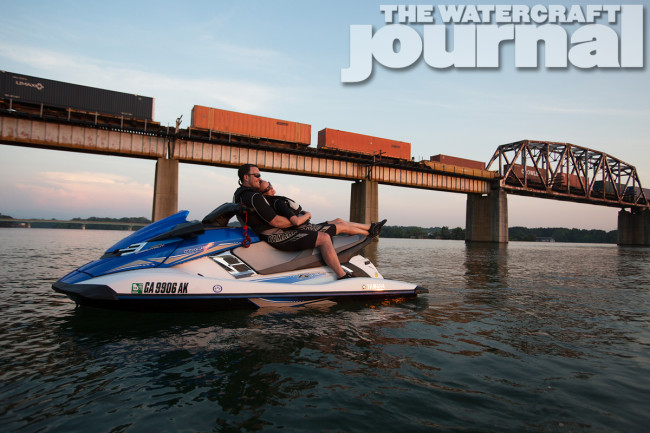 The FX SVHO ($15,199) is a noteworthy standalone as color options offer either a Kawasaki-challenging green-and-black livery, or a stunning blue-and-gold package. A noted absence from Yamaha's lineup is the SHO-equipped FX, leaving the FX Cruiser the lone SHO-powered runabout choice ($14,999).
Yamaha explained that with the SVHO and the popular HO models, the lone SHO-equipped WaveRunner exists only to meet certain production requirements so that the full-sized boats can use the SHO plant. Were it not for the boats, the engine would be eventually phased out.
It's difficult to imagine what Yamaha could wow us with next year, as we're getting a little too accustomed to seeing year-after-year of technological innovations, improved performance, economy and power. Yet, as new unit sales continue to climb, and more and more people are returning to the water, there's no reason why the brand with the tuning forks in their logo should ever let off the throttle. Alas, 2016 promises to be a great year and we're excited to see what the future holds!